We've been blessed to be surrounded by family and friends on this vacation, so I just haven't read much of anything since we've been down here — a little more of The Screwtape Letters and a bit from Raising Digital Families for Dummies, but that's about it. I'm afraid my goal of 100 books for 2013 may not be so realistic anymore, but hopefully I'll get back into the swing of things again soon!
Head here to see Katie's post for this week. We also want to know what you're reading! Add your blog post to the linky below or leave a comment with your favorite reads from this week.
Audiobooks
The girls were excited that I finally got them new audiobooks for our road trip after hoarding our Audible credits from last month to be sure everybody would have something new to listen to. They each got one new story to listen to on the drive down, and they've been listening to Alvin Ho together at bedtime since we got here.
The Mysterious Benedict Society and the Perilous Journey
The second book in The Mysterious Benedict Society series, this book is a little scarier than the first, and I wasn't sure if it would be too much for our oldest, but she loved every moment of it. In fact, we didn't really hear from her at all during our road trip because she was so enthralled with the story. These stories are fun because the core group of four children are the real heroes, using their various skills to solve mysteries and rescue their friends from danger.
Alvin Ho us a funny and neurotic second grader, and while these books are really applauded for their "boy appeal", our girls love them as well.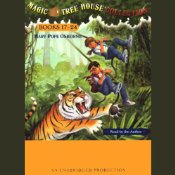 Magic Tree House Collection (Books 17-24)
I have a love/hate relationship with the Magic Tree House books. I absolutely love the history and learning that's packed into each book, but I'm not a fan of the stories that focus on ghosts and haunted houses, which makes it hard to buy the audio collections (since they include multiple books). This one, however, is our favorite collection so far, exploring everything from the Titanic and a forest in India to Colonial America.
A Question for You
Do your kids listen to audiobooks? Do you? What are your favorites? When do you listen?
Although our kids listen to stories nonstop, I find that my mind wanders too much and I end up missing parts of the book because I'm thinking about something else instead. I'm not sure if it's worth training myself to do better at focusing or if I should just accept that audiobooks aren't for me!
Share Your Reading List
'); // ]]>