The following post is from Jennifer, a lifelong educator: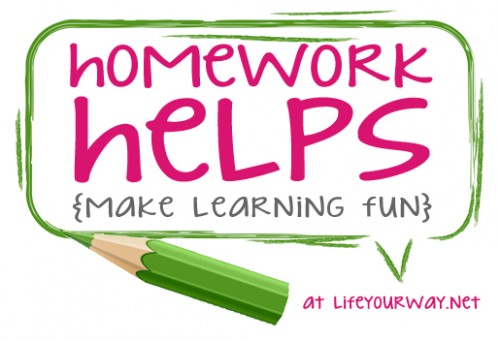 See all of the Homework Helps posts here.
Let's face it.  Most kids aren't born organized, intrinsically motivated, and willing to work hard to get good grades.  They take a lot of cues from our words, actions, and attitudes towards their efforts at school.  Take the following quiz and see how you rank.  It will only be helpful if you are completely honest with yourself.  No one is going to see your grade, but you and you might learn something about yourself in the process.
Each "Yes" gets 1 point, each "No" gets a 0:
1. Do you have a designated place for each of your children to work on their homework?
2. Do you have supplies at home that will help them get their work done – pencils, a sharpener, markers, a ruler, extra paper, etc.?
3. Do you ask your child what homework they have each evening?
4. This one has two parts, because only one part may apply.  If your child is neither an under- nor overachiever, give yourself one point so that your No doesn't skew your score:
a.  If they are an underachiever, do you verify when they say that they don't have any homework?
b.  If your student is an overachiever, do you insist that they take an occasional break in the evenings?
5. Do you communicate with the teacher at least every couple of weeks?
6. Do you support the classroom by encouraging the teacher in an e-mail, asking if any supplies are needed, volunteering once in a while, or sending in an apple or treat to show your appreciation?
7.  Are you willing to patiently sit down and help your child when they struggle with a concept?
8. Are you willing to pay for an older student or a professional tutor if the teacher indicates that your child needs more help than you can provide?
9. Do you have lots of books around your house?
10. Do you read in front of your children?
11. Do you limit screen time – computers, TV, video games – especially on school nights?
12. Do you support the teacher in front of your child and save your criticism (which is sometimes very valid) for another adult's ears instead of theirs?
13. Do you read the teacher's newsletters?
14. If you have concerns about the amount of homework, do you address that with the teacher instead of complaining in front of your child?
15.  Do you spend quality time with your child in the evening and on the weekends apart from their school work? (It's important to communicate that you value them no matter what grades they are bringing home!)
Grade yourself.
If you got a 13-15, give yourself an A.  Your child knows that their education is important and has great support at home.
If you got 11 or 12 points, give yourself a B.  You might want to tweak some things, but you're headed in the right direction.
If you got 10 or below, give yourself a C.  Ask yourself, "What message am I sending to my child about the importance of a good education?"
What can you do to bring up your grade and thus have a more positive impact on your child's education?
Jennifer is passionate about children and education. She homeschooled her two sons for five years, established and directed a Christian school in Maryland for 20 years, and currently teaches in a public school in a Chicago suburb. She loves investing in relationships and delights in every moment that she spends with her family.