I've talked a lot about our move to "independent work" with the girls as I described our curriculum plans for the upcoming year and our reasons for schooling year-round, and truly, I can't describe how much of a difference this has made for us. Instead of always feeling overwhelmed and like I was dropping the ball on school or work (or school and work), I actually enjoy homeschooling now and spend most days in awe of these girls and their hard work as they move through their list of subjects each morning.
Truthfully, this is not the kind of homeschooler I thought I'd be. I imagined days filled with unit studies and hands-on activities and dioramas rather than notebooks and workbooks and memorization (partly born from my own Montessori education and partly from the numerous warnings that homeschooling doesn't have to mean "school at home"), but as we've embraced the classical education model and the necessity of having them work independently, we've found something that actually works really well for us.
To the point that my 8-year-old, who spent the first half of the year with double assignments as a consequence for complaining, randomly remarked to me that she "really liked school now" three or four weeks after we made the shift. And she still feels that way six months later!
While I'd love to be one of those moms who makes learning fun, I'm not convinced it's necessary. School currently takes about 3 hours each morning (and we'll likely add an extra hour in the afternoon when we add CC memory work back in in the fall) and I've found that this approach means that they can sit and work hard at school in the morning and then spend their afternoon building forts and pioneer stoves and booby traps, or sewing dresses for their dolls, creating murals and putting on plays.
And that's how we blend classical and unschooling models in our home. School is rigorous and actual work, not work disguised as play (although it's still fun sometimes!), and play is unstructured and free. For us, that works.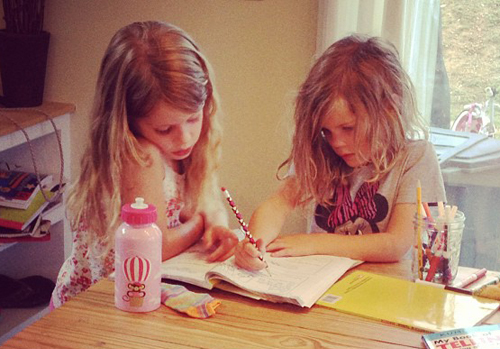 So, back to independent learning…
When I first realized that we were going to need to move to this model, we simply began by having them complete a certain number of pages in their Explode the Code workbook first thing each morning. We encourage them to ask for help, which they often do, but the responsibility for getting it done is theirs alone. (As a side note, we frequently have to remind our kindergartener to slow down and wait for one of us because she'd happily work on reading and math independently like her big sisters, but she's not to the point where we're ready to turn her loose just yet!)
Shortly after that move, we switched from Singapore to Teaching Textbooks for math, which also made that an independent learning subject, since the teacher comes with the program (woohoo!). While our original intention had simply been to remove my husband and I from the equation because it was causing so many fights with our oldest, adding it to their independent workload kind of sparked an avalanche, and we slowly began adding another subject every week or two, tweaking it as we went.
While they're free to work in any order, their list of independent subjects now looks like this:
reading workbook + reading for 20 minutes
math
daily copywork (3-4 sentences from a book they're reading)
handwriting
Bible
piano
daily journal
geography (we added this workbook recently because I love the progression of map skills it teaches)
CC memory work (on break for summer)
We just decided on the Song School Latin 1 program for our foreign language, so all four girls will sit and watch those DVD lessons and listen to the song CD together, and then the big girls will have worksheets to go with the lessons.
In the fall, we'll be adding history & science worksheets to coincide with their weekly memory work as well. My desire is to create a format that prompts them to read more about the current topic, summarize their thoughts, draw a picture, etc., but we're still working through what that will look like. I want the worksheets to serve as a support for their research and reading, not to be the focus or end goal, if that makes sense.
Typically, Sean and I are both in the room with the girls during school (our house is an open floor plan, so the kitchen/family room is basically one big room), both to answer questions and to help them stay on track (they are, after all, still kids!).
When they finish up their list of subjects, usually between 11 and 11:30, I then sit down to read out loud to everybody for about 30 minutes. The big girls and I then read a chapter of Life of Fred and do math drills together and then do our language arts lessons (which is my favorite part of the day and not really a subject I'd want to give up teaching even if I could find a good independent work model!).
I'm enjoying this approach to school not only because it frees up my time for work, which in turn gives me more time for preparing healthy meals, spending time with my husband and teaching the girls to cook (which they're fairly enthusiastic about right now), but also because of the life lessons built in. They're learning time management and self-discipline, how to stay on task, that work comes before play and that they control how long they have to work based on how well they focus.
Do I think it's the only way to homeschool? Absolutely not. It's just the one that's working best for us right now!
Do you incorporate independent work into your homeschool?