A vegetarian diet consists of not eating meat. They may eat dairy, eggs, and for some, they include fish in their diet. A vegan avoids all animal products, including dairy, eggs, and for some, will avoid honey. Strict vegans will avoid using all animal products such as leather goods, wool, and silk. A person on a plant-based diet eats only plants and avoids dairy and eggs.  
I became a vegetarian in the '70s. I used dairy and eggs as my protein source. Over the past five years, I have switched to a dairy and egg-free diet consisting of just plant-based foods. Some people think, how can you get your protein if you don't eat meat? You would be surprised at how much protein is in most plant-based foods. 
Your beans, grains, and nuts provide plenty of protein.
Research has shown that eating a plant-based diet improves and sometimes even reverse heart disease, type 2 diabetes, and other diseases. There is healing power in a plant-based diet.  
What can you eat on a plant-based diet?
You may be wondering what a person eats on a plant-based diet. There are so many recipes on the web that provides a large array of options. 
Sometimes I even search for a favorite recipe that can be made without eggs and dairy. I am still able to enjoy my old favorites. Here are some of my favorite places to go to get new and interesting recipes:
These are just a few of my favorites. Many YouTube videos demonstrate how to cook with plants.
A healthy diet consists of a balance of foods. Limit the fat in your diet. When sauteing food, use water or vegetable broth instead of oil. 
Here is a list of foods that should be eaten in a day.
1-2 servings of nuts and seeds

3-4 servings of fruit. Fruit has fiber, which slows down how fast your body absorbs the sugar

6-9 servings of vegetables – include raw veggies  

5-12 servings of whole grains, which includes rice, whole grain bread, and pasta  

1-3 servings of legumes (beans, lentils, tofu, etc.)
Vegetarian and vegan products
There are many vegetarian and vegan products on the market now. Many meatless types of meat are available now, such as Gardein, which has some vegan products, Amy's Kitchen, Morning Star, and many others. Marie Callender has several plant-based frozen dinners using Gardein products. Meatless products are good at helping someone transition to a plant-based diet. The best diet is to limit processed foods and eat plants as close to their natural state as possible.
If you don't have time to cook every day, try cooking two large meals each week, eat leftovers, freeze the dishes, and eat when you don't have much time.
I have recently tested two plant-based vegan products by Lehi Mills: Pancake Mix and Brownie mix. Below is my review:
Lehi Mills Plant-based Brownie Mix
The mix is made from whole grain flour. It does not contain any egg or dairy products. In fact, you don't have to add any egg to the mix. Just add water and oil. Bake 25-30 minutes. They are very moist, melt in your mouth fudgy brownies. My husband is a chocoholic and loves them. To avoid eating them all in one day, I freeze them in baggies. They are great to put in your lunch bag to take to work or school.
Lehi Mills Plant-based pancake mix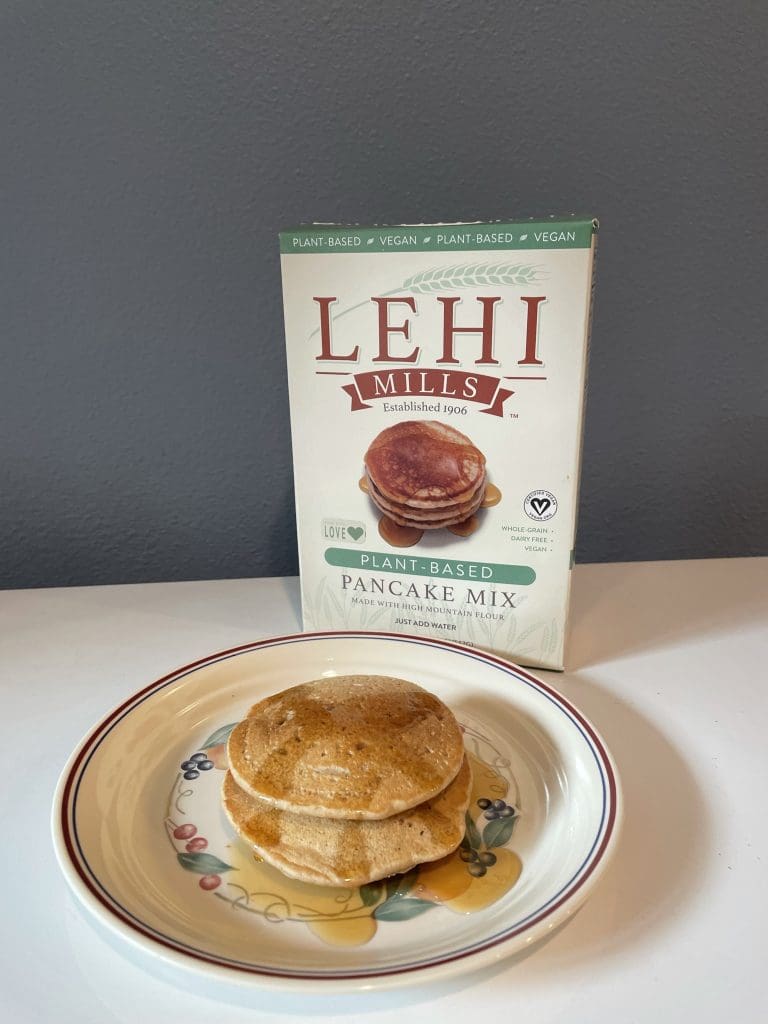 There are mornings when you want a healthy breakfast but just don't have time to prepare it. Lehi has the perfect solution – a plant-based pancake mix. You can also make waffles from the mix. The mix is dairy and egg-free. It contains 100% whole grain wheat and oat flours. The oat flour makes them light. Very easy to make.  
Just add water. I like to add fresh blueberries or chopped bananas with chopped pecans. Bake on a griddle according to directions.
You can top them with your traditional pure maple syrup or a home-made fruit sauce. I like to blend fresh strawberries with a little agave. Pour the strawberry sauce into a serving bowl and add some fresh blueberries and defrosted black cherries. Fruit sauces make a delicious topping. You can also defrost frozen black cherries and blend to make a delicious sauce as well. Any leftover sauce can be used in a smoothie later.
If you cannot find the products in your local grocery store, they can be ordered from Amazon or directly from Lehi Mills. Lehi Mills has many other products available such as bread mixes, muffin mixes, hot cereals, and more.  
Conclusion
If you are not ready to go 100% on a plant-based diet, try adding more plant-based dishes to your meals. Be sure and eat a variety of foods for a balanced diet. Don't' forget to exercise 15-30 minutes a day.
Featured Image by silviarita from Pixabay