My friend (and Decorating Your Way contributor) Myra has been inspired this year to create Christmas decor from candy such as the gumdrop pomanders and peppermint wreath below, and I've fallen in love with the the whimsical feel of candy decor. Although our decorations tend toward traditional with a modern twist, I'd love to incorporate some of these as well!

1. Gum Drop Pomander Ornaments, My Blessed Life
2. Yarn & Candy Cane Ornaments, Hostess with the Mostess
3. Rice Krispie Treat Ornaments, The Finer Things in Life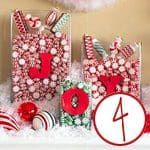 4. Peppermint Greeting, BHG.com
5. Peppermint Candy Mailbox Ties, Dill Pickle Picnic
6. Gum Drop Pops, Martha Stewart
7. Marshmallow Snowmen, BHG.com
8. Candy Stained Glass Ornaments, The Pink Couch
9. Peppermint Candy Wreath, My Blessed Life
Do you use candy in your Christmas decor?