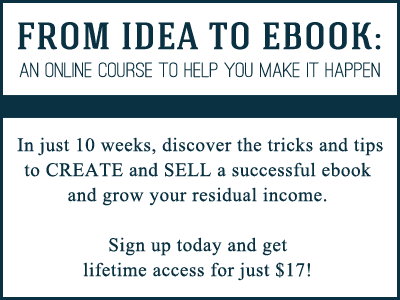 In 2008, Shaina, Tara and I published our first ebook, Transcription 101, which we wrote from our combined 10+ years of transcription experience. The market was completely different at that time, and while I'd love to tell you that that ebook was so wildly successful that I couldn't resist writing more, that unfortunately was not our experience. Little did I know, though, that that experience would become just one of the many stepping stones to my business model as it stands today.
eBook sales continue to increase each year, and while those numbers include the electronic formats of bestsellers like The Hunger Games and Sheryl Sandberg's Lean In, the market for self-published ebooks is growing as well.
The problem for most writers and bloggers is figuring out how to navigate the ever-evolving world of ebooks and self-publishing. One of my favorite things to do is to help other people improve their craft and make money, and this week we launched the From Idea to eBook online course at The eBook Emporium to take participants step-by-step through the process.
Module 1: Why eBooks? is now up, and we're exploring why people write ebooks as well as what holds them back.
We explore these in more detail in the course, but in my experience, people really write ebooks for three reasons:
For profit — at launch and during big promotions as well as passive ongoing income that doesn't require any extra work at all
To establish expertise and promote other products & services — including their blog, other ebooks, coaching, etc.
To open the door to traditional publishing — by showing publishers what you can do in terms of content and promotion
We're also talking about the obstacles that prevent people from writing ebooks: lack of time (or perceived lack of time), process overwhelm and wondering if it's really worth the effort.
And finally, we're talking a bit about the broader idea of "digital products" rather than being limited to traditional ebooks.
Other Course Features
The course also includes case studies from successful ebook authors, printables to help you organize and publish your ebook, and lists of resources and professionals for the ebook writing process.
If you haven't signed up yet, it's not too late to join us: Register today and get lifetime access to all 10 modules, the set of case studies, all of the printables and the resource lists for $17!
Have you written an ebook? If not, what's holding you back?