Years ago, when the trend was just beginning, you invested in a glorious living space in your garden, where you could breathe the fresh air, feel the sunlight on your face and otherwise enjoy the great outdoors. Yet, in the meantime, your living space has essentially just been gathering dust.
Spending time outdoors can radically improve your quality of life, but there are several reasons that homeowners continue to pass on opportunities to use their outdoor living spaces. Here are some design mistakes that might be preventing you from enjoying your outdoor living space to the fullest.
There Are Too Many Bugs
You aren't the only creature to enjoy spending time outdoors when the weather turns nice. Insects proliferate in the warm seasons, and because many bugs take advantage of living around humans — eating waste, drinking blood, etc. — they are likely to swarm your outdoor living space whenever you step foot outside.
Fortunately, bugs are a relatively easy issue to remedy. If you are loath to spray your yard with pesticides, you can convince unwanted insects to stay away by planting aromatic herbs and flowers in containers around your living space. Most insects hate the smells we love, so pungent flowers and shrubs, like lavender, marigolds, rosemary, and lemongrass, will make your outdoor living space more enjoyable in more ways than one.
Everything Is Dirty
It is simply impossible to keep the outdoors clean for longer than a day or two. The only way to ensure that your outdoor living space stays as clean as your indoor living spaces is to enclose it — defeating the purpose of creating a place to enjoy the open air.
If you are bothered by how dirty your outdoor living space gets, you can try to cut down on the grime with an overhead covering, like an umbrella or pergola, or some windscreens. However, the best strategy is to integrate cleaning your outdoor living space into your weekly home chore schedule.
The Temperature Isn't Right
In the winter, your outdoor living space is too cold; in the summer, it is too hot. If it seems that there is no good time of year for you to spend time outside, you might need to upgrade your outdoor living space with some temperature controls.
Outdoor ceiling fans can provide airflow that reduces the temperature by up to four degrees. You can also install misters to reduce summer temps if you live in a dry climate. For cooler times of the year, you might equip your living space with a gas heater — or, even better, a fire pit, where you can gather with friends and family to enjoy the season.
The Sunlight Is Glaring
The sun is responsible for the beautiful natural light that illuminates outdoor spaces — but during certain times of day, your living space might become unusable to the glaring nature of the sun. This most often happens as the sun approaches the horizon, when its beams come close to eye level. You might try repositioning your living space to hide the western horizon; if this isn't possible, you could erect a wall, windscreen, or umbrella to help block out the glaring sunlight when it becomes a problem.
The Furniture Is Uncomfortable
Bargain outdoor furniture is rarely plush, so if you are accustomed to relaxing on your bed or indoor sofa, you are likely to find low-cost patio furniture hard and uncomfortable. The solution here is easy: Buy more deluxe outdoor furniture. You should try to find outdoor furniture that is sumptuous but durable, as it will need to withstand intense weather and use. You can review ratings of popular outdoor furniture brands to find the right patio set for you.
There's Nothing to Do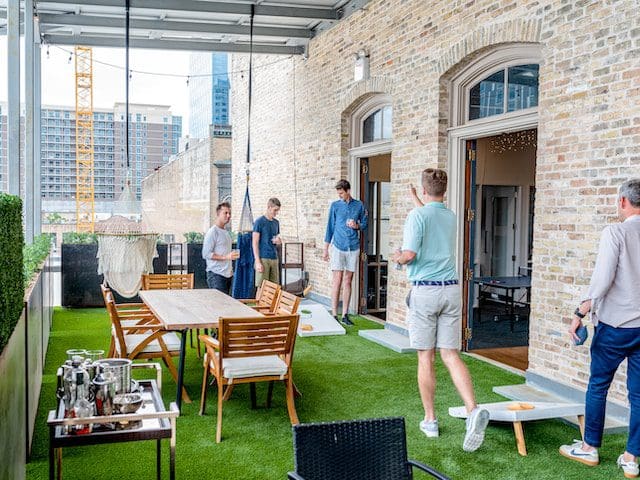 Meditation isn't for everyone. Plenty of people struggle to relax when they do not have anything to do. If this is the reason you never spend time in your outdoor living space, you should find a way to make your space more entertaining. Perhaps you can add yard games to your space, like cornhole, ladder toss, laser tag, or darts. Alternatively, you might install an outdoor kitchen, where you can cook your meals before eating them al fresco. If neither of these options is appealing, you might experiment with some hobbies you can bring outdoors, like reading, painting, playing an instrument, or something else.
You need to get outdoors for your health and well-being — and you already have a perfectly good outdoor living space waiting for you. With a few simple tweaks, you can ensure that your outdoor living space is the place you want to be.
Featured Photo by Collov Home Design on Unsplash