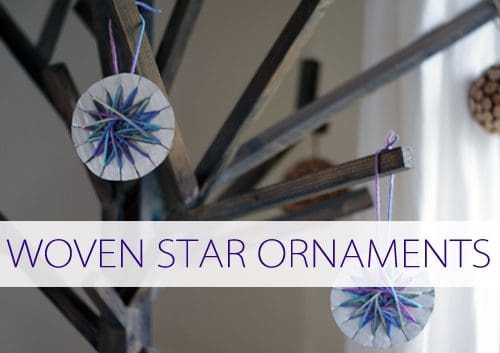 I first saw these ornaments at The Crafty Crow last  year, and we had planned to make them with friends until the flu hit our house a couple weeks before Christmas, so we never got to them. They are really so sweet and simple, though, and my girls are really into fiber crafts right now (knitting, crocheting, embroidery, etc.), so I think this will be one of our advent activities this year for sure.
Rather than using a plain cardboard circle as the background, I had my husband spray paint them first, and I love how it looks. We also used yarn instead of crochet thread, mostly because it's what I had on hand, but I think I like the "thicker" look it gives the ornaments.
Supplies:
corrugated cardboard
spray paint (optional)
scissors
yarn
Directions:
Use a cup, bowl, etc. to trace a circle on your corrugated cardboard. You can make these in a variety of sizes, but mine are about 3″ across. Cut out the circle and spray paint (optional).
Cut 1/2″ slits all around the edge of the circle. The easiest way to do this is to start with the north-south-east-west lines and then add additional slits in between those four. Always cut the slits in pairs directly across from one another because you'll need an even number and you want the yarn to be able to form straight, even lines.
Begin threading the yarn straight across the disc, leaving a 3″ tail at the beginning.
On the second time around the disc, move the yarn one position further around the circle (rather than straight across) to create a diagonal line (see diagram above). Continue until every slit has three strands of yarn, which should bring you back to where you started. Cut off the yarn, leaving another 3″ tail.
Tie the ends together at the back of the star and then tie another knot at the top to form a loop for hanging the ornament.
Related Projects:
Join us as we celebrate 101 Days of Christmas with new DIY projects, gift ideas, traditions and more every day from now through Christmas!