Christmas is right along the corner, so if you haven't already, it's time to buy some gifts for your loved ones. Shopping for Christmas gifts can be tricky, especially if you haven't got a few good gift ideas in your head. Shopping for a toddler can be even trickier if you don't have much experience with kids. Toddlers are just learning how to explore the world around them and are figuring out what they like. You want to buy them something that will help them learn, help with motor skills and sensory skills, and hold their interest. 
If you're looking to buy some Christmas gifts for toddlers, look no further, because we have got a list of all the best gifts you could buy a little kid. 
Indoor Play Slide
A small foldable slide can be a toddler's dream come true. It is a great way to keep a little kid occupied and be a lifesaver on a rainy or cold day when everybody has to stay indoors. You can simply bring the playground to your home. A slide can also help a toddler learn how to climb up the ladder and balance themselves better. If the slide is detachable and foldable, that would be great for storing it away when it's not being used.  
A Toddler Bike
Every little kid deserves to have their very own bike. If you're the one to get a toddler their first bike, you're sure to be the favorite for a long time to come. There are many different options to choose from when looking for bikes for toddlers. Pick out the right size and see if you can find out what color your toddler likes best. Also, don't forget to get a kid's size helmet and safety wheels, too, if the bike doesn't come with them attached already.  
A Finger Painting Set
Finger painting is the perfect way to help a toddler express their creativity. Little kids don't quite have the dexterity to hold pencils and paintbrushes, so using their fingers to make art is a great technique for them. A finger painting set can be one of the best Christmas gifts for toddlers. You can buy a specific easy to clean set that won't get paint marks all over the furniture and walls. 
Soft Building Blocks
Building blocks are good for helping toddlers learn to put things together and create different shapes and structures. However, they can be dangerous if made out of wood with sharp edges. On the other hand, soft building blocks are the perfect gift for a toddler. The blocks can be attractive because of their soft feel and tactile sensations. They also come in different colors and patterns to hold a toddler's attention. 
A Kid's Drum Set
A drum set is great for helping a toddler develop their sensory skills. Drum sticks are easy to hold in their little fists, and the banging sounds can help them learn rhythm. Some kid's drum sets come with pre-programmed songs and melodies that are easy for toddlers to follow and sing along with. A drum set would also be good for helping you figure out if your toddler might have some musical skills and capabilities.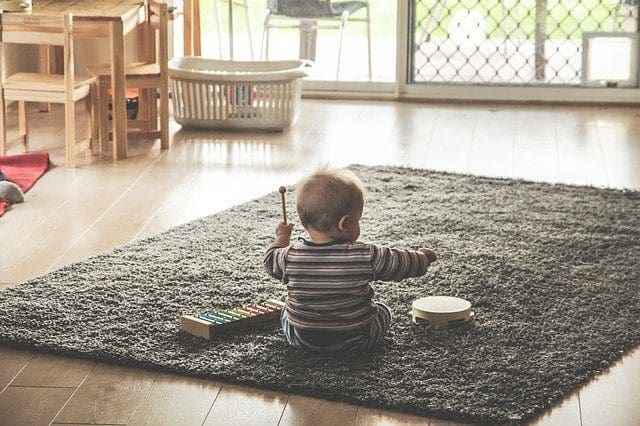 A Backyard Foldable Tent
Toddlers and little kids should spend as much time outside in the fresh air as possible. However, going to the park all the time can be difficult. A backyard tent is a great gift to encourage toddlers to spend time outside. It can also help instill a sense of adventure and fun in the toddler. You could even join them in the tent and have a bonding experience with them. If the tent is foldable, that's a great addition so that it can be stored away in the winters or on rainy days.  
A My First Words Book 
A picture book is a great first introduction to books. A first words book can help a toddler learn how to recognize things around them and speak their first few words as well. Many books come in different materials and have textures and different colors too. This is good for helping a toddler's tactile sense. 
Squeaky Bath Toys 
Last on our list. We have squeaky bath toys. Toddlers are always getting into messes, especially after mealtimes. And it can be difficult to get a toddler to sit through a bath patiently and without tantrums. A set of squeaky bath toys can make bath time easier for the toddler and their parents.  
Our Final Thoughts
We hope you like our list of gift ideas for toddlers and find the perfect one for them this Christmas! 
Featured Photo by Yan Krukov from Pexels