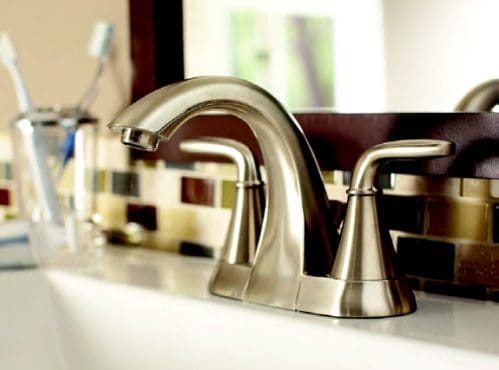 My parents have lived in the same house for 14 years. It's the house where I lived as a teenager, where I first fell in love with the boy across the street (that boy is now my husband), and where we brought our second daughter home just hours after her birth.
Over the past few years, they've been updating the classic '70s rambler with new laminate flooring and a huge new deck with a screened-in porch. This winter, they've turned their attention to updating the two full baths on the main level.
Fortunately, they have impeccable timing, and The Home Depot is currently having a Renew and Redo bath event, making small updates and total remodels easier and more affordable!
First, let's take a look at their plans:
The master bathroom is tiny, as you can see. The plan is to pretty much gut it, replacing the pedestal sink with ADA bathroom sink and the wallpaper with a new pattern, adding wainscoting to the lower half of the walls as well.
They'll also be replacing all of the fixtures plus the flooring, lighting, and mirror.
The stand-up shower to the right has seen better days, so they'll be replacing the floor and installing new vinyl walls around it.
Now, let's take a look at the progress they've already made in the guest bath:
They started by removing the wallpaper and flooring. They replaced the vanity sink with this beautiful St. Paul Chelsea vanity/sink combo, which is on sale for $99 as part of the Renew & Redo event. It's smaller base adds storage without making the bathroom feel crowded, and the sink adds a beautiful modern touch!
If you've been thinking about updating or remodeling your bathroom, head to Home Depot this weekend for the launch of the Renew & Redo event. From now through the end of February, you'll find great prices on a ton of featured products — from vanities and sinks to lighting and accessories.
Be sure to stay tuned because in a couple of weeks I'll be giving away a $100 Home Depot gift card to help you update a bathroom in your home as well!
The Home Depot works with bloggers such as myself to conduct product reviews. They do not tell bloggers what to say about their products or how to say it. Home Depot fundamentally believes that people should be free to form their own opinions and share them in their own words. The Home Depot often provides products – free of charge – to bloggers for review as they did for this post. Home Depot's policies align with WOMMA Ethics Code, FTC guidelines, and social media engagement recommendations.