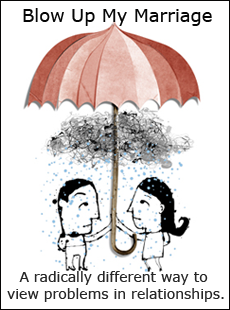 A few weeks ago, I shared the story of the struggles Sean and I went through after the birth of our third daughter. Every marriage must face some kind of conflict or uncertainty at some point to grow stronger, and I can honestly say — looking back now — that I'm thankful for that time in our lives.
Attending a marriage conference at our church was really the turning point for us, but if you're facing the same types of struggles and uncertainties in you're marriage. If you're unsure where to turn, I'm excited to tell you about the Blow Up My Marriage course from Dr. Corey Allan.
I first "met" Corey as a Simple Mom contributor, and I love that he gets right to the heart of an issue without beating around the bush. He's not afraid to tell it like it is, but it's also obvious that he's compassionate and truly wants to help couples experience a beautiful marriage.
Blow Up My Marriage first debuted last year, and the testimonials from previous participants pretty much speak for themselves:
I've found the class lessons to be personally insightful for me. I'm not sure if I am unique in undertaking this class without the participation or interest of my spouse, but I definitely have achieved personal growth regardless of his effort.  I can really work on my marriage wholeheartedly without him. I've also learned that I can be a good mom and a good wife regardless of how my husband chooses to participate in the relationship. And for that, every dime of my time with you and in this class was well spent. ~ J.U.
This class has been like a pressure relief valve – so far – in our marriage – taking a step back, understanding the blame game, etc., takes some of the anger away. Counseling was not working for us; getting that third person out of the mix didn't hurt either. ~ V.V.
This 16-week class will teach you:
How to create the best marriage from your strengths, not by looking at what's wrong.
How to see that it's the relationship that's the issue, not you or your spouse.
Why do you never want to lean on your spouse?
How to create a great life and have your marriage be the icing on the cake.
And how to transform your sex life.
Enrollment for the next Blow Up My Marriage session is currently open, only this week. Enroll today because class starts on Monday, 1/17, and this course is only offered a couple times a year!
Featured Image by Omar Medina from Pixabay