It has been many, many, many years since I've had a set of keys that were "mine." For a long time, we were a one-car family, and even though we have two cars now, we tend to grab whichever keys are on the hook rather than having designated sets.
When I decided to make photo keychains this year, I knew I wanted one. So I claimed a set of the van keys as my own and made one for myself too!
These photo keychains are so easy to make but such a fun gift. Make them for the grandparents or siblings, friends or teachers!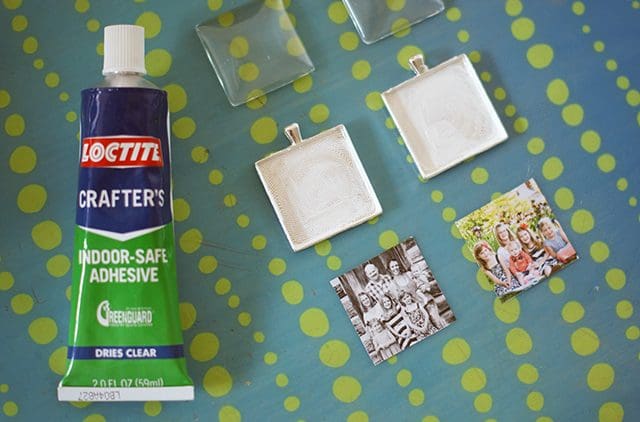 Supplies:

Keychain pendant kits from Candytiles Studio
Loctite Crafter's indoor-safe adhesive
square photos (35mm or 1.38″ on each side) printed on regular printer paper
foam brush (optional)
Directions:

Cut out photos and lay out the parts from the keychain pendant kits. (You can buy these pieces separately, but the kits are good quality and come with the right quantities of everything you need, so I think that's the easiest way to go!)
Using the foam brush or your finger, spread the glue on the bottom of the tray.
Lay the picture on top and smooth it from the center toward the edges. It's okay if your picture is a little too big and curves up the sides.
Holding the glass tile between your finger and thumb, spread glue around the edges of the tile. Lay the glass on top of the picture in the frame and use a rag or paper towel to wipe off any excess glue that squeezes out.
Attach the key ring and set it aside to dry completely.
Variations:
Use ribbon instead of a key ring and turn them into photo ornaments.
Buy a necklace kit to make photo pendants instead.
Instead of photos, use patterned scrapbook paper. Add a monogram to personalize it!
Projects from the archives:
Join us as we celebrate 101 Days of Christmas with new DIY projects, gift ideas, traditions and more every day from now through Christmas!