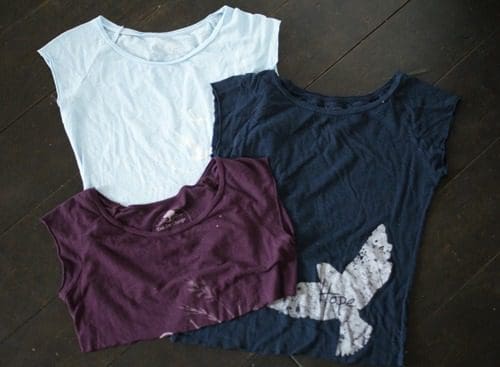 I hate throwing away T-shirts when I can just do a few modifications and come up with another purpose for them. Even if the T-shirts are faded and have some worn spots on them, it gives the new item character. You can even sew some colorful pockets to cover up the faded and worn areas. Add a little bling and you have something unique. People will wonder where you bought it.
This week I'm seeing how many DIY projects I can get out of three old t-shirts. I'm not the craftiest person in the blogosphere, so if I can do these, anybody can!
Today's project is quite possibly the easiest t-shirt repurposing project there is – the t-shirt bag.
Whether you're looking for inexpensive bags to replace plastic produce bags or a cute tote to take to the beach, t-shirt bags are a crafty way to turn an old shirt into something new.  Here's how:
To start, cut off the hem, the sleeves, and the neckline. A note here: The first time I did this, the shirt we used was not very stretchy, and I didn't cut the holes at the arm big enough. These t-shirts are very stretchy, and I think I probably overcompensated and cut them too big this time. So, the moral of the story, start small; you can always make them bigger later on.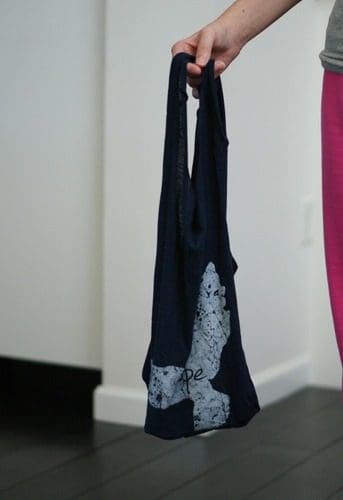 Next, flip your t-shirt inside out and sew across the bottom. Then turn it right side out, and you're done! Well almost. You may want to add a little bling such as sequins, etc.
Andrea at Simple Organize Living recommends adding 1″ slits to your bag to give it additional stretch as well.
Check out how to make a necklace from a T-shirt and add an adorable t-shirt flower hair clip to go with the necklace.
More ideas to repurpose t-shirts.
What do you do with old t-shirts? Have you made any t-shirt bags?