Have you ever discovered the perfect color for a design project in an unlikely place only to have trouble picking the exact color – even as you stare at millions of paint chips — once you get to the paint store?
Olympic Paint is taking the guesswork out of choosing paint colors with their new Olympic Paint ColorClix App, which makes it easy to discover new colors wherever you are. With the app, you'll have complete confidence in the paint colors you choose, and you can even share your finds with friends and family.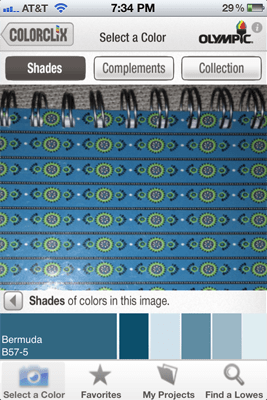 In addition, browse the Olympic Designer Color Collections on the app for added inspiration as you plan your next room!
We're actually in the process of updating our girls' room – or at least dreaming about updating it! We'll be adding built-in bunk beds as well as repainting and choosing new bedding (as our youngest daughter joins her big sisters in the "big girl" room!). It's definitely a project we're all excited about, but it's a big —- somewhat overwhelming — project as well.
My dream is to buy each of the girls a handmade vintage quilt in coordinating colors that they can keep with them throughout the years, although I'm thinking comforters with easy-to-wash duvet covers may be easier at this stage!
When it comes to finding inspiration, I love to discover color palettes and designs in the things around me – a pretty shirt, a fabric swatch, a flower growing in the backyard. I'm also a huge fan of Pinterest, where inspiration abounds, for discovering new ideas that I might not see otherwise.
I've created a Pinterest board as we brainstorm ideas for the girls room, including colors, patterns, décor and more. Come see what I've added to my Girls Room Makeover board so far!
Then grab your Olympic Paint ColorClix App and start planning your next project. It's available FREE for iPhone, Android and Windows Phones.
Psst…be sure to like Olympic Paint on Facebook for color inspiration as well!
This is a sponsored post on behalf of Olympic Paint, but all opinions are 100% mine…and my husband and I really are having so much fun photo bombing paint colors.