The following post is from Janel of Life with Lucie and Ella.: Get Inspired with DIY Canvas Word Art
For me, the beginning of the academic year feels like the New Year. It's an opportunity for me to refocus, get inspired, and set new goals for the next year.  When I saw art canvases on sale at the craft store, I decided to buy one to create a piece of artwork to motivate me through the year.
You'll also be able to see the image's features better on a larger artwork, photo to your own masterpiece which will help you determine whether or not you like it. Upload your favorite photos of a subject and compare them side by side to discover which one would be ideal to turn into a paint by numbers pattern.
It's a simple DIY project — just paint a canvas and add words.  The hardest part is deciding what to write on your canvas — there are so many options!
Here are a few ideas:
Favorite Quote or Saying –  Choose something that speaks to you. For me, the inspiration for my canvas came from reading this post by Heidi. I, too, have read Donald Miller's book A Million Miles in a Thousand Years, and its message really resonated with me. I want to be reminded daily to make choices that help me live a good story and to pursue my goals. Why not hang a reminder on my wall?
Family Purpose Statement – If your family has crafted a Family Purpose Statement, a large canvas is an attractive way to display it and remind yourself daily of your family's goals.
Bible Verse – Choose a verse that is especially meaningful to you. If you chose a specific verse for your child's baptism or dedication, you can turn that into a special work of art for your child's room.
People, Places, or Special Memories – Canvas word art is great to incorporate into a gallery wall. If it's a wall of family photos, make a canvas with all of your names or special memories that you've shared. If it is a wall of your travel photos, use the names of places you've visited.
Once you know what you want your canvas to say, pick out an appropriately sized canvas and get to work!
Make your own inspirational word art on canvas:
Supplies:
artist's stretched canvas (available at art or craft supply stores)
acrylic paint
paintbrushes in different sizes
water & bowl
computer, printer, and paper
craft knife
self-healing mat or cutting surface
pencil
Directions:
1. Embrace your inner Rothko and paint a colored background on the stretched canvas.
The look of the background is up to you. Use a single color OR paint multiple layers of different colors. Make a thick, even layer of color OR give it a more "washed" look like I did. I mixed green paint with an equal amount of water and brushed it on in horizontal strokes until I got the look I wanted.
Once your background looks the way you want it to, allow the canvas to dry completely.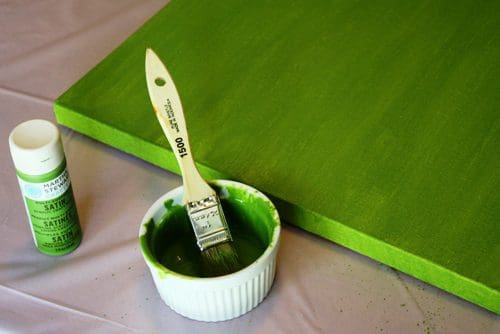 2. Create a template for your words.
Using a computer, print out your words in the size and font that you need for your canvas. You can find new and free fonts at DaFont and FontSquirrel. Use a single font or combine different fonts to create the look and emphasis you want.
Using a craft knife and cutting surface, cut out your words to create a stencil.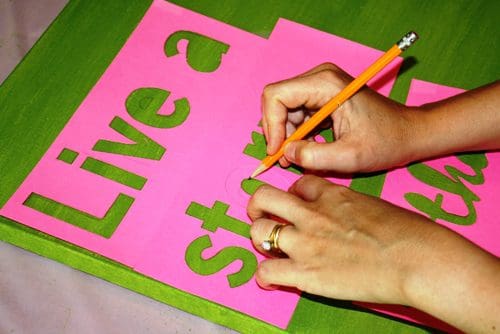 3. Paint your inspirational words onto the canvas.
Once your canvas is dry, layout your word stencils onto the canvas to determine the placement. Trace your stencil with a pencil onto the prepared canvas.
Using a small artist's paintbrush, apply paint to the outline of your stenciled words. Be sure to make sure your pencil marks are sufficiently covered. Fill in the words with paint. You may need to do multiple coats to get the coverage you want. You can also use another color to create a shadow for your words like Lisa did on her old door sign.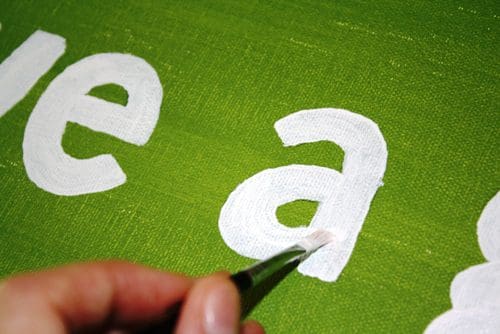 4. Hang your art and be inspired!
This type of art is fantastic to incorporate into a gallery wall. Be sure to check out Myra's eight simple ways to create a gallery wall.
What words would you use in your own inspirational word art?
Janel is a stay-at-home mom of two and a law school wife. Raised in a budget-conscious and do-it-yourself-minded family, she loves seeing something in a store or magazine and making her own version at home for less money. Janel blogs about motherhood, crafts, and recipes at Life with Lucie and Ella.