The following post is from Jason & Jennifer Bruce of New Season Design: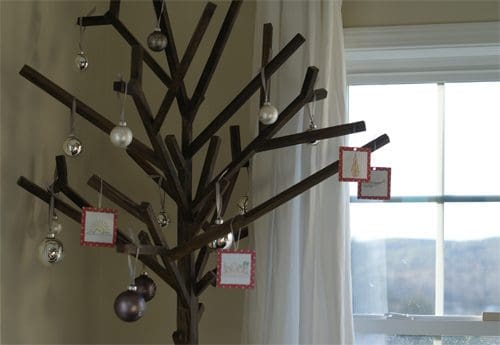 A Jesse Tree is an advent project. Each day you color an ornament that represents a bit of the lineage of Christ. The tree begins with creation and stretches through the Old and New Testaments until we reach the wonderful story of the birth of Jesus.
The tree gets its name from Jesse, the father of David. The first day's scripture is Isaiah 11:1-2 – "A shoot will come up from the stump of Jesse; from his roots a Branch will bear fruit. The Spirit of the Lord will rest on him – the Spirit of wisdom and of understanding, the Spirit of counsel and of might, the Spirit of the knowledge and fear of the Lord." This branch came in the form of a babe, and through the scriptures for each ornament, you can see God weaving the stories into place to ready the world for the coming Messiah.
Click here to print the Jesse Tree ornaments, which includes the instructions and Scripture references for each day's reading and ornament!
The Jesse Tree project takes place December 1 through 25. It's similar to an advent calendar, but it's more about tracing the history of the coming of Jesus.
For this particular set of ornaments, you'll need to cut 25 squares (3 inches x 3 inches) that can be used as backers for the coloring ornaments. These backers could be made from cardstock or scrapbook paper. Print the ornaments found in this document.
Each day read the scripture and color the corresponding ornament picture. Cut out the picture, and attach it to one of the square backers that you cut. Punch a little hole in the backer paper, and thread a ribbon through it. Hang your ornaments on a small tree, some branches in a vase, or whatever works for you. There's no right or wrong way to do it.
The final day's scripture tells of the journey to Bethlehem and the birth of Christ. You may want to begin your Christmas day by placing this final ornament on your Jesse Tree.
Join us as we celebrate 101 Days of Christmas with new DIY projects, gift ideas, traditions and more every day from now through Christmas!
Jason & Jennifer Bruce are the husband-and-wife design team behind New Season Design, where they work together to help clients put their best foot forward online. Jason is a pastor-turned-graphic designer, and Jennifer is a teacher-turned-blog designer who also blogs at Saving & Giving to help people save more, spend less, and give generously.