The following guest post is from Stacy of A Delightful Home: Make a DIY Mother's Day Gift Basket in Less Than 30 Minutes!
Every mother wants to feel special.
One of my favorite ways to communicate love and care is through handmade gifts such as gift baskets.
Before you run away, thinking there's no time to make something, let me assure you that the following DIY body care set is so quick and easy to put together you'll be done in less than 30 minutes!
This gift set is designed to pamper and relax (hence the lavender). The combination of a sugar scrub, bath soak, and body oil will help mom feel rejuvenated and peaceful.
Add a box of herbal tea and some chocolate to make this gift extra special.
Here's what to do:
For the quickest method, follow these steps in order.
Lavender Body Oil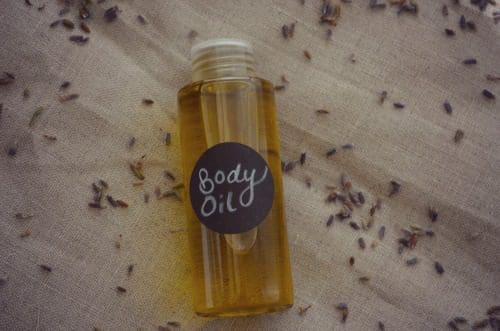 Ingredients:
1 tablespoon dried lavender buds
1/2 cup sweet almond oil (or safflower oil)
5 drops of lavender essential oil
Directions:
Place lavender and oil in a heavy pan and stir to combine. Heat over low heat until the oil is warm. Don't let it come to a boil. Once the oil is warm. Remove from heat and leave to cool.
While the oil is cooling, make the sugar scrub; you will strain the lavender buds out and add the essential oil at the end.
(If you are not prone to distraction, like me, you can mix up the scrub while the oil is warming. If you do, just be sure to watch the oil, so it doesn't boil.)
Lavender Body Scrub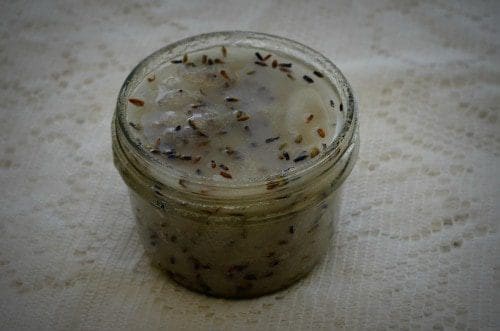 Ingredients:
1 tablespoon dried lavender buds
3/4 white sugar
1/4 cup salt
1/3 plus 2 tablespoons oil (safflower, sweet almond, or olive oil)
5 drops of lavender essential oil
or try a combination of lavender and lemon (3 drops each)
or 3 drops lavender and 2 drops chamomile
Directions:
In a bowl, mix together the sugar and salt. Sprinkle in the lavender buds and stir to combine.
(If making the bath bags as well, add the lavender buds and salt to the bath bags now to save time; 1/8 cup of lavender buds and 1 tablespoon of salt into each bag.)
Add the oil and stir again. If the scrub seems too dry, add a little more oil. The scrub should hold together but not be overly runny.
Add the essential oil and stir to distribute. Spoon into a jar with a tight-fitting lid. This will fit perfectly in a half-pint, wide-mouth mason jar. Add a label (here are some free labels).
On your label, note that sugar scrub should not be used on broken skin or skin that is sunburned or windburned.
Lavender Salt Bath Bags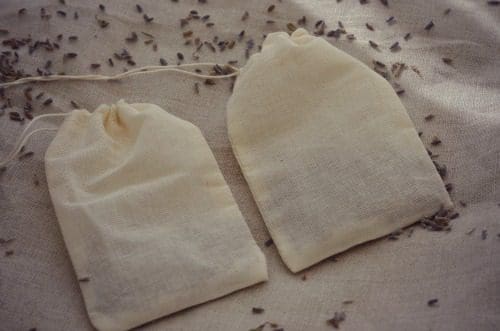 These lavender salt bath bags provide are perfect for hard-working moms; the lavender relaxes while the salt softens skin and soothes tired muscles. A perfect gift to go in your Mother's Day gift basket.
Ingredients:
1/4 cup dried lavender buds
2 tablespoons salt (Epsom salt, sea salt, or table salt)
2 small cotton or muslin drawstring bags or two squares of cloth and elastic bands
Optional extra: add 1 tablespoon of ground oats and/or 1 teaspoon of grated soap in each bag
Directions:
If you have not done so already, spoon 1/8 cup of lavender buds and 1 tablespoon of salt into each bag. Add any optional extras now.
Tighten the drawstring on the bags and set them aside.
If you do not have cotton bags, cut out a muslin or cotton fabric square and place herbs and salt in the center. Fold up the sides and secure them with a rubber band. (If you are having trouble picturing this, see this post: How to make bath bags)
Put it all together.
The lavender and oil you heated for the body oil should be cool. Strain the lavender out by pouring the oil into a measuring cup or bowl with a strainer placed over the top (or spread muslin over the measuring cup and secure it with a rubber band).
Pour into a bottle and add the essential oil. Place the lid on the bottle and shake to combine. Add a label. Let the recipient know that body oil is intended for use after the bath or scrub.
Place all of your items in a pretty basket or gift bag, add any extras (such as chocolate, tea, a washcloth, or a loofah), write a heartfelt note, and you are on your way to making someone feel very special!
Let your children create a Mother's Day card to go in the gift basket.
Want to learn more about making all-natural body scrubs? Check out my eBook, Simple Scrubs to Make and Give. 
Click here for Kid Made Tile Coasters for Mother's Day
What are your favorite quick and easy homemade gifts?
Stacy blogs at A Delightful Home, where she shares tips for living a healthy life and creating a peaceful, happy haven for your family. She is the wife of a preacher and homeschooling mom to three children.