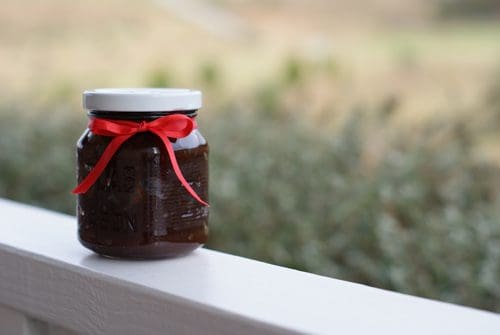 When I was a little girl, I attended the Apple Festival in Berkeley Springs, WV several times with my grandparents. It may have been there that my love for West Virginia, a place we now call home, was born!
I had no idea that making apple butter is as simple as it is until a friend of mine suggested we go apple picking and make some. Both of our schedules this fall ended up being too busy, and we weren't able to set aside a day for apple butter-making, so I decided to try it at home.
A couple of weeks ago, I chopped my apples one night after the girls were in bed. I cooked the apple mixture on high for an hour, stirred them and lowered the temperature and we headed to bed. The next morning when we woke up, our home smelled amazing, and the apple butter was almost ready to eat! I finished making it and we enjoyed apple butter toast for breakfast…mmm!
As a side note, I rough peeled my apples with a knife instead of an apple peeler and then cooked my apple peels in a saucepan with some water. Once they were done and completely cooled, I divided them into individual servings and froze them to use in oatmeal. I love the added apple flavor, and almost none of my apple — save for the core — went to waste!
Ingredients:
5 1⁄2 pounds apples (about 16-18 medium apples)
4 cups white sugar
2 teaspoons ground cinnamon
1⁄4 teaspoon ground cloves
1⁄4 teaspoon salt
Directions:
Peel, core and chop apples and place in crock pot.
In a medium bowl, mix sugar, cinnamon, cloves and salt. Add to crock pot and mix well.
Cover and cook on high for 1 hour.
Reduce heat to low and cook overnight, 9 to 11 hours. The apples should be soft and dark brown.
Uncover and use a whisk or electric beater to stir until smooth.
Continue cooking uncovered on low for 1 hour until the apple butter thickens.
Spoon apple butter into sterile jars. Refrigerate or freeze.
Click here to add this recipe to your Plan to Eat account.
Join us as we celebrate 101 Days of Christmas with new DIY projects, gift ideas, traditions and more every day from now through Christmas!