A roofing contractor or roofing mechanic is a trained professional who can create, repair, replace, or install roofs using a variety of different materials. This material may include shingles, bitumen, metal, and much more. Choosing the right contractor can become a stressful and tedious ordeal, especially if you have a leaky or damaged roof and need emergency services and possible replacement. 
Apart from dealing with all the fewer craters because of your roof, you will also have to search for a reliable expert who can fix your roof. It can get challenging if you have just shifted to a new location and are unfamiliar with your surroundings. 
If you haven't dealt with a roofing mechanic before, here are specific questions that you need to ask in case you need to get your roof fixed in the future- 
Is the Contractor Licensed to Do Roofing Jobs? 
Most states in the U.S. have made it mandatory for roofing contractors to avail a license from the state to work. However, there may also be different individual requirements depending on the state where you live. It is always better to hire a professional roofer to comply with the state's rules and regulations to minimize risk. Moreover, you must also ensure that their license is up to date so that you may receive legal discourse if something unfortunate were to happen. 
Does Your Roofing Contractor Have Workman's Comp Insurance?
There is no mandatory rule that all roofing companies must provide workman's compensation insurance to their workers or employees. Nevertheless, getting all the necessary information from your roofing company is wise. Some contractors may install or repair a roof in your home without compensation. 
If any injury or unfortunate incident occurs on your property, you will be held responsible for paying all the medical expenses. You wouldn't want to deal with such expenses when you are already spending significantly repairing your roof. This is the primary reason why you should ensure that your roofing contractor offers workman's compensation. 
Do They Use Roofing Subcontractors? 
Many times, many roofing contractors hire subcontractors to handle your roofing job. Hence, before hiring a contractor, you must inquire whether they work with subcontractors and offer the workman's compensation. 
Along with this compensation, you must also ask whether they provide any general liability insurance to their subcontractors. It is also advisable to seek lien waivers to protect you during the circumstance that your contractor does not pay the subcontractors. 
Will the Roofing Contractor Remove Your Old Roof?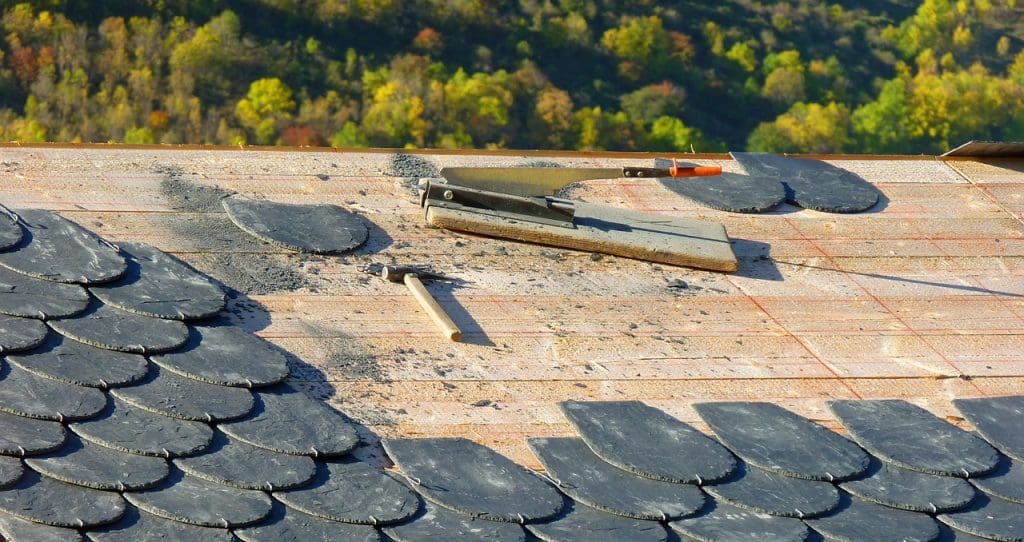 It does not come as a surprise when roofing mechanics inspect your damaged roof before deciding to shingle over it or do a roof replacement. However, visual inspections are not very reliable because they do show any rotten or dams fed spots. 
If a roofing professional does not identify these spots, the problem may linger for long and worsen your roof's situation. It is a basic understanding that your older roof must always be removed before installing a roof replacement to ensure that all problems have been addressed and solved. 
Does the Roofing Contractor Bring a Container for Refuse Material? 
A roof replacement or installing a roof typically generates much refuse or dump comprising shingles, old plywood, nails, and other debris. The professional you hire to install a new roof must bring a new container to the location to clear off all the dirt and debris. Since you are paying a considerable amount, you are not responsible for providing a container or clearing the trash after the job is done. 

What is the Warranty of Your New Roof? 
Shingles usually cost the same as older ones, but with greater durability, i.e., they last for a longer duration. As a customer availing of High quality roofing services, you must receive a minimum of 25 years out of new shingles. To avail of this, you should ask your roofing contractor about the warranty. If they provide you with a warranty of less than 25 years, their credibility is doubtful. 
Is the Roofing Professional Going to Provide a Written Estimate?
Doing a roof replacement or installing a roof may become an expensive affair, especially when you are living paycheque to paycheque. Hence, before you sign a deal with your roofing contractor, make sure to receive a detailed estimate of all the tasks included in the roofing job. That way, you can negotiate as well as not get any surprise costs during the roofing job. 
Finding the perfect roofing contractor can be stressful, primarily if you haven't dealt with such a professional before. To not incur any losses, ask specific questions and receive all the needed information before signing the contract. It is always better to be aware than to stay in the dark. 
Featured Image by F. Muhammad from Pixabay