Should I Move To Miami? A Brief Guide To Help You Out
The sunny, vibrant city of Miami is a great place to call home. If you're considering making a move here, there are some important things (like job prospects and living expenses) to consider. The area offers up warm weather year-round, amazing culture, and plenty of opportunities for exciting events and activities in the city. Before taking the plunge into South Florida life though, it doesn't hurt to learn more about what makes this bustling metropolis so unique — from housing options and entertainment hotspots to regional cuisine that you won't want to miss out on. In this article, we'll take you through all of these topics, and who knows, maybe you'll start looking for trusted Miami movers right after reading!
Things to Know Before You Start Planning a Move to Miami, Florida
Population info and demographics
Miami is one of the most populous cities in America, with a population that currently stands at nearly 450,000. With a high amount of diversity, the place is home to numerous ethnic and racial groups, including sizeable Cuban and Haitian American populations.
Affordable cost of living
If you're considering a move to Miami, FL, you'll be glad to know that the cost of living there is competitively low. With reasonable real estate prices and a range of great options for shopping, dining, and entertainment, it's easy to have a comfortable life in this city without breaking the bank.
Jobs
From finance and tech startups to retail and hospitality, those looking for jobs in Miami have plenty of options. If you are seeking positions in the corporate world, Miami has many high-paying legal and consulting positions to offer. On the other hand, there are also numerous creative roles available in design, marketing, digital media, fashion, and more.
Public transportation
Public transportation plays an essential role in keeping the city's vibrant atmosphere alive and running smoothly. The area transit system includes buses, trolleys, water taxis, and tri-rail.
Good weather
Miami is renowned for its warm sunny climate, and this makes it an ideal destination for those looking to escape from the cold winter months. The perfect temperature of 80 degrees, fluffy white clouds, and beautiful blue skies characteristic of this sunny city make spending time outdoors enjoyable for locals and visitors alike.
Tons of entertainment
From top-class shopping and dining experiences to a vast array of beaches and parks, there's something for everyone in Miami. Whether you're interested in catching a major sports game or dancing at an exciting beach party, you'll find plenty of activities to keep you busy. The place is also home to world-renowned venues such as the Adrienne Arsht Center and The Fillmore, where you can experience live music and specialized events. Families with kids might enjoy visiting Seaquarium, an educational marine park that offers wild dolphin shows.
Great Beaches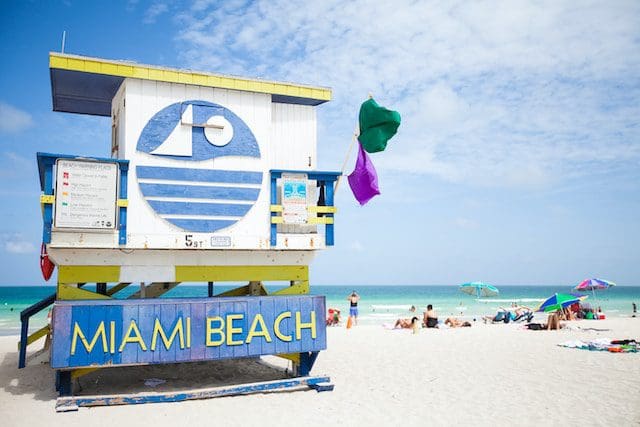 With eye-catching white sand and crystal-clear water, locals and visitors alike can relax in the airy coastal breeze while soaking up the warm sun. There's a beach for everyone, too. South Beach is perfect for people-watching, while Crandon Park offers spectacular natural beauty. Experienced swimmers will find Matheson Hammock a paradise; situated on an old coral reef, its calm waters make it ideal for swimming without overpowering waves. Finally, Key Biscayne provides breathtaking views of downtown.
Amazing food
There are so many different types of cuisine around the city that you can never get bored. From Cuban classics such as Ropa Vieja to traditional American favorites, you'll find dishes to fit all tastes. Of course, we can't forget the Latin food from Mexico, Peru, Argentina, and so much more! With such a large variety of meals to choose from in Miami, your taste buds will certainly be tempted!
Bad traffic
Miami traffic is the stuff of legends! Everyone knows how congested it can be at peak hours, but even off-peak times can still be a nightmare of gridlock. It's not uncommon for a "quick" drive to take twice as long as expected. Add to that the fact that drivers are often reckless and hurried, and you have a truly deadly combination.
Many Miamians speak Spanish.
Miami has long been considered a melting pot of cultures, with immigrants arriving from all over Latin America. This has led to an incredible diversity of languages spoken in the city, with Spanish as the most commonly used among Miamians. This diverse cultural atmosphere contributes tremendously to Miami's unique flavor, making it one of the most interesting places to live and visit in the United States.
7 Tips for Moving to Miami, Florida
Prepare a budget. 

This can help you understand the cost of living in the city and the spending habits you'll need to practice to make your move financially feasible.

Prepare a moving plan.

 Begin your plan by setting times and dates for each stage of the move. Next, create lists of people and places you need to notify about the relocation. Besides, research affordable housing options and determine how much time and money you will need to arrange the perfect home for you.

Choose a reliable moving company. 

Take some time to read reviews from past customers and find out what services each company offers. Be sure to compare prices and insurance policies as well.

Ask some real citizens for their advice. 

They can provide invaluable information regarding neighborhoods, traffic patterns, schools, public services, and more.

Find a job.

 Doing so provides a steady income, helps you make new friends, and introduces you to the local community. There are many great employment opportunities in Miami, but considering the competition, you must take your job search seriously.

Start packing ahead.

 Doing so gives you plenty of time to wisely pick out important things that you will need specifically for the move, especially if you're coming from far away. Packing ahead also allows space for unforeseens that arise along the way while helping to eliminate last-minute stress.

Prioritize the items you need to keep with you. Get rid of unwanted items

. Not only will this declutter your life and make packing up much easier, but it will also save money and storage costs while allowing more space in your new home.
Conclusion
Moving to Miami can be a big life change and transition, but it's an incredibly exciting one! From its warm weather, vibrant culture, and a multitude of beautiful beaches, there's just something about living here that makes it truly unique. With this guide, hopefully, you now have the knowledge and insight to decide whether a move to Miami, Florida, is your cup of tea or not, so if it's time for you to make the transition, pack up your bags and head south — because when it comes to a great place to live, nothing quite compares to this sunny paradise!
Feature Photo by Vincent Gerbouin: https://www.pexels.com/