Are you ready to renovate your bathroom this new year but don't know where to start? You're not alone! One look at the trendy bathroom inspiration ideas online, and suddenly you realize how much your bathroom bums you out. 
Whether you want to fix up your half-bath, ensuite, or primary bathroom, there are experts ready to help you find and deliver the best renovation of your lifetime. With the new year approaching, there's no better time to begin planning your bathroom remodel. 
Rent Appeal, a Marietta property management, says there's a long checklist that requires your utmost attention to detail before you begin ripping out tubs and tearing down walls. You deserve the best renovation efforts to turn your boring bathroom into a relaxing spa retreat. For the most elegantly, well-thought-out bathroom renovations, keep reading and find out what you need to do.
Mind Your Space
First, which bathroom requires a facelift? Not all bathrooms are created alike, so requirements for space and time can vary. You may come to realize that the space you have is overshadowed by outdated, bulky countertops or tubs. Consider what you want to get out of the space you have so you can begin thinking of the best ways to make it look and feel better. 
If you want a spa-like experience, what items can help you accomplish this aesthetic? If you're dealing with a tiny half-bathroom, what type of fixtures can be used to bring out the best of the space you have to work with? 
To get the most out of the space you have, be sure to take measurements and get the proper dimensions for your bathroom. This step is crucial for finding the fixtures and other items that won't be too large for the room you have. Measurements will need to include the walls, doors, windows, cabinets, or any other objects in the room. 
Planning Your Remodel 
The best bathroom renovation starts with a plan. Once you know the dimensions of your bathroom, you can begin to come up with the best roadmap for your bathroom blueprint. Bathroom renovations can be messy, loud, and inconvenient. You'll want to make sure you have all the details ironed out about other bathroom usages and the time you have to cater to the bathroom remodel. 
You should be prepared to face some challenges and bumps in the road. It's important to note the plans you'd like to do yourself may require a professional in case you run into some extreme problems. When it comes to design, you can certainly apply your tastes and preferences, but an expert designer can inform you about potential issues involved with your ideas and offer better alternatives. 
What Do You Want?
This is the fun part! When you think about what you want to get out of your new bathroom, you'll begin looking up inspirational photos and videos detailing the most breathtaking bathroom features. From showers, tubs, sinks, mirrors, toilets, and more, a bathroom can perfectly match your personality and aesthetic desires. 
Materials
The materials you use for your bathroom renovation can make or break your artistic desires. Regarding color coordination and the finest decorations, you'll want to choose the best materials possible. 
Backsplash
The material you use for your backsplash says plenty about your artistic aspirations. Tile is easily cleanable, cost-efficient, and gives you a wide variety of color options. Tiles come in many shapes and sizes and can be placed wall to wall or just in the places that deserve a touch-up. You can also use mosaic glass or wood, depending on your aesthetic needs. 
Flooring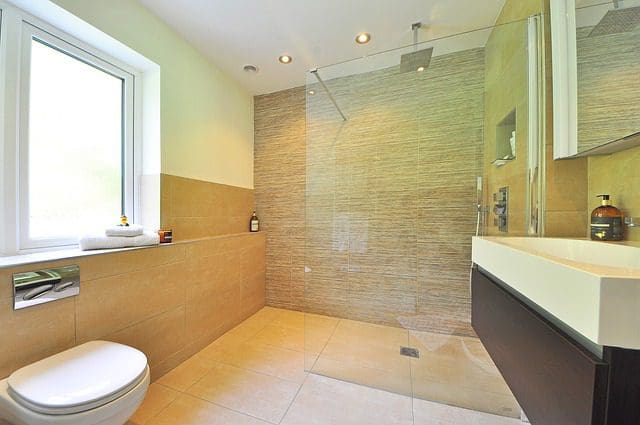 Natural stone, ceramic, and porcelain tiles offer you different textures and color options. Much like a backsplash, you have many options regarding the shapes and sizes of the flooring tiles you want to apply. Wood flooring isn't a bad idea, either. Hardwood floors just need to be sealed to prevent damage from excessive moisture. This could go without saying, but carpeting is a huge no-no for bathroom flooring. 
2023 Trends
Trends come and go, but some are fashionably distinct and may surprise you with how elegant they are. 2023 is already showing its fair share of bathroom trends that you'll want to apply to your renovation. 
Lighting
If the lighting in your bathroom is stuck in the 90s, it's time to step it up a notch. There are beautiful new lighting fixtures available, including glass pendants, hanging lights, and even lights that can go in your cabinets. 
Waterproofing
Waterproofing a bathroom is popular and rather necessary for a bathroom. After all, it's not called a bathroom for nothing! You can waterproof just about everything in a bathroom, including the walls, floors, and ceilings. This usually means applying moisture barriers, waterproof paint, and other water-resistant features to your bathroom fixtures.
Storage
Epic storage space is the way of the future. Everyone is trying to minimize their cluttered spaces with extra means of storage. Opting for more organizational efforts can tidy up your bathroom by building storage cabinets, shelves, and drawers.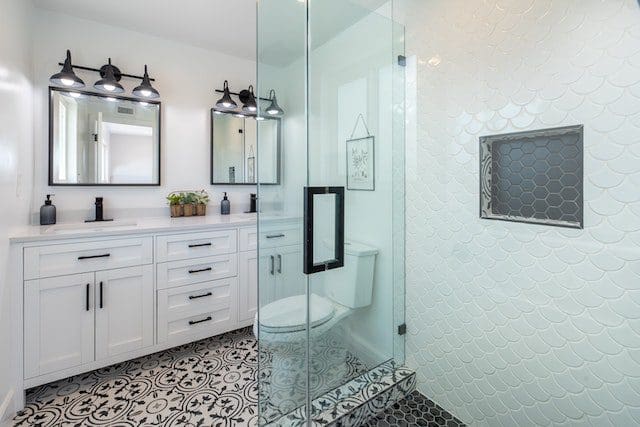 Assess Your Budget
You get what you pay for! The more money you spend on your bathroom renovation can ultimately save you money in the long run for extra repairs and maintenance costs. You certainly don't want to cut corners where it counts, but some areas of your renovation can allow room for savings. 
Now that you know what features and fixtures will perfect your bathroom, you can begin assessing the costs involved for materials, items, and labor involved in your bathroom renovation. If you're on a tight budget, consider mixing and matching certain pricey materials to save you money without compensating for comfort and practicality. 
Hire Professional Bathroom Renovators
There you have it! You know how much space you have, how fancy you want to get, and what materials and colors will make your bathroom renovation perfect for you and your family. The next step is to hire bathroom renovation professionals to handle the difficult bits and allow you to rest easy while your bathroom gets restored to luxurious glory. 
Featured Image by Pxfuel