The following post is from Jo-Lynne of Musings of a Housewife: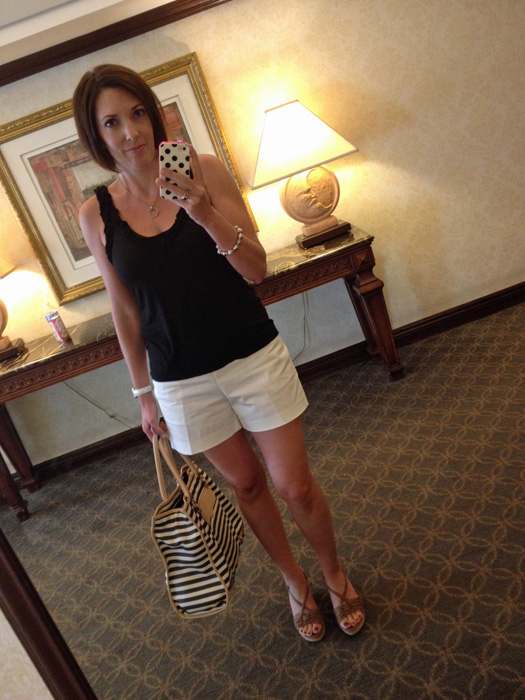 It's all the rage. Dressy shorts. Yes, even with heels! Do you dare?
I've been debating it for some time. I like the look. But it's a bit out of my comfort zone. Not that I don't wear shorts. I do — with tank tops and flip-flops. But wearing dressy shorts with a blouse and heels is a whole different ballgame.
I went to the BlogHer Conference last weekend — a huge blogging conference for women in New York City. I figured if there is ever a time to try out a trend that I'm not 100% sure about, I might as well do it here. You see everything at a conference like this — all sorts of styles and all sorts of looks. I will blend in no matter what I wear. So, I'm trying it out!
I've been paying attention to people who wear this look, trying to determine how to wear a dressy shorts outfit without looking like a streetwalker. Here are some tips.
1. Styles should flatter your body type.
If you like your legs, go for shorter shorts. Dressy short shorts are edgy and fun and very now. If you have shorter legs, you'll also want to wear shorter shorts. Of course, short shorts are also great for showing off longer legs.
If you don't feel up to the short shorts, try walking shorts — these hit right above the knee and are very classy. Anyone can pull off this look.
Just as with pants, you want them to fall straight down from your hips. Shorts that flare can make you look wider than you are.
Also, make sure they aren't too tight — nothing is worse than shorts that are too tight across the tushy.
2. Try a monochromatic look.
I've seen this suggestion on several sites, and I love the look of it. Then you can bring in colorful accessories to make a great fashion statement.
3. Pair shorts with a blazer.
Putting a blazer with your shorts definitely dresses them up, and it provides a nice balance for the skin your showing in your shorts. This can be a great look for work if worn with longer shorts and for a night out if you want to go with shorter shorts.
4. Try shorts with a dressy blouse.
I think this is my favorite look. The blouse immediately dresses up the outfit while keeping it fun and feminine.
5. Let's talk shoes.
Wear a pair of really sweet flat sandals for a safer look. But if you dare, try them with heels. Pumps, wedges, and sandals all work. It all depends on your comfort level. You can see examples of both styles above.
I debuted the look at BlogHer last weekend. I felt more confident than I expected I would! I wore them with heels most of the day and switched to flats for dinner when my feet were done.  Wanna see? Check out the pic at the top of this post.
How about you? Are you participating in the dressy shorts trend? How do you like to wear your shorts?
Jo-Lynne is a Christ follower, mom blogger, barefoot runner, style watcher, reluctant chauffeur, amateur photographer and aspiring locavore. She writes the award-winning lifestyle blog, Musings of a Housewife, and facilitates the social networking group, Philly Social Media Moms.