Even the most experienced family travelers forget to pack absolutely everything that is needed for a trip. Throw in having to pack for more than just yourself with children and babies in tow, and there are likely to be some items that get forgotten. Children and babies require more extras than you would normally have to think about with just adults traveling, so getting it right, and packing what you need, can make the whole thing much less stressful. 
No matter what kind of vacation you are planning to have, there are some items that are just a must-have. Having some versatile pieces of clothing or accessories in your luggage can help you get done all that you need to and make sure that you don't have to spend lots of money at your destination buying what you forgot to bring. A packing list really can be helpful for families, as there are so many things to think about! Not to mention that for some vacations, such as a skiing trip or a hiking trip, you may need to take some rather specific items. However, with all of this in mind, here are some of the things that you need to pack and get ready for your next family vacation to make it much less stressful.
The clothing
Clothes are the things that usually take up the most space when packing. That is why it is usually best to bring an outfit for each family member, roughly for each day. However, depending on the age of your children, some extras are a must for spills, accidents, and mess. If you know what your accommodation is like, and there will be somewhere to do laundry, it can be a good help as you can pack half the amount of clothes and just wash them halfway through the trip. If there won't be access to laundry, then you need to make sure there will be enough clean clothing for everyone, for every day. 
One tip for moms packing for a trip is to use different packing cubes or ziplock bags to divide clothes. Then you know that if you grab a baggie, there will be an outfit and underwear in there for each child to make the mornings much easier. Dirty clothes can then be put back in the baggie, so you know they're ready to just grab and empty when it is time to do laundry. The same goes for swimwear and sleep clothes; everything will be easier to locate if they are bagged up and labeled. 
The kind of clothing that you need to make sure that you pack is: 
Underwear, enough for each day of the trip (plus extras for toddlers), as well as socks

Swimwear and beach towels, especially if you have poncho-style robes

Everyday clothing, such as shorts and t-shirts

Fancier outfits for dining out

A hoodie or sweatshirt for cooler summer evenings

Sleep clothes usually can be worn for more than one night, depending on the ages of your children
Shoes
When it comes to shoes, there won't be too many pairs to take. However, if you are going to the beach or somewhere warm, then packing a pair of athletic shoes and sandals or beach shoes for everyone can work well. To pack as light as possible, it can be good to wear the heaviest pair of shoes you want to take. Flip-flops and sandals can be stacked quite lightly. Another piece of advice is to not bring brand new shoes for anyone on the trip. This can end up with some sore feet as the shoes get broken in; you won't want to have to deal with blisters when you're out and about on vacation. 
The kinds of shoes to think about taking with you are:
Casual shoes

Flip-flops or sandals

Hiking shoes if needed

Water shoes, if relevant

A dressier pair of shoes
Medical items
Packing some essential medical items can often be an afterthought unless you or one of the children has a specific medical need. But having a few basic supplies with you can make a difference when you're away from home and need to quickly use a Band-Aid or check your child's temperature. What you may need can vary greatly from each family, as all families will have different needs. However, here are some ideas for the kinds of medical supplies that you may need to take with you:
Details of health insurance of foreign medical insurance

Any prescribed medications that family members need

Ibuprofen or Tylenol that children may need

Thermometer

Wipes or hand sanitizer

A first aid kit with Band-Aids, bandages, and other essentials
You could also think about taking something like a shemagh scarf with you on your travels. Historically they have been used for outdoor survival, but nowadays are mainly used for fashion. However, they are a very versatile item to have in your bag because they can be used as a headscarf if it is too hot, as well as a towel, a blanket, an eye mask, or even a makeshift arm sling if required. Let's face it, when you travel with children, you never know what you might need!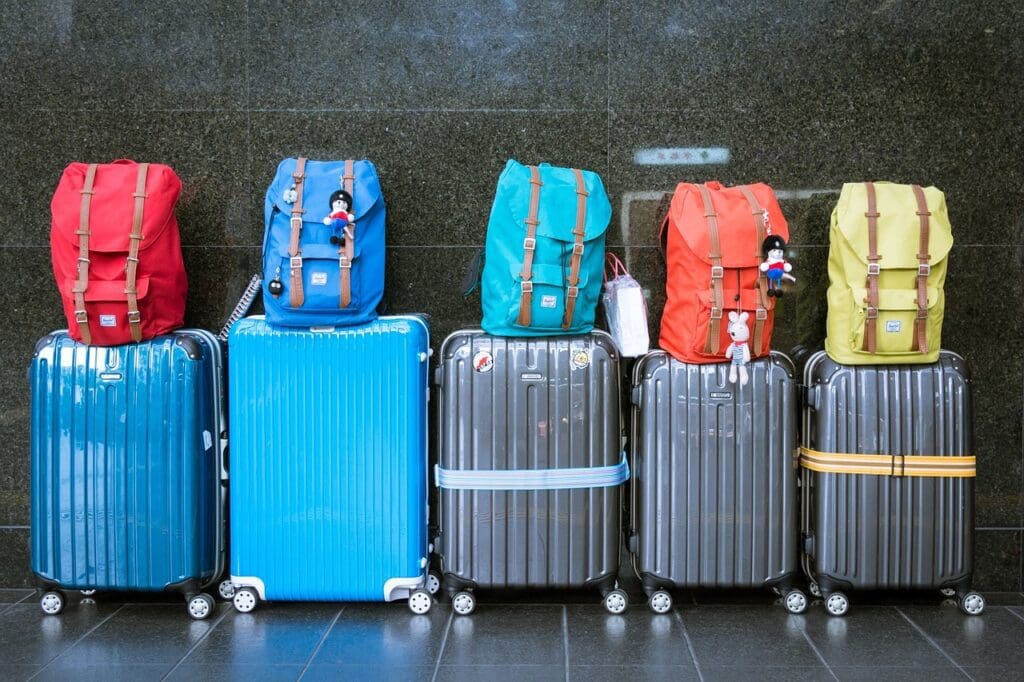 Essentials when traveling as a family
Children require much more gear than any of us adults do, and you can't always guarantee that certain items will be at your hotel or other accommodation. Although you can call ahead to check, it can be worth taking some of your own items to make the travel easier for everyone. They might have a travel crib, for example, but not have sheets and blankets for it, so check and be prepared. When you're bringing babies and toddlers, here are some of your essentials:
Taking a baby carrier can be a good idea, as you can't always use a stroller.

Plenty of diapers! There will be stores you can buy more from, but you'd have to check where the stores are in advance. Remember to get swimming diapers too.

Wipes and other diaper accessories like diaper cream

Although snacks and food can be bought at your destination, having enough at least for the journey and the first few days can be a good idea.

Any bottles, cups, bibs, and other feeding items that your children require

Special items that your children love, such as a pacifier, a particular stuffed animal toy, or a blanket they love

If you are driving or renting a car at your destination, then obviously, car seats are a must.
Carry-on items for children
If you are going to be flying, then having a backpack for each child, as long as they are old enough to carry one, is a good idea. Having them pack it themselves can be a good idea, but checking that there are some other essentials in there can be a good idea. Some items to make sure are in carry-ons for children are:
Any comfort item like a toy or blanket

Favorite snacks

Soothers or sippy cups, depending on the age of the child and their preference.

Headphones and a tablet or iPad

Books, games, and things like crayons and coloring books
I get it. It can sound like a lot. But you don't want to be underprepared when it comes to traveling with children. When you're prepared and have planned ahead, it will make everything run much more smoothly, which is what all moms want when traveling, right? Good luck!
Featured Image by Marie Sörlin from Pixabay