The following post is from Tiffany of Mommy Goes Green:10 Simple Ways Using the Library Can Save You Money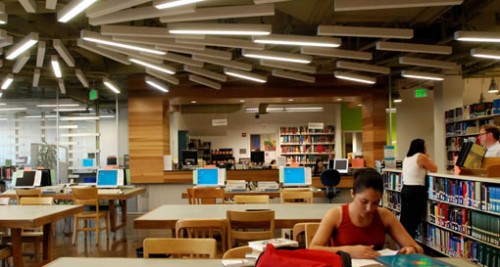 I adore the library and think it's one of the most underutilized public programs we have available to us! Our local libraries offer so much more than just books, they have a wealth of material, programs, and online resources available to save you money:
Internet Access
Using the Internet at the library can be a great way to chop $50 or more from your monthly budget.
If you don't have a computer, they have one for you to use or you can bring your own and use their free Wi-fi.
Movies
We recently canceled the DVD portion of our Netflix account because we can score both DVD and Blu-ray movies from the library for free. We also really like that most are available for check out for as long as one or two weeks.  We reserve movies we want online, and I am notified by email when they are available.
Magazines
I am a magazine junkie, but I only subscribe to a few favorites. I've been known to climb in a comfy chair with a cup of coffee and a magazine at the library. I also like that the magazines there have a longer life because they are used by many readers.
eBooks
Here's the thing about eBooks – you don't even need to own an e-reader! Most of them are available for download to your computer or mobile device so take advantage of all the free eBooks your library has to offer.
Music
Sometimes I just need to listen to a CD a few times before to decide that I don't need to buy it.  I check them out from the library, blast them in my car for a week or two and then return them. I also take advantage of the library's Freegal system, it allows me to download up to three MP3's at a time and keep them as long as I'd like. I've saved myself a lot of impulse iTunes purchases this way.
Programming
The children's programs have been particularly good for us during the winter when outside play is not always a good idea. Instead of paying for a pricey indoor play area, we can head over to the library for their weekly free programs. Our library offers crafts, movies, sing-a-longs and I've also seen teen classes for SAT prep and free tutoring.
Free Tickets and Passes
Our local library offers a family pass to the local museum, and the one I belonged to previously had tickets for every major museum, garden and historical venue in the area. It was a great benefit allowing us to try out many cultural events in our city for free. We ended up liking one of them so much that we paid for an annual membership.
Summer Reading Program
The reading programs offered by most libraries not only encourage kids to read throughout the summer, but you can often score several freebies for participating. We have gotten many free books, pizzas, ice cream cones, and sporting event tickets when we completed the program.
Language Lessons
I've had my eye on some online language lessons, but then I discovered our library gives all members access to Mango Languages where we can study 11 different languages. They also offer an ESL course. This might be particularly helpful to homeschooling families.
Book Sales
I have stocked at least half our home library collection from the wonderful sales at local libraries. I try to attend several per year and have scored so many great books for $1 or less. It is a great place to purchase used cookbooks that are in great shape. Not only have I purchased many books in great condition, I've also purchased DVDs, CDs, and puzzles. My advice: go early and go often, you will not regret it.
What special perks or programs does your library offer?

Tiffany is a wife and mom of two, living simply to indulge her family's love of outdoor recreation and travel. You can find her contributing at Simple Homemade, The Creative Mama and her personal home on the web, Mommy Goes Green.