The following post is from Jessica of GoodCheapEats and LifeasMOM: How to Learn to Cook
Learning to cook good food is a science as well as an art. There's an element of food science and chemical reactions to consider. Some mixtures work. Others don't. But there's also a creative side to cooking: combining flavors, textures, and colors that are both visually and gustatorily pleasing.
While some people seem to be genetically geared toward creating great things in the kitchen, no one is born "knowing how to cook." Yet, there are many ways to acquire good cooking skills and to grow into a great cook.
Here are just a few:
Learn from family and friends.
Many people are blessed with a grandmother or parent who is or was a good cook. My Gramma John raised eight kids on a very limited budget in the farmlands of Minnesota. She knew how to stretch a buck, feed a crowd, and make a mean apple pie. I loved standing by her side, watching and "helping." And I learned a lot from her.
If you didn't grow up with good cooks, find a friend who shares the same tastes in food and learn from him or her. In college, I lived with a family who loved food. The mom had owned her own catering business for a time, so great meals were to be had every night of the week. By poking around in Kathi's cupboards and watching her wield her spatula, I learned a ton about pulling together a great meal.
Get a job.
Believe it or not, you don't have to have culinary training to get a job in a kitchen, bakery, or restaurant. It obviously won't be a top job, but ground-level jobs are designed for the unskilled and you can learn a tremendous amount during on-the-job training.
In my younger years, I worked at a grocery store, a university kitchen, a bakery, and a restaurant. All those jobs provided me with information and skills that I use in everyday life today. Asking lots of questions along the way helped build a base of food knowledge in my head that I regularly draw from.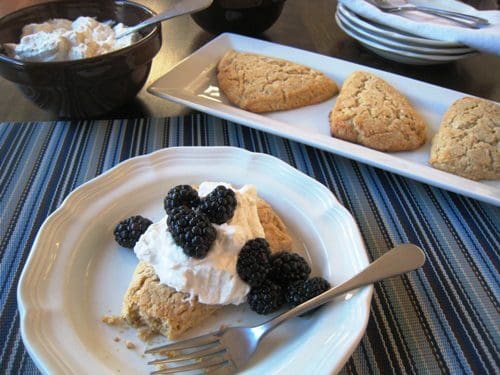 Read good cookbooks, magazines, and food blogs.
As a literature major, I love books, novels in particular, but cookbooks and cooking magazines are a close second. One of my past careers was as a high school English teacher. My department head introduced me one day, saying, "She reads cookbooks like they're romance novels."
It's true that I've learned a lot about love — food love, that is — from great cooking literature. My favorite magazines for teaching great cooking chops are Fine Cooking and Cook's Country. Another great one is Cook's Illustrated. All three of these resources offer instruction, shopping tips, and delicious recipes. Even if I don't cook the featured item, I still learn a ton to add to that base of knowledge.
And it goes without saying that blogs are a great source of food knowledge.
1. Simple Bites is my go-to source when I need a quick answer about something food related.
2. Good Life Eats inspires me with her beautiful tablescapes.
3. Food for My Family encourages me to think outside the box with different ingredients and traditional recipes.
4. Lynn's Kitchen Adventures offers a wealth of ideas for making "normal food" extra good.
Watch food television.
I'm not a huge TV fan, but I do like some food networks. Alton Brown's Good Eats is a great example of a show that teaches. Humorous and light-hearted, yet still informative, the program offers a lot to someone really wanting to grow as a cook.
Cook, cook, and cook.
They say that experience is the best teacher. And I would have to agree. I've learned the most through trial and error, tasting, testing, and going back to the kitchen and trying again.
My family has tasted some horrific flops. Personally, I've blocked them out. But, I bet my kids could name a number of train wrecks that will live on in infamy.
But, we've also shared some wonderful meals. Salsa Verde Beef was an experiment that gets gobbled up every time I make it. My family adores these Whole Grain Shortcakes with Berries and Cream, and my Mediterranean Steak Salad is always a hit. These family favorites were just a result of experimenting, tasting, and refining.
Give up your fears.
You have to be willing to try something new. Be willing to risk a little grocery money to experiment — just have PB and J's waiting in the wings if it's a train wreck.
Good food is waiting — at YOUR fingertips. You just have to try.
How did you learn to cook? How are you currently growing in your knowledge of food?
A foodie at heart, Jessica Fisher has learned to reconcile a tight budget with her love for great food. As a busy mom of six voracious eaters, she regularly shares healthy, delicious and budget-friendly recipes at GoodCheapEats. She also writes on her parenting blog, LifeasMOM.