Coming off what felt like the never-ending year of 2020 and the insane whirlwind of the COVID-19 pandemic, fashion trends consisted of easy, comfortable styles – where maximum comfort meets practicality. After all, 2020 compromised of people transitioning and even maintaining a part or full-time work-from-home setting. Easing into 2021, with more and more people are leaving the work-from-home setting and returning to the typical workplace environments again, similarities have arisen in fashion trends now emerging in 2021. You'll find in the list below a compilation of the most popular fashion trends seen in 2021.
1. Lug-sole boots.
Chunky, combat-style boots started to make their way back into modern trends beginning in 2019 but made a strong comeback in 2021. Dating as far back as the 1940s, in the middle of World War II, the combat style of boot started as heavy-duty footwear for the military and was eventually involved in numerous subcultures. Dr. Martens, arguably the most well-known chunky boot, has inspired multiple spin-offs of their classic lace-up boot, such as Wellies or Chelsea boots. Prada, another famous fashion brand, styled their runway models with a variety of monochrome combat boots in their fall/winter collection of 2019, beginning the re-run of this current trend. 
2. Mom jeans.
Mom jeans are also known as looser cut or boot cut jeans, this style has made a triumphant comeback, especially with the millennial generation. These types of jeans are not as tight to the skin, highlighting the stark difference between the beloved indigo skinny jeans that were so sought after in the earlier 2000s. Although skinny jeans haven't lost their charm and continue to remain trending now, mom jeans have become more mainstream as they're looser on the individual and provide a more comfortable, relaxed fit that can easily be dressed up or down. 
3. Round sunglasses.
Once made popular in the 1960s by legendary John Lennon, round-framed sunglasses have also made their way into one of the most popular accessory styles trending now. Millennials wearing this fashion trend in the round frames of these sunglasses are timeless, adding an intellectual vibe. Customize your look by selecting from endless rimless, thin, or thick wireframe designs with or without tinted lenses. Individuals with triangular, heart, or square face shapes look best with these style frames.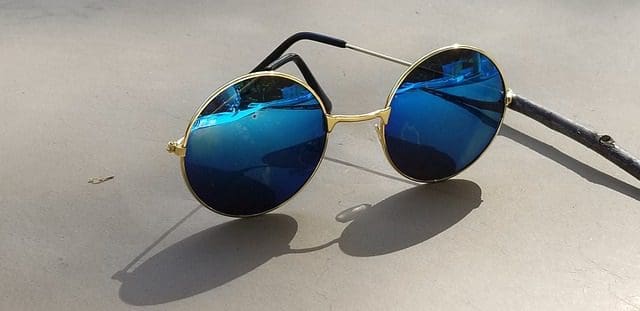 4. Blue light glasses.
Due to the enormous increase in time spent looking at electronic devices since the pandemic struck, blue light glasses have become more popular. Blue light glasses can aid in the reduction of eye strain, which can lead to headaches, migraines, or decreased concentration on a task. These glasses have a slight yellow tint to the lenses, which is vital in the overall reduced amount of blue light that any screen surface you are looking at is radiating to your eyes. Large companies like Warby Parker offer a variety of rims to fit their blue light lenses, making your choice easy and affordable. 
Conclusion 
Overall, 2021 has brought back styles from the early 1990s and 2000's- some even as far back as the 1940s! 
Although today's technology has surpassed what was ever thought to exist, the trends continue to reincarnate themselves into the trends of 2021.  
Featured Photo by Tatiana Syrikova from Pexels