When it comes to decorating, the bathroom is often last on the list of priorities. Unlike the living room or bedroom, where we tend to hone most of our interior designer skills, bathrooms leave a lot to be desired in most homes. If you're someone who is looking to give your home bathroom a complete makeover, this is the article for you. Today, we look at 4 of our favorite ways to modernize your bathroom using natural elements, so keep on reading to find out more! 
Incorporate Timber and Natural Stone Elements
Timber and natural stone are timeless additions to any home, and the same can be said for the bathroom. In terms of timber, it can be easily incorporated into your bathroom in the form of a bathroom vanity unit or a simple yet elegant timber bathtub that truly makes a statement. Timber is also a fantastic way to add warmth to your bathroom and can really help to balance the bright and monochromatic presence of white tiling.
Natural stone is another incredibly popular bathroom element and can be incorporated in the form of tiles on the floor or even within your shower area. Some of the best options include marble, granite, slate, and limestone, depending and choices will differ depending on the look you are going for. 
Get Your Hands On Some Low-Light Indoor Plants
The bathroom is one of the most humid areas in the home, making it the perfect environment for tropical or low-light indoor plants that thrive in humidity. Some may think that plants in the bathroom are a little weird, but we can't deny their effects on our overall mood, which has been proven repeatedly in numerous studies. Perfect plant choices for the bathroom include the Chinese Money Plant, Snake plant, Golden Pothos, Aloe, English Ivy, Peace Lily, and so many more.
If you're lucky enough to have a reasonably sized window in the bathroom, we highly recommend placing your plants nearby so that they get a healthy amount of sunlight each day. If you don't have any windows, be sure to choose indoor plants with low light requirements to ensure that your plants thrive even if they lack natural light. 
Bring In Some Sunlight
As we mentioned above, if you're fortunate enough to have a decent-sized window in the bathroom, chances are you already experience an abundance of natural light throughout the day. Unfortunately, this is not the case for many people who don't have windows in the bathroom. Thankfully, there is a quick and easy solution to your lighting troubles.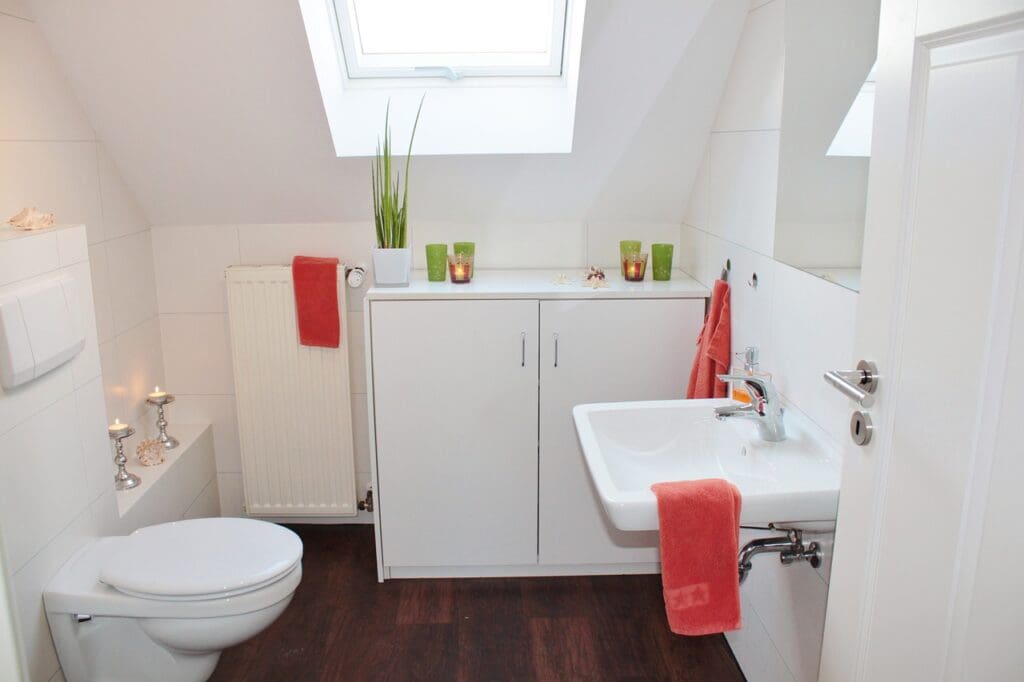 Installing a skylight can be one of the best things you do for your bathroom as not only does it allow sunlight into your space, but it also improves ventilation, reduces condensation, and can even increase your home's resale value in the long run. Plus, having sunlight on your body during an early morning shower comes with a variety of added health benefits too. 
Accessorise With Natural Materials
Accessories are the icing on the cake and the perfect way to tie your bathroom design together, so be sure to choose natural materials such as wicker, rattan, bamboo, or anything else that hint of outdoor elements in order to make full use of nature's calming benefits to your space. You'll be amazed at the wide variety of nature-inspired bathroom items such as shower caddies, soap dispensers, wastebaskets, shower benches, and seats that you can find both online and in most stores, so be sure to explore your options when it comes to accessorizing your bathroom! 
Sunlight, stone, wood, and greenery have the ability to transform any old or tired-looking bathroom into one that is peaceful, modern, inviting, and beautiful. We hope that this article has inspired you to channel your inner creativity and harness the benefits of natural elements not just in your bathroom but also throughout your entire home. 
Featured Image by Adrien Villez from Pixabay