Relocating to a foreign country is a life-changing decision. But in most cases, people relocate in search of a better life such as the Philippines. However, this is only achievable if the right destination is found. When hunting for the right place, you must consider the quality of life, cost of living, safety, and other factors like transportation systems and schooling facilities. Weighing in all the important factors is the only way to settle on a region that provides you with the life you're really after.
The Philippines has been a favored destination among foreigners for its hospitable locals, delicious cuisine, and wonderful natural sites. But did you know that the Philippines is a tropical paradise that is also a popular country to relocate to? 
So, if you're thinking about relocating abroad, we've listed five compelling reasons you should consider the Philippines. 
Affordable Living
It's pretty affordable to live in the Philippines. Moreover, even though the cost of living is relatively low, the average quality of life remains high. It's possible to live comfortably with $800 to $1,200 per month; this will cover your housing, food, utilities, healthcare, and even your taxes. Even so, some areas are more expensive than others in terms of housing. 
You can easily find a lot for sale in Cebu or a condo in Iloilo that's reasonably priced. Not only is there genuinely a wide variety of available properties here, but most real estate is budget-friendly. Because the Philippines is an affordable destination, it's also becoming a top option for those who want to retire abroad and stretch their pension savings as far as possible.
Accessible Nature
From the Banaue Rice Terraces to the Chocolate Hills and the Hinatuan Enchanted River, the Philippines is home to several natural wonders. This is one of the reasons why many foreigners choose to relocate to the Philippines. With affordable airfare and accommodation, there are plenty of tourist destinations to visit.
That said, you won't just be enjoying affordable living when relocating here, as you'll also have several natural vacation adventures on your doorstep. You really won't need to travel far for a vacation ever again when living in this tropical region.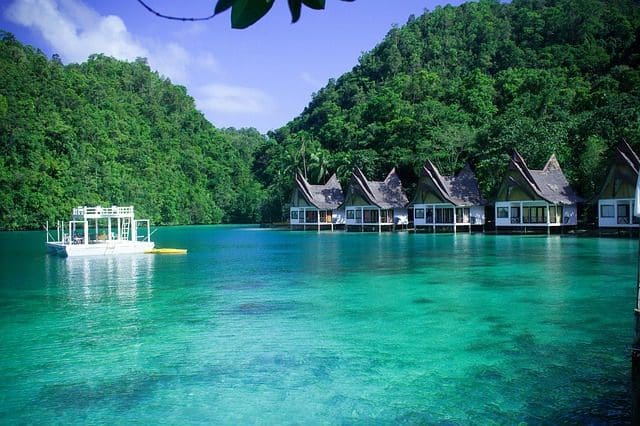 Pleasant Climate
The weather in this region is undeniably pleasant; you can expect a tropical climate throughout the year. Summers are warm and rainy, while the wet season is not too cold. The average temperatures year-round are between 21 and 32 degrees Celsius. Aside from plenty of rain, you can expect an ongoing sunny experience. 
Although the Philippines has a tropical climate, those who live in areas with lower temperatures might find this change overwhelming. That said, make sure to research the country's seasons and pack weather-appropriate clothing.
Friendly Locals
The locals here will welcome you eagerly and treat you like family! This is just one of the many reasons travelers choose the Philippines as a top-rated destination. 
Because the locals are friendly and welcoming, you'll find it easy to navigate the region upon arrival. You'll find the natives are more than willing to assist if you need help. When moving to a new house, expect your neighbors to give you different housewarming gifts, decor, and even food.
Rich Culture
The unique culture here is a blend of Spanish Catholic and traditional Filipino traditions, with some influences from other parts of Asia and even America. Nevertheless, the Filipinos are incredibly family-orientated and deeply religious people with an inherent appreciation for arts, cuisine, and music. 
You can see the mix of cultures in the country's architecture, religion, tourist destinations, and other aspects. Needless to say, the Philippines has different facets that showcase its charm.
With so many compelling reasons to choose the Philippines for relocation, it's worth comparing top-rated places to live in the Philippines. You'll find excellent options in Iloilo, Cebu City, Lipa City, and Tagaytay City. Nevertheless, when deciding to relocate abroad, you'll need to prepare. And one great way of doing this is planning a vacation to get a first-hand experience of what the location has to offer you.
Featured Image by Dylan Gonzales from Pixabay