The sun shines brightly in the city of Angels, and with a plethora of activities, it isn't easy to decide which ones to do. LA is a fast-paced, exciting, and dynamic city, and it's easy to experience the city's energy by exploring its many attractions. In order to explore Los Angeles, it's essential to know about the city's many hidden gems and the areas that are best-kept secrets. Here are six ways to do so.
Make Your Own Trip!
There is so much to do in LA that it is best to begin this post by letting you do the exploring on your own! Although this tip might seem like a cop-out, the fact is that everyone has different ideas of what an ideal holiday is. To that end, you can discover LA in the way you see fit, and the best way to do this is by renting a motorhome. RV rental in Los Angeles are becoming more popular these days due to the fact that people want to create their own itineraries and move about on their own time. An RV provides you with the opportunity to do this as you don't need to worry about where you will stay, and you can set up camp almost anywhere (although it is highly recommended to find a good camping area that has electricity and other facilities). This opinion is excellent for couples or families; just ensure that you choose an RV with enough space for the number of people who will come with you. Nevertheless, it is ideally suited to families because if you visit LA with kids, the chances are high that they will want to visit Disneyland or one of the major film studios. Therefore, you can save money on transportation and travel yourself.
Huntington Library Botanical Gardens
The Huntington Library Botanical Gardens is a collection of rare, living, and historical botanical specimens. In addition to the gardens, the library houses a museum with an extensive natural history collection. The Huntington Botanical Gardens are like nowhere else in Los Angeles. The pretty grounds include waterfalls, meadows, and winding walkways that lead to beautiful views and exciting sculptures. The grounds also include California native plants that have been saved from extinction at the Huntington. The Huntington Library Botanical Gardens is more than just a beautiful place to visit. They also house some of the rarest living plants in California, including blooming flowers, fruit trees, and rare examples of endangered species such as Catalina Island Buckwheat and Santa Cruz Island Tree Ferns. Suffice to say, if you are a nature lover, you will enjoy these marvelous botanical gardens, and you can choose to visit for a day or spread out over several days.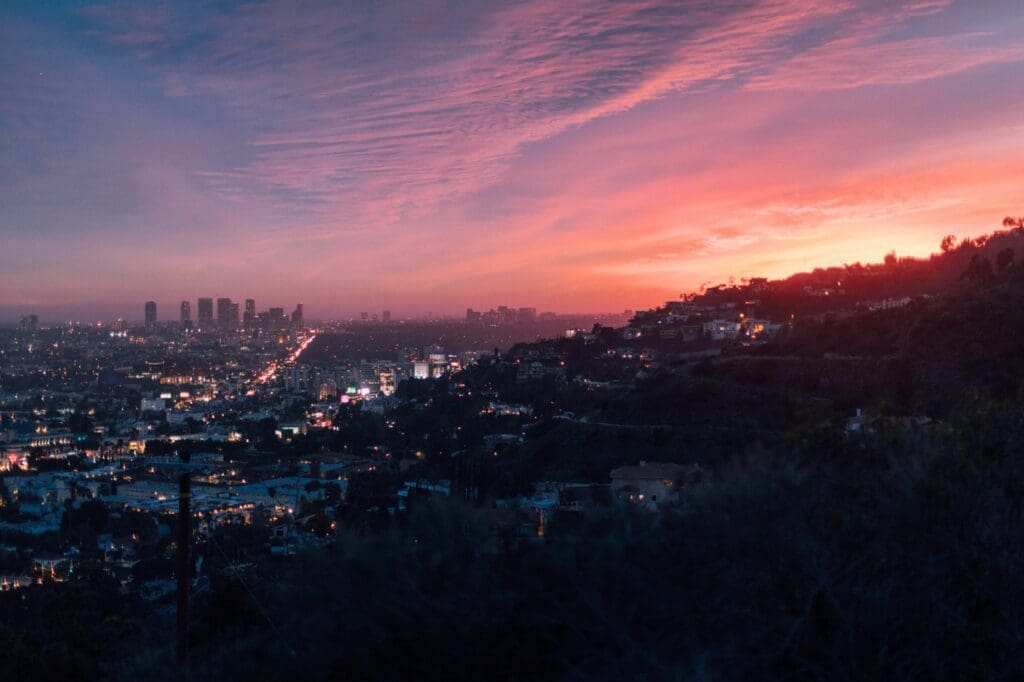 Hike And See The City From Up High
LA is a city that is even more beautiful when looked at from above. It's the city of angels, after all! The best way to do this is to get your hiking boots on, look up a hiking trail online that you like the look of, and get going. If you chose to travel via RV, you could drive there yourself, as mentioned in the first point. Otherwise, you might need to get a taxi or some form of public transport. The best thing about choosing to hike is that there are numerous trails you can try, and each track offers something unique. Although it might not look like it from the concrete jungle of LA itself, the surrounding areas are full of stunning nature and clean, fresh air. Depending on where you go, you will find ancient rock formations and trees older than anything you have seen before. In other words, hiking will afford you a view of LA that is rarely seen, and you will come away from it with a renewed perception of the city.
Los Angeles County Museum of Art
If you are an art enthusiast, you won't want to miss arguably one of the top art museums in the world. The museum's collection includes over 152,000 objects and attracts more than a million visitors annually. The Los Angeles County Museum of Art has the second-largest group of works by Pablo Picasso in the world. Los Angeles County Museum of Art is one of the leading museums in the United States and worldwide. Founded in 1961, the LACMA has a vast range of highly diverse pieces, and it is not to be missed.
Chinatown
Los Angeles Chinatown is the largest and oldest Chinatown in Los Angeles, California. It is a predominantly ethnic Chinese area that is visited for its many shops and restaurants. Los Angeles Chinatown is home to traditional Cantonese and Fujianese restaurants, Korean barbecues, Japanese sushi, Thai curries, and other Asian fares. The history of Los Angeles Chinatown dates back to 1870 when the first Chinese immigrants arrived in Southern California from the coastal regions of Mexico. Eventually, more Chinese immigrants came to this area from China during the early 1900s. The reason that you will want to visit there is for its massive variety of high-quality Asian restaurants. It also boasts exciting architecture that has been adapted to local customs over the century.
Rodeo Drive
Rodeo Drive is a popular spot for tourists visiting Los Angeles, and celebrities heavily frequent it because of its high-end retail options. However, it is not the only place for tourists and LAs elite as well. Rodeo Drive is also a popular destination to many because it provides them with luxurious shopping experiences. This is a place for a particular type of person that enjoys the finer things in life. Nonetheless, even if you are not that interested in watching wealthy people spend thousands of dollars on shoes, it is still an exciting and beautiful place to visit. It is part of the milieu of LA, and as such, it is worth a passing visit at the very least. You never know; you might even catch a glimpse of your favorite celebrity!
Los Angeles is a city that's bursting with culture, innovation, and a flourishing downtown. Whether you're looking to hit the party scene, immerse yourself in cinematic history, or go on a culinary adventure, the recommendations mentioned in this post will help you find the best of what Los Angeles has to offer.
Featured Photo by Roberto Nickson from Pexels