Your honeymoon is intended to be the vacation of a lifetime! It gives you and your new partner a chance to celebrate, but it's often a time to relax after a stressful year — or more — of wedding planning. Even for frequent travelers, choosing the right honeymoon destination can be difficult. How do you choose the best spot for your honeymoon trip with so many domestic and abroad options?
To help guide your honeymoon planning, check out these six best places to consider for your honeymoon trip. Each of the following destinations is high-ranking and offers tons of romantic and relaxing atmospheres for you and your new spouse.  
1. Romantic Getaway in Barbados
An all-inclusive resort in Barbados is the perfect choice for a couple looking for a relaxing, tropical, romantic honeymoon getaway. Sandals have two different all-inclusive resorts at this destination with spectacular offerings. The all-inclusive honeymoon package makes the planning super simple, so you have one less thing to worry about. Tired of wedding planning and not ready to plan a detailed itinerary? This honeymoon package takes the hassle out of your honeymoon.
You'll benefit from a bubbly welcome, romantic touches, and all-inclusive food and drinks. Both of Sandals' all-inclusive resorts are adult-only, which is the perfect vibe for a honeymoon. From whirlpools to full-service bars, you and the love of your life will enjoy a sunshine-filled getaway.
2. Greece
Looking for an exciting destination for your honeymoon that you and your partner probably haven't been to before? Many honeymooners check out popular vacation spots in Greece on their honeymoons, such as Crete and Santorini. Whether you're looking for a flexible honeymoon with sightseeing or a more relaxing all-inclusive resort, Greece offers a lot. 
Greece is the perfect honeymoon destination for couples who like a mixture of sightseeing and trips to historical sights while also having downtime to enjoy some of the world's most beautiful beaches. For more about visiting Greece, check out these five reasons to travel to Greece.
3. White-Sand Beaches and Beautiful Waters of Jamaica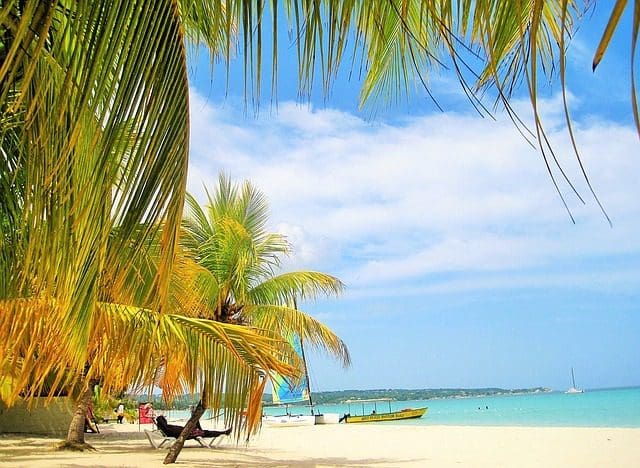 Honeymooning in Jamaica is another top option, offering white-sand beaches and beautiful waters. Popular Jamaican spots include Negril's seven-mile beach and Montego Bay. Jamaica offers tons of choices for all-inclusive resorts by Sandals, with endless activities and top-tier dining. If you and your partner enjoy water sports, Jamaica is the perfect honeymoon destination! Relax on the stunning beaches or participate in snorkeling trips, scuba diving, kayaking, and any other activity your heart desires!
After you're tired out from a day filled with water sports, spend your nights enjoying live entertainment. Jamaica is a great destination for couples looking for a blend of nature and culture.
4. Relax on the Beaches of Bora Bora
Bora Bora is a stunning tropical island in the South Pacific. This honeymoon destination features white sand and dreamy beaches, making for the perfect, once-in-a-lifetime vacation. For active couples, the many mountains of Bora Bora provide gorgeous landscapes for nature walks and hiking. Bora Bora is also home to much marine life to explore, such as rays and sharks! Whether you're looking to stay budget-friendly with an all-inclusive honeymoon package or want a five-star honeymoon resort destination, Bora Bora has options for every honeymoon price point.
5. Stay Closer to Home with a Honeymoon in Hawaii
Not interested in international travel for your honeymoon. The USA has tons of popular honeymoon destinations. Hawaii is the perfect getaway for couples looking for a tropical feel without leaving American soil. Although Hawaii is part of the United States, it feels like you're different. The locals in Hawaii are super welcoming, and don't forget to get an authentic touch of Hawaii by participating in a luau! 
One popular destination in Hawaii, Maui, offers beautiful scenery and fun-filled exploration activities for you and your partner to check out. From relaxing on the sandy beaches to visiting volcanoes, you're sure to make memories to last a lifetime on a Hawaii vacation.  
6. Volcanos and Rainforests of Saint Lucia 
Saint Lucia is sure to deliver stunning honeymoon memories and photos! With its unique natural offerings, such as an ancient volcano and rich rainforests, there is so much to explore in this island paradise. Sandals offer all-inclusive honeymoon packages at all three of its adults-only all-inclusive resorts in Saint Lucia. Each offers a myriad of water sports activities, such as tubing, windsurfing, snorkeling, wakeboarding, and much more!
Honeymoon Planning
You can't go wrong visiting one of these top six honeymoon destinations. No matter your interests, these honeymoon destinations have something to offer everyone. Whether you want your honeymoon to include relaxing on the beach with a drink in hand or action-packed water sports, these destinations offer settings for the perfect honeymoon trip. Check out all-inclusive honeymoon packages that will handle the heavy-lifting for you. All you have to do is show up and enjoy!
Featured Photo by Asad Photo Maldives from Pexels