Setting up a Do-It-Yourself (DIY) steel building assembly is one of the easiest ways to construct a building. Common structures built from these kits are garages, greenhouses, and storage buildings. Apart from these, many homeowners started to utilize the pre-fab steel kits for their new homes or house extensions. 
If you opt to assemble it yourself, you should follow some standards to ensure quality structure in erecting a steel building. These standards may include safety practices. Read on if you want to learn more about these. You may deep-dive into this article as it'll provide you with everything about them. 
1. Wear Appropriate Safety Clothing 
If you assemble a DIY steel building kit, you may need to wear appropriate work-safe clothing. This set of clothes and gears will protect you from hazards, such as sharp or hard objects. It'll also safeguard you from possible electrocution risks and exposure to dangerous materials and substances. 
If you aren't still familiar with them, you may need to check on the following: 
Personal Protection Equipment (PPE): 

This clothing includes high-visibility vests, puncture-proof fabric, and long work pants.  

Hard hat: 

This head bucket should be shock-absorbent and has a suspending strap about one to one and one-fourth of an inch away from your head. 

Full-Face shield and protective goggles: 

These should be thick yet breathable enough to protect your face and eyes from flares, harsh substances, and protrusions without restricting your breathing. 

Protective gloves: 

These hand covers should allow finger flexibility, good grip, and puncture resistance. This is so you can hold materials with ease while being protected against cuts and abrasions. 
2. Know The Common Accidents 
In many cases, accidents happen in particular areas, such as ladders and scaffolding. Thus, you may need to be aware of the possible accidents in these spaces to counteract or prevent them. These accidents may include falls, slips, trips, and bumps. If possible, you may need to install a temporary railing to support your movement and balance to protect yourself and your co-workers. Try a stairway scaffolding rental company to make sure your scaffolding is safe.
In addition, you may need to identify the areas where debris may fall in. You could cordon it with some high-visibility tapes to notify every person who might walk past it. You may also ensure that ladders and scaffoldings are fixed when you use them. 
3. Put Up Safety Signs 
Safety signs are underrated items in ensuring workplace safety. These give general caution to workers, and anyone put at risk. You may need to keep the text readable and clear in making safety signs. You may also need to keep them not too close to each other. In addition, you should pick a color that'd make the signs highly visible.  
For more ideas of color meaning in signs, you may check the following: 
Green: 

Clear or no danger

 

Orange Or Amber:

 Warning 

Yellow:

 Caution 

Red: 

Danger 

Blue:

 Mandatory 
Apart from the colors, you may also consider the hazards present in a place to choose the proper sign. To help you, here are some of the standard safety signs you may need to know: 
Safety Instruction Signs: 

These provide informational content that is still safety-related. Some examples of these are first-aid signs and emergency exits.

Caution Signs: 

These labels are used for slippery or prone to tripping spaces.

Warning Signs: 

These may also cause severe injury or death. The hazards related to these signs include falls and debris.

Danger Signs: 

These signify life-threatening hazards present in an area. The dangers may consist of fire and electrocution. 
4. Keep Your Tools And Equipment In Order 
Some work-related accidents happen because of cluttered tools and equipment. You may need to install a pegboard to hang your tools to avoid this. You could also have a tool cabinet where you could keep sharp tools.  
Lastly, you may keep tools in your zones or groups according to their types. For example, saws and their blades; angle grinders, and their CBN grinding wheels, should be in one set of cutting tools. On the other hand, wrenches and other tools for gripping should be in one container. This will help you avoid tool-related accidents and assist you in easy access to the tools.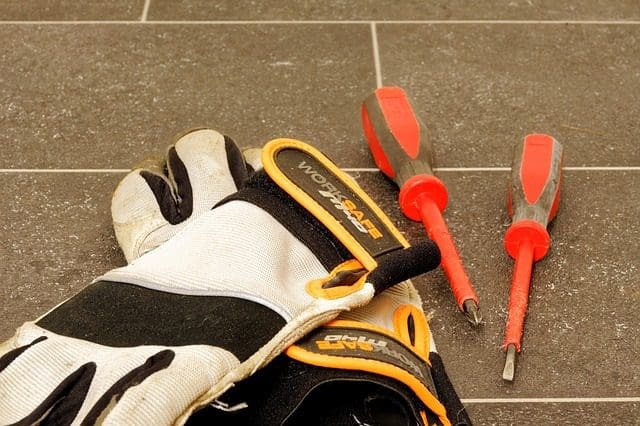 5. Run Maintenance Checks On Tools And Equipment 
Defective tools and equipment may also cause your DIY steel building kit assembly accidents. You may need to regularly check your tools and equipment to avoid this. The schedule of your maintenance runs could be every after tool and equipment use or monthly, depending on the frequency of use.  
The maintenance checkups should also include identifying the tools that are beyond repair. If you identify some, you may need to bring them to professional tool repair services or dispose of them accordingly. You may need to clean the tools that are still in good condition by dusting them off using an air compressor. You could also lubricate them to prevent rusting. In checking the parts of the tools and equipment, you may need to look into the splintered handles, exposed wires, a cracked casing of power tools, rusting and corrosion, and mushroomed heads of once-sharp surfaces of cutting tools. 
6. Craft An Emergency Plan 
Even if you implement reliable safety practices, accidents still do happen. Because of this, you may need to plan out contingency or emergency schemes for them. You could start it by devising a plan about how the flow of persons will safely come out of the building if problems like fire and collapse happen. 
For better outcomes, you may need to orient your co-workers and designate safe spaces where you could easily access before you assemble your steel kit. Apart from these, you may also need someone with a background in first aid application to ensure you can administer quick medical assistance to workers who may have fallen or cut. 
Wrapping Up 
DIY steel building installation may require you to do a series of preparations to develop a well-built and high-quality project. You could make this happen by implementing and following safety practices during steel building assembly. If you have older workers, you may need to make safety protocols and design an emergency plan specific for them.  
For more ideas on erecting your steel structure better and safer, you may need to refer to occupational safety standards as you may get insights from these regulations. You could also ask professional steel builders to keep your project top-notch yourself safe and ready for future steel projects. 
Featured Image by StevenSpies from Pixabay