To be honest, I'd never even heard of an immersion blender until last fall, but when I saw this Cuisinart Hand Blender on Amazon, I couldn't resist the price!
Fast forward a couple of months, and that silly thing was still in its box. But I was searching for a snack one evening and decided to unpack it and make a chocolate peanut butter shake, and I've been hooked ever since. We use ours several times a week now for smoothies, one-ingredient ice cream (#9 below), and more, and I can't wait to make fresh apple butter in the fall!
Here are nine more ways to use an immersion blender. You could, of course, use a regular blender or food processor for most of these, but the benefit of an immersion blender is that the clean-up is a breeze!

1. Homemade Ketchup | What's Gaby Cooking
2. Homemade Applesauce | Food Doodles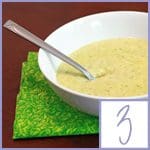 3. Broccoli Cheese Soup | Runs with Spatulas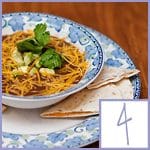 4. Black Bean Soup | The Menu Mom
5. Homemade Fruit Rolls | Food Your Way
6. Strawberry Topping | The Finer Things in Life
7. Cream of Tomato Soup | Soup Chick
8. Maple Mousse in a Phyllo Nest | Sass and Veracity
9. Luscious Banana Ice Cream | Food Your Way
Do you have an immersion blander? What do you use yours for?