You probably don't need to chase down the garbage man or go dumpster diving to cook dinner, but in a country where the average person wastes $600 of food every year, I can think of a few reasons you might want to figure out how to eat garbage.
A good start to reducing food waste is diligently planning meals to use the vegetables and fruits you purchase. That and using or freezing your leftovers in a timely fashion will make the biggest impact on usable food that hits the garbage can or compost pile, but what about food scraps that you often throw away?
Here are 9 delicious ways to cook with garbage. Salivating yet?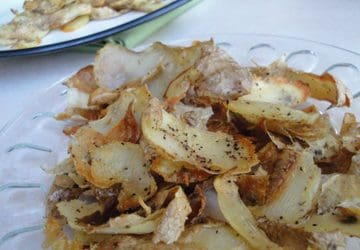 If you peel potatoes for any reason, whether raw or already cooked (maybe someone in your family doesn't eat their baked potato skins), you can reclaim the skins for a seriously tasty, simple treat. Ours never make it past the baking tray but are gobbled while still warm.
Source: Tater Skin Crispies | Kitchen Stewardship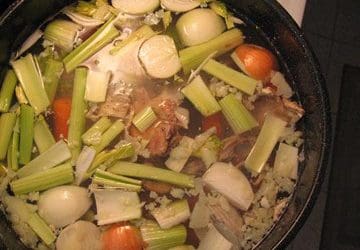 Don't throw away those bones! I buy only bone-in chicken just to ensure I have lots of nourishing chicken stock on hand, which keeps our family healthy and practically free. (You can even nab bones from people's plates since it cooks so long and high.) Many folks also have a bag in the freezer to capture carrot, celery, onion, garlic ends, and skins, using them in the stock. Truly making something to cook from garbage! You can use beef bones too. Just cook longer.
Source: Homemade Chicken Stock | Kitchen Stewardship
Save the uneaten vegetables
You know no one will eat the two broccoli florets or Tablespoon of peas and carrots left in the veggie serving dish at the end of dinner, so they get pitched without guilt, right? Here's a plan to reclaim all the edible vegetable odds and ends: mark a bag in your freezer and collect them as they happen. When you have a few cups, add them to this simple, creamy soup for a quick weeknight supper.
Source: Cream of Vegetable Soup | Kitchen Stewardship

Unless you love bread heels, they are often wasted in many households. Dry them out and make homemade (free!) bread crumbs instead, and your kids will love the homemade chicken nuggets you can make with them. Gluten-free versions include stale rice cereal as an option. (You can also use stale or unwanted bread for croutons.)
Source: Homemade Bread Crumbs/Chicken Nuggets | Kitchen Stewardship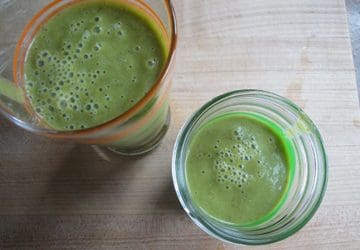 When I buy beets (which isn't often, I'll admit), I always look for ones with the greens still on. I feel like I'm getting a 2-for-1 deal, since beet and turnip greens, along with kale, swiss chard, and spinach, go great in a powerhouse breakfast smoothie. Easily freeze in batches for summer-harvest nutrition all winter long. Smoothies are also a great use for runny homemade yogurt.
Source: Green Powerhouse Smoothies | Kitchen Stewardship
Sour milk?
Bought too much milk? Has raw milk gone sour before you could drink it? Soaked baked oatmeal is the most delicious way to use dairy past its prime. You can also use slightly sour milk in regular oatmeal, cooking with milk in place of water. Sour milk does well (and doesn't taste sour) in almost any baking or bread recipe, actually.
Source: Soaked Baked Oatmeal | Kitchen Stewardship

When you pick berries, it can be difficult to put them all up before some start getting overripe and mushy. For any fruit that's a little past its prime (but not moldy), grab your blender and make fruit roll-ups. Unlike purchased versions, no sugar or food coloring is necessary, and you can even make them in the oven if you don't have a dehydrator.
Source: Homemade Fruit Rolls | Kitchen Stewardship

The cores and skins can make a formidable pile of food garbage if you cook applesauce. I never thought there was any way to reclaim this one until I read about fruit scrap vinegar (which can be made with other fruits, too). For me, it was a way to get a whole quart of raw apple cider vinegar for FREE, which I use often in salad dressings and baking.
Source: Apple Vinegar | The Nourishing Cook
Even the plants will benefit
Do you dump that little leftover coffee in the bottom of the pot? Freeze it in ice cubes instead and add a cube or two (thawed, preferably) to any recipe, including chocolate, like these whole wheat brownies. The coffee flavor usually doesn't come through but enhances the depth of the chocolate. If you have acid-loving plants, repurpose the coffee grounds by spreading them around the base of the plant.
Source: Brownies (& other chocolate baked goods) | Kitchen Stewardship
Katie Kimball is a mom of two who spends a ton of time in the kitchen making real food with whole ingredients and then blogs about her successes and failures at Kitchen Stewardship. She believes everything in life is a gift from God and should be taken care of wisely.