Given the uncertainty of when vaccines will be widely available, Los Angeles business owners are looking for ways to operate safely during the pandemic. We've created a guide for Los Angeles businesses to help them create and complete a plan to move forward in the "New Normal."
Understand the spread
To best appreciate the reasoning behind recommended policies and apply them properly, you first need to know how COVID-19 spreads from person to person.
COVID-19 is primarily spread through respiratory droplets created when an infected person speaks, coughs, or sneezes. These tiny droplets containing the virus may be inhaled through the nose or mouth, infecting others. They may also land on surfaces, causing the virus to spread when an uninfected person touches the contaminated surface and then touches their face, especially the mouth, nose, or eyes.
People who do not experience symptoms can still spread the virus. It is important to note that symptoms may not develop for 5-6 days; COVID-19 tests may not detect the virus in an infected person until a few days after exposure.
COVID-19 workplace safety plans
The most important step any business owner can take is to be prepared with a comprehensive COVID-19 workplace safety plan. Basically, this means you should have procedures and protocols in place to handle all things COVID-related. Continue reading for suggested policies from both national and local respected regulatory agencies.
Altering the workplace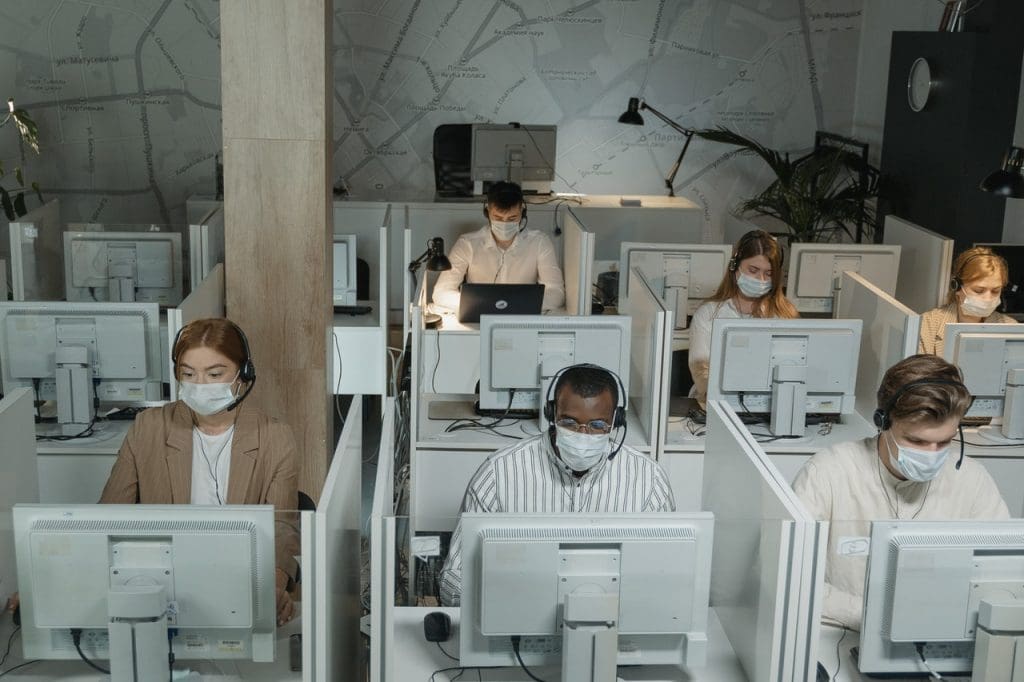 You should first explore how you can modify the layout of your space and your operations to reduce transmission. Tips include:
Ensuring your ventilation is up to date, operating correctly, and runs for two hours prior to and following each workday.

Utilizing technology to implement touchless transactions (i.e., mobile tech to complete purchases in lieu of using keypads), small Los Angeles businesses in need of assistance may be able to get free assistance and consultations through Los Angeles Optimized.

Set up sanitation stations in high-traffic areas for use by staff and guests and ensure they are adequately cleaned and supplied throughout the day.

Have a plan for enhanced sanitation and hygiene; ensure you allow enough time for employees to complete sanitation and hygiene-related tasks.

Encourage social distancing through the use of barriers where possible (i.e., clear panels between customers and employees at transaction points) and highly visible signage and decals. Businesses can visit the Los Angeles COVID-19 website for sample signs in multiple languages.
Working as a team
Employers may feel overwhelmed when trying to balance employee and business needs. There are several steps business owners should take when crafting employee policies:
Be aware of local protocols and restrictions – while the Federal government sets a minimum standard of regulation for states to follow, states heavily impacted by COVID-19, like California, have enacted stricter guidelines. Legislative updates related to COVID-19 for Los Angeles can be found

here

.

You and your staff should be educated regarding how COVID-19 spreads, COVID-19 symptoms, and any rules and regulations related to their work duties.

As of 2/10/2021, Los Angeles employers are required to provide supplemental paid sick leave for COVID-related absences. This emergency order is designed to prevent employees from bringing COVID-19 into the workplace out of fear of job loss or losing hours. It is of utmost importance that employees do not feel they are being penalized for getting sick or being exposed. Note that you may NOT require a doctor's note to provide supplemental paid sick leave under this order.

An employee who develops symptoms or is exposed to someone with a confirmed case of COVID-19 should follow home isolation orders. If an employee becomes sick at work, any person who came within 6 feet of that employee should be considered exposed.
Employee testing and health screens
Employers may wish to incorporate employee COVID-19 testing and self-screening into their workplace safety plans. Employees can self-screen in the form of surveys before leaving for work, or screenings can be administered remotely via phone call or video.
Business owners who wish to utilize testing should be aware of conditions in their area when dealing with employees. Owners in areas heavily impacted by the pandemic often report long lines and supply shortages at their local testing centers. Employees seeking testing also are at risk of contracting the virus in the process of seeking testing.
Many Los Angeles businesses are seeking to take the burden off of employees by providing workplace testing. Employers may obtain tests from Los Angeles rapid COVID testing laboratories in bulk for this purpose or may utilize onsite testing services like Concierge MD LA.
Business owners should be aware that there are many rules related to employee rights and confidentiality surrounding the tests. DIY tests also vary greatly from how they are administered to how long it takes to get results. For more guidance from the U.S. Department of Labor on this topic, check out the latest EEOC update. 
Employers who cannot dedicate significant time to researching testing options may find that onsite testing services are preferable to navigating the process themselves. Additionally, hiring an onsite medical service provider allows you access to rapid tests not available to the public.
Featured Photo by Kyrell on Unsplash