The following post is from Kristina of Toddler Approved: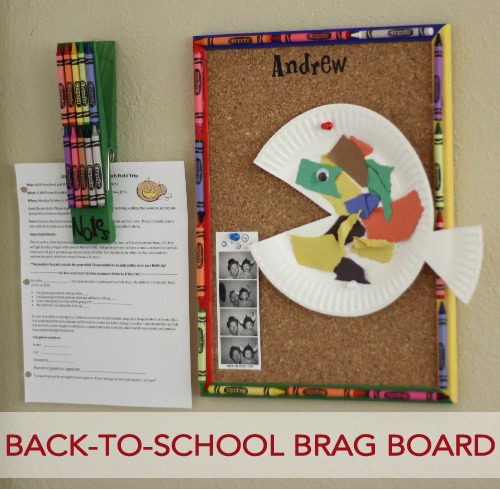 Now that August has begun, I'm starting to think about the upcoming school year. My son will be going to a kinderprep program for four afternoons a week, and I am getting excited for him. He loves school, learning, and spending time with his friends.
Two things that I am not looking forward to about school are having to be organized and be on a schedule. I lose every single paper that gets sent home from school and most art projects never make it out of the car.
This year I want to turn over a new leaf, so I decided to work with my son to create a very simple Back to School area to keep us organized. We created a crayon brag board for artwork from school and a giant crayon clip for important paperwork.
I love school supplies… especially brand new crayons that aren't broken or melted… so we incorporated them into our craft too.
Supplies: 
Crayon Bulletin Board:
several crayons in a variety of colors
hot glue gun/glue sticks
acrylic paint
paintbrush
letter stickers
bulletin board
painters tape
Giant Crayon Clip:
giant wooden clip (we got this from a local craft store)
acrylic paint
paintbrushes
hot glue gun/glue sticks
crayons
letter stickers
Directions:

Crayon Bulletin Board:
1. Tape off the bulletin board so that you won't get any paint on the cork.
2. Paint the edges of the bulletin board and let them dry
3. Arrange your crayons around the dry edges in a variety of patterns until you figure out the one you love the most. My son loved trying to decide which colors to put where.
4. Use a hot glue gun (or tacky glue) to stick the crayons onto the edges of the board. *If your child is too young, you can do this part for them.
5. Add any details using letter stickers. We added my son's name so that he knew the brag board was his!
6. Hang on the wall and add your favorite masterpieces!

Giant Crayon Clip:
1. Paint your giant clip and let it dry.
2. Design the crayons the way that you want and try and create some patterns.
3. Hot glue the crayons onto the clip. *Parents should do this part for younger children.
4. Add any sticker letters or other details to the clip.
5. Hang on the wall in a place where you will see the important paperwork and remember to turn it in!
How do you stay organized during the school year? Where do you display your child's masterpieces? How do you keep track of important paperwork? 
Featured Image by Wokandapix from Pixabay
Kristina is a mom of 2 and a former Special Ed teacher for children with communication disabilities. She blogs at Toddler Approved as she looks for ways to make life a little more fun and creative with her kids while embedding learning into everything that she does. Kristina tweets as @ToddlerApproved and can be found on FB and Pinterest.