The following post is from Lindsey M. Roberts, a design & décor writer: Alternatives to a Traditional Christmas Tree
Although we may have fond family memories of Christmas trees, the reasons are many for not getting one during the Christmas season.  Consider these Christmas-tree alternatives if you're in an apartment or condo with little space, if you're short on cash, or if you just don't have time. Your guests will praise your creativity and not even miss the large Tannenbaum.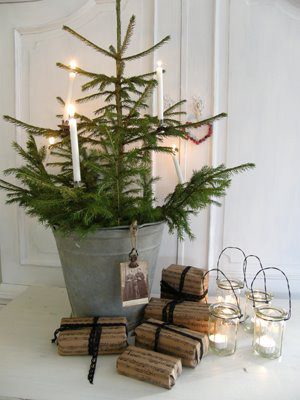 Buy a Small Tree for a Pot
I spotted this tree on the Pinterest page of Amy Rutherford, proprietor of Red Barn Mercantile in Alexandria, Va. Genius! Instead of buying a big, expensive tree, what about a smaller tree in a galvanized-metal pot, set on a table or console? You can still put presents around it, and it would still add that evergreen touch and smell.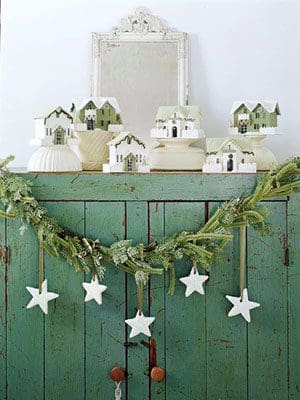 Hang an Evergreen Garland with Ornaments
Another way to get that evergreen look without a full Christmas tree is to get an evergreen garland. Drape the garland across the mantle, hang ornaments, and maybe string some lights, and you get a big Christmas impact.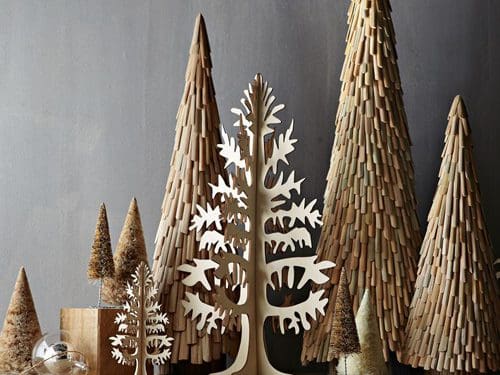 Invest in Wooden Trees
A third option is to invest in wooden Christmas-tree decorations that you can use year after year to create a tableau on a dining table, sideboard, console, or cocktail table. These trees from West Elm are nice.
This year, we're saving money and are going to decorate with a red poinsettia in our apartment's living room, plus an evergreen garland across the top of our bookshelves hung with wooden snowflake ornaments.
What are you decorating with if you're not doing a tree this year?

Lindsey M. Roberts has covered design, décor, and homes from Washington state to Washington, D.C., writing for publications such as Seattle Homes & Lifestyles, Apartment Therapy, The Washington Post, Preservation and Architect magazine.