I love the scent of cinnamon (and smelling it has been shown to increase your energy level too!), and these ornaments are not only cute but also smell wonderful. If you use an artificial tree, you could even hang these rather than purchasing a synthetic pine scent spray!
This is another great craft to do with your kids for teacher gifts, ornament exchanges or your own tree, and if you store these ornaments in a tightly sealed bag, the scent will last for years to come.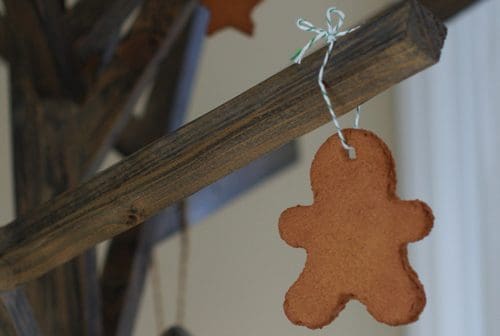 Supplies:
1 cup applesauce
1 cup cinnamon
2 Tablespoons white glue
Directions:
Mix applesauce, cinnamon and white glue together until well blended. Spread mixture onto a flat surface — your counter, a large cutting board or baking sheet. Roll out until it's 1/4″ thick.
Using cookie cutters, carefully cut the outline of your ornaments. Poke a hole at the top of each one with a straw or toothpick.
Peel away the excess and gently transfer the ornaments to a drying rack. Dry for 24 hours, flip and dry for an additional 24 hours.
Tie with a ribbon or string to hang.
Variations: Use a mixture of spices instead of all cinnamon.
Join us as we celebrate 101 Days of Christmas with new DIY projects, gift ideas, traditions and more every day from now through Christmas!