Your home's curb appeal is guests' first impression of your property, so it's important to create an inviting atmosphere that is eye-catching and reflects your personal style. Whether you're looking to sell your property or simply want to make it more visually appealing, there are various clever ideas to smarten up the front of your house. We'll explore our favorite easy, unique, and bold ways to enhance and spruce up your home's exterior.
Play With Outdoor Lighting
Outdoor lighting is a simple and effective way to add ambiance to your home's exterior. Strategically placed lights can highlight your home's architecture and landscaping while providing safety and security. Consider installing pathway lights to guide visitors to your front door or uplighting to showcase trees or architectural features you wish to bring the eye to.
Outdoor lighting can greatly increase your home's curb appeal and property value and create a warm and inviting atmosphere for guests. There is a wide variety of outdoor lighting, including traditional lanterns, modern sconces, or decorative string lights, to pair with your home's aesthetic. If you're looking for an eco-friendly option or are concerned about the current energy cost, consider installing solar-powered lights that will save you money on your monthly bills and reduce your overall carbon footprint. 
Add Window Boxes
Window boxes are an easy and cost-effective way to add a pop of color and personality to your home exterior. Fill them with seasonal flowers or herbs for some added charm. Not only do window boxes look beautiful, but they can also help to insulate your home and protect your windows from the elements. We love a multi-functional hack!
Install a Resin Driveway
Resin driveways are a modern and durable alternative to traditional concrete or asphalt driveways. They come in various colors and finishes and can be customized to complement your home's aesthetic. 
Resin driveways are low maintenance, easy to clean, eco-friendly, and highly durable. They can withstand heavy traffic, extreme temperatures, and harsh weather conditions, making them ideal for areas with high footfall or frequent use. Resin driveways are a great sustainable choice, as they are made from eco-friendly materials and require minimal maintenance over their lifespan. An excellent option to smarten up the front of your house!
Paint Your Front Door
Your front door is the focal point of your home's facade, so why not make it stand out with a fresh coat of paint? If you're feeling daring, choose a bold color that complements your home's style and adds personality. A brightly colored front door can also help to increase your home's curb appeal and make it more memorable to passers-by.
Add a Porch Swing
A porch swing is always a classic addition if your home boasts a large front porch. Not only does it offer a cozy spot to relax and enjoy your surroundings, but it also adds a touch of personality to your home exterior. Add a range of cushions and throw pillows in different shades and textures for that extra comfort and style.
Depending on your aesthetic and budget, porch swings come in various materials, such as wood, wicker, or metal. If you wish to add a touch of whimsy to your property or have a larger budget, try hanging a swing bed or incorporating a hanging chair into your porch design.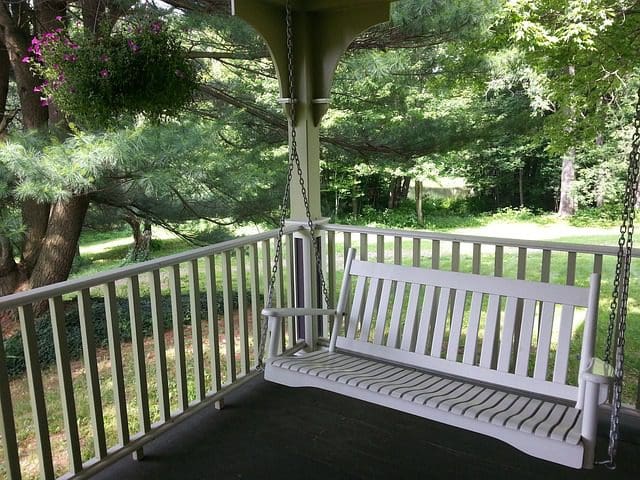 Install a Front Fence
A fence is a great way to add privacy and style to your home's exterior. When choosing a material and style, there's a fence for every home! A wooden fence can add warmth and texture, giving a subtle, serene feel that blends with the surrounding habitat. If you don't like going down the natural route, metal fences can provide a more modern, sleek, and industrial look. Choose a fence style that pairs well with your home's current architecture, materials, and landscaping, whether it be a continuation of the same material or a material that complements the colors and tones you already have.
Create a Walkway
A well-designed walkway can enhance your home's curb appeal and create a welcoming entrance. Choose materials that complement your home's exterior, such as stone, brick, or concrete. Add that extra touch with various planters or outdoor lighting to highlight the path and create a cohesive look.
Install a Water Feature
If you're looking for something a little on the side of luxury, a water feature can add a sense of tranquillity to the front of your house. It brings relaxation to any home exterior. Install a water fountain as a unique focal point, or try a small pond with a gentle current or a subtle waterfall. If you enjoy immersing yourself in nature, you can invest in a handful of koi fish for your pond – just make sure your neighbors' cats aren't about!
Invest in Outdoor Artwork
Outdoor artwork is the perfect way to add a touch of personality and whimsy to your home's exterior, yet we see very few properties incorporating art into their design. Hang a colorful mural, metal sculpture, or even a tapestry to add that little something extra to your home by creating a focal point. Just be sure to choose artwork that can withstand the elements!
Jazz Up Your Mailbox
Your mailbox is often the first thing visitors see when approaching your home, so why not make it a stylish one? Choose a sleek, modern mailbox that complements your home's style, or jazz up your current mailbox with a pop of color! Make your mailbox the talk of the town when the time for Christmas cards comes around!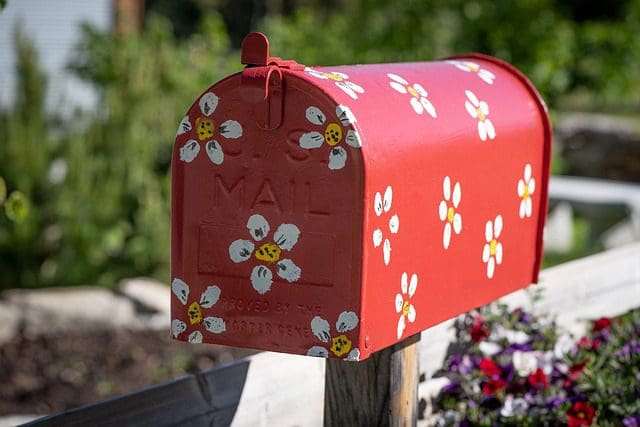 Create a Vertical Garden
A vertical garden is a unique and space-saving way to add greenery to the front of your house. Install a living wall or hanging planters filled with your favorite flowers, shrubs, or herbs. Vertical gardens are a great option for adding texture and color to your home's facade while also offering a natural and eco-friendly touch.
Vertical gardens are perfect for homes with limited outdoor space, as they take up minimal floor space while providing that lush garden feel. They can be created with various plants, from succulents to herbs and flowering vines. Consider using recycled materials for your planters or creating a rainwater irrigation system for that added eco-friendly element.
Featured Image by Stefan Schweihofer from Pixabay