The following post is from Lisa of The Pennington Point: Add Pizzaz to Your Porch with a Painted Rug
Sometimes a porch space just needs a little boost to take it from so-so to so fabulous!
My favorite way to do that without breaking the bank is with paint.  I recently re-painted my front porch floor.  After painting it gray, it looked nice and clean but kind of dull and lifeless.  So I decided to paint a rug on the floor.  Yep, right onto the floor.  In less than 3 hours, I had transformed my porch, which cost me nearly nothing.  And best of all, I got the size and colors I wanted without searching for months for the perfect rug.
Tape off an area for the rug.
I started by using painter's tape to mark the area I wanted the rug to fill.  Using paint leftover from the trim on the house, I rolled it right on the floor with a roller. You can use any kind of paint for the rug as long as the first layer (in my case, the gray) is porch/floor paint.
Create a pattern.
To make a chevron pattern as I did, use chalk (which I snuck from my kids' craft supplies) to make a grid, then connect the lines at an angle.  It's easy math, which is what I need.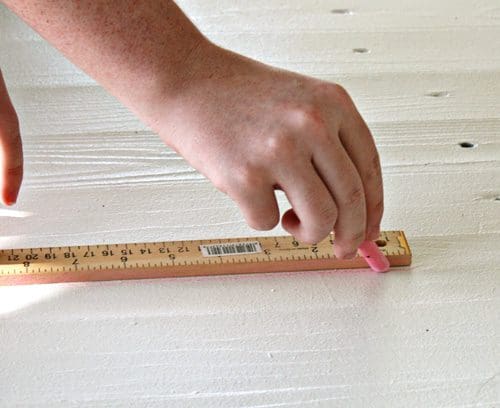 Paint the edges of the lines.
Of course, the ideal, easy way to mark the zig-zag lines is to tape them off with painter's tape.  But we can't do things the easy way at our house. Oh no.  We discovered that the first tape was pulling up the paint underneath.  So I just drew the lines with chalk and went over them carefully with black paint using an angled brush.  Again, I used leftover house paint, but I have also done this with craft paint, which works great!
Fill in between the lines.
I got some help from the kids.  Cute helpers always make a job more enjoyable.  While they filled in, I touched up the places I didn't paint exactly straight.  This part of the project only took about 15 minutes.
Finish the ends.
A real rug has binding on the ends, so we added it to our faux rug.  It just needed black stripes on the ends. And since I like to add a bit more whimsy, I painted one corner flipped up.  Just for fun.
Step back and enjoy a job well done.
Look how great the rug looks!  And the best part is that I can change it anytime.  Next summer, when I feel like adding a new color or a trendy pattern, I can just paint right over it.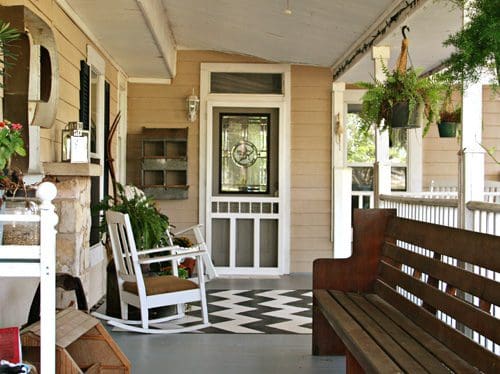 I think maybe I'll go paint one on the back deck.  That was fun!
Do you have a good spot to paint a rug?

Lisa winds through her little Texas farm house every night, tucking in her nine homeschooled children and turning off lights. Then she scans the rooms & makes a mental list of what she wants to rearrange, restore or paint. Her husband of 25 years hangs on for the ride while she blogs about it over at The Pennington Point.