The following post is from Lisa of The Pennington Point: Be Yourself When Decorating
Sometimes I just want to refresh my home decor.  I don't need anything or have any money, but I want an update.
Maybe it's because I am a stay-at-home mom.  Maybe it's because I love my home to look fresh, changing the seasons.  Or just maybe it's just because I'm restless and haven't had a real adult conversation since 2009.
I decided to just take an afternoon and $15, get myself a Sonic drink, and hit the local thrift store to see what I could find.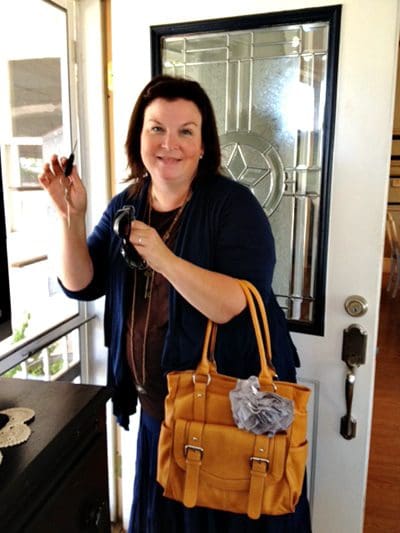 I had no agenda, nothing particular in mind.  I was just happy to have a couple of hours to myself and a little project to do just for fun!
Isn't that the point of decorating?  To enjoy your space?  Being yourself is the best medicine when you need a boost!
Wandering around the thrift store, I spotted a few items that I thought I might be able to play around with, but then I saw this metal box and the heavens opened up.  I was instantly, inexplicably drawn.
And I was really drawn to the $3.50 price tag.  Score!  I didn't know what to do with it, but I'd think of something.
I must have been in the mood for metal because when I saw this container, I practically threw myself at it. (don't get me started on that turbine…I really wanted it, but they were asking a LOT more than$15, and I was determined to stick to my budget)
I rummaged through the box and found some little roofing tube-ish thingys that were $1 each.  So I picked up a few to see what I could do with them.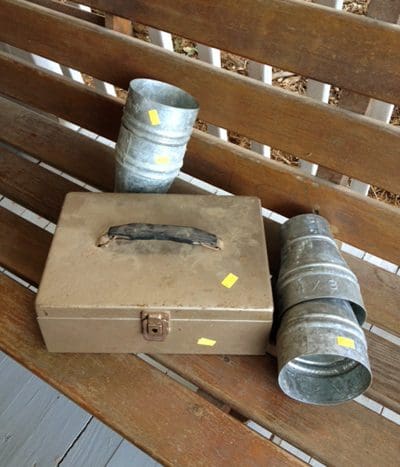 I got my treasures home for less than $10.  I'm happy, my money-conscious hubby is happy, and the folks at the thrift store are happy.  I'd say that's a good day!
It doesn't matter what you like.  Everyone won't understand why I loved the box, but it brightens my day, so that's all that matters.  Be yourself!  Enjoy your home!
I washed and dried my new toys and decided to make the box into a picture frame to put on the piano.  Something gray and metal would be perfect for the fall.  LOVE!
I snapped a few pictures of the kids that happened to be standing closest to me, edited them a little (the pictures, not the kids), and printed them out.  Then, I glued them to some cardboard that I cut from a box.
Super easy!  Plus, I just adore having candid shots of the kids around the house. Doesn't it look cute?! You can even display your child's artwork
It is perfect on my painted piano! (The piano is another thing no one understood, but I painted it anyway, and it's fabulous!)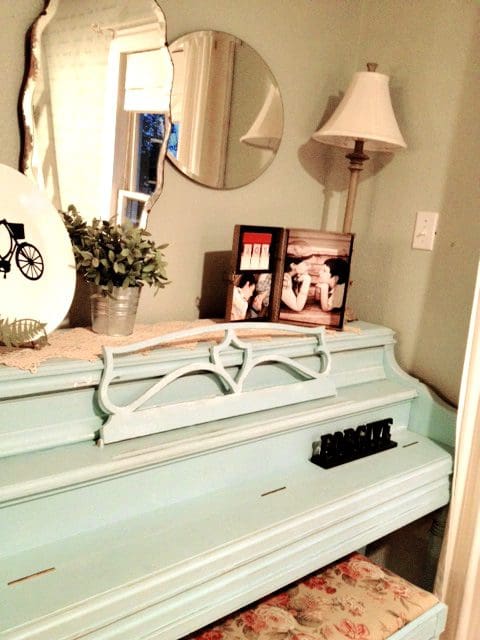 I took the roofing-tube things and simply wrapped some ribbon around them.  Two are holding up little pumpkins, and the other is flipped over and holding a plant.  They look great in my Pottery Barn bowl with some popcorn poured around them.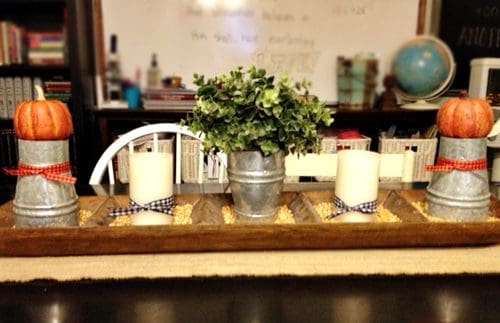 These are things that I love about my new decor:
1. I got to get out for a couple of hours and relax.
2. I found some treasures that I loved and fit into my little budget.
3. I had a fun excuse to take some pictures of the kids.
4. I got to be creative,  and it only took a few minutes.
5. I never gave one single thought to what anyone else would think of it.  I did it for ME!
Maybe you won't go buy a metal box or some weird roofing materials.  But I hope you'll take your own adventure and see what strikes you.  Be yourself.  Love your home.  Relax and enjoy the little things that make you happy. Make your visitors feel welcomed when they walk through the front door.
What is a way you can be yourself in your decorating?
Lisa winds through her little Texas farm house every night, tucking in her nine homeschooled children and turning off lights. Then she scans the rooms & makes a mental list of what she wants to rearrange, restore or paint. Her husband of 26 years hangs on for the ride while she blogs about it over at The Pennington Point.