The following post is from Lisa of The Pennington Point:
I love to display the many works of art that my kids make, but I also want to keep my home clutter free and lovely.  I am not crazy about the whole fridge covered in papers and magnets.  So, I challenge myself to come up with interesting ways to hang their artwork while maintaining the sense that there are adults living in this house.
Check out these 5 easy ways to display your kids' artwork:
1. Hide it behind a door.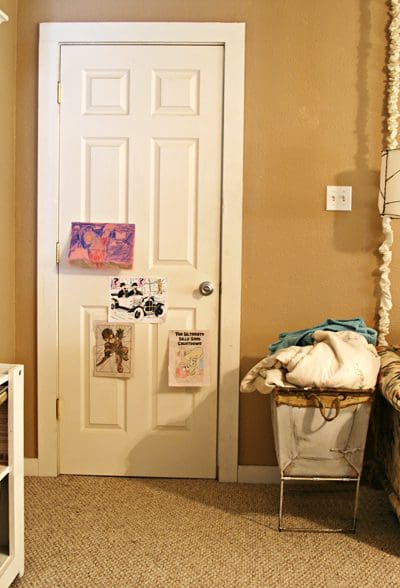 Mom and Dad's bedroom door is a great place to hang those unique, not-so-awesome pieces of art.  "Look Mommy!  I made you this picture of Spiderman eating a rainbow!"  Um…let's put that on the back of Mommy's door where I can see it every night when I go to bed (and no one else has to look at it).  Just grab a roll of tape and stick them to the back of the door.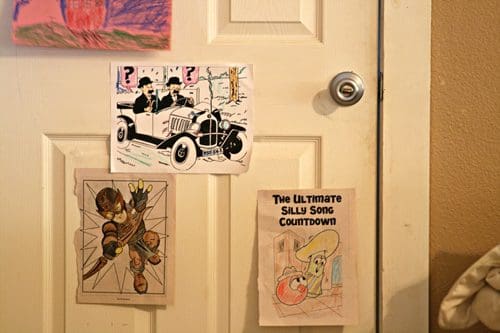 2. Use wire and clips inside of a giant frame.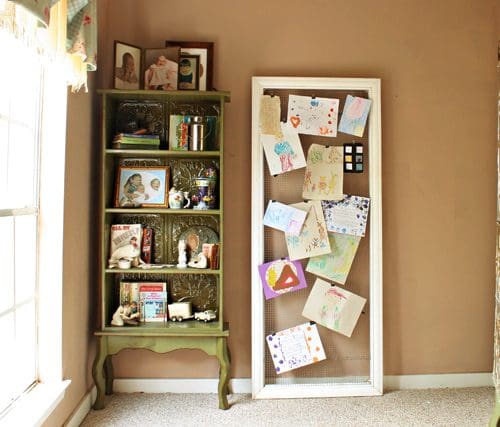 I made this huge frame with scrap wood, some trim pieces, and the stapled screen behind it.  I use wire to attach clips all over it and let the kids clip their artwork to it.  It has plenty of room for everything from leaves they find in the yard to inspirational quotes about keeping your room clean and eating your peas.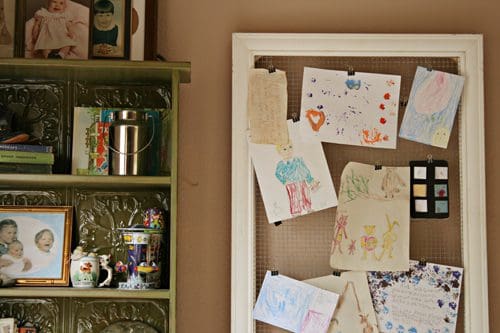 3. Make a freestanding work of art.
I saw this at a friend's house, and I'm not sure what the stand was originally for, but I love how she made it into a freestanding piece of art in the corner of her dining room.  The little vintage-style stand has clips all the way down it, making it perfect for showing off their finest projects.
4. Make a whole gallery display wall.
Again, this clever idea came from a friend.  She hung those wires from Ikea in her little home office, and the whole wall became a gallery display.  Because it's all on clips, they have easily moved around and changed.  I love that.
5. Make a magnet board.
I went to the super store and bought a drip pan from the automotive section to make this magnetic art board. It's the perfect size to hang in a tucked-away spot in the house and let the kids use magnets to hold their artwork.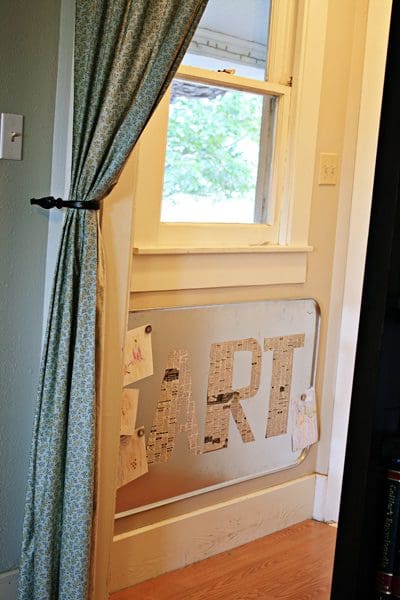 These are just a few ways to display the special pieces of art that the kids make without cluttering up the house. Think outside of the box.  Give them a spot to show that their work is important to you and yet still keeps the rest of the house all neat and tidy.
More ways to display your children's artwork
Will one of these ideas work for you in your home?

Lisa winds through her little Texas farmhouse every night, tucking in her nine homeschooled children and turning off lights. Then she scans the rooms & makes a mental list of what she wants to rearrange, restore or paint. Her husband of 26 years hangs on for the ride while she blogs about it over at The Pennington Point.