The following post is from Lindsey M. Roberts, a design & décor writer: 4 Ways to Display Children's Artwork
Fresh flowers and verdant plants give a home life, but so does children's art with all of its beautiful, perfect imperfections. But we all know how much artwork kids bring home from school, camp, and friends' homes; not to mention the artwork that they make at home. So it's important to sort through the art — otherwise, it will grow just like clutter — and to display it.
Help your home reflect its owners, even the little ones. Here are four ideas that take you beyond magnets on the fridge.
1. Frames for each child
A friend of mine picked up four colored poster-size frames from Ikea and hung them in a row in her children's playroom. Each child has artwork in a different colored frame. The artwork can then be rotated periodically. You can even make a collage of artwork in each frame if the artwork is smaller than the frame size; it will look purposeful, not cluttered.
2. Bulletin board
You can also pick up (or make) a giant bulletin board and put it in your child's room or playroom. Your child can then rotate and display as he or she wants, and as they get older, they can use it for posters and mementos. If you want to make the board fancy, paint the edges, cover the board with fabric, or add millwork to the edges, like in the image above.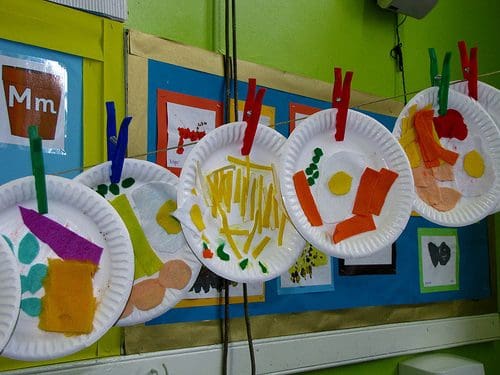 3. Clothespins and a ribbon
For a more flexible option, hang a pretty ribbon from one corner of a wall to another, and hang the artwork from it with clothespins.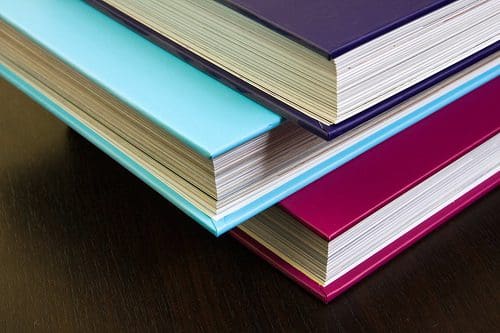 4. Coffee-table book or scrapbook
An article in The New York Times called "Mom, You're One Tough Art Critic" gave me this idea: One mom who was interviewed scanned her son's artwork and had it printed and bound into a book by a company, such as Snapfish, Shutterfly, or Costco, and keeps the finished product on her coffee table. You can also compile the artwork in a scrapbook. Your child can take either one with them someday when he or she moves out.
What to do with the rest
That leaves the question: what do you do with the artwork once it's been displayed proudly? Here are four ideas to make sure it doesn't just become clutter:
1. Sort, store, and toss
For the art, you're not going to display — sort, store, and toss! You don't want to leave your children with a legacy of boxes and boxes of crafts when they go off to college or get married.
2. Take lots of photos of their art
Immortalize the art you're not planning to keep by taking a photo and keeping a file on your computer (be sure to back it up).
3. Store in an accordion file or art box
Store the pieces you're going to keep in an accordion file or art box. An accordion file lets you separate the artwork from each year in its own section, and both tools give you a limited amount of space to help you manage the growing collection.
4. Mail some of it to relatives
Set aside some of your favorites to mail to long-distance grandparents and relatives so they can enjoy the artwork too!
How do you proudly display your children's art? Are you able to sort and get rid of them over time?

| | |
| --- | --- |
| | Lindsey M. Roberts has covered design, décor, and homes from Washington state to Washington, D.C., writing for publications such as Seattle Homes & Lifestyles, Apartment Therapy, The Washington Post, and Preservation magazine and editing publications for Hanley Wood. |