The following post is from Lisa of The Pennington Point:
I wouldn't be able to have a lovely home without being creative with yard sale deals and flea market junk finds.  Sure, one man's trash may be another mans' treasure…but not without a lot of spray paint and wood glue.
source: Lisa Pennington
When I was a young bride trying to fix up my house for pennies, I thought I would never be able to have a beautiful home.  I had no money, I didn't have any,  and I wasn't sure what to do with the junk other people were getting rid of.
But then I realized that with a little practice, I could get pretty good at seeing beyond the obvious and finding the treasure that other people didn't see.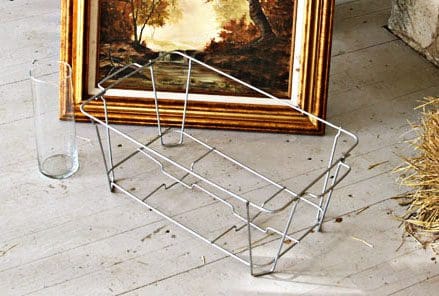 I began to look at what could be removed, painted or added on to change a piece.  Here are some things to look for when you're wondering if someone else's castoff will work for you.
1. Can it be painted?
When I saw these lockers I knew they were just what I needed to organize my homeschool supplies.
They fit in my space and each child could have a spot to keep their books.  But they were school bus yellow.  Yuck.  I snapped them up (and at a great price because no one else wanted bright yellow lockers!) and went straight to the store and bought 8 cans of white spray paint.  Two years later they are still one of my favorite flea market finds.
2. Can it be cut apart?
I needed a bench in my kitchen and I wanted something unique.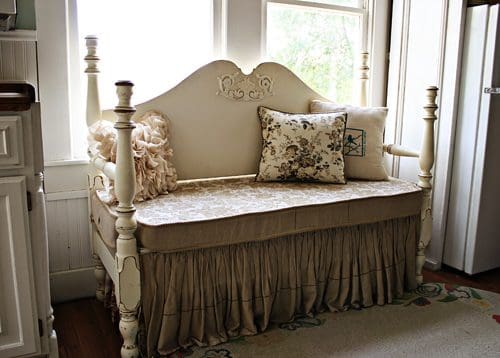 An old bed, headboard for the back and the foot board cut in half for the sides made a perfect bench with charm.  Don't be afraid to cut something up to make it work for you.  It's just stuff….what's the worst that could happen?  You ruin a cheap garage sale bed?
3. Can it be unified with other pieces in your home?
I needed a place to sit on my deck, but I didn't want to spend any money.
I found two junk chairs at the Habitat Restore and decided to see if I could make them work together.  I painted them the same color and used the same fabric to cover them and make cushions.  It's a nice little place to sit and no one ever notices that they don't really match.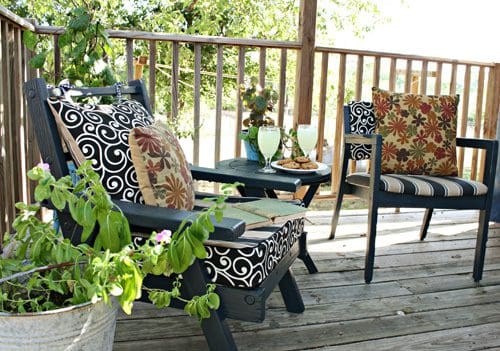 4. Can it be used in a way other than the way it was intended?
Let go of the original purpose and look at the item with an open mind.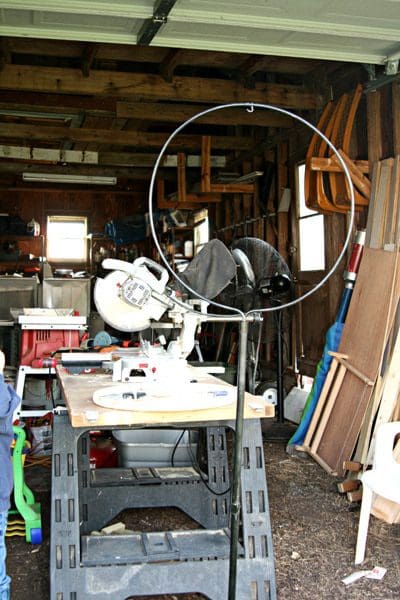 I found this bird cage holder and decided to do something unexpected with it.  I made a simple, wooden clockand hung it in the frame opening.  Now I have a piece that is completely original.
6. Do you love the shape?
Sometimes I will see something and just love the shape, but not know how I would use it.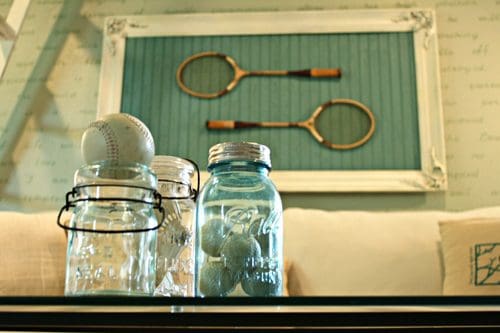 These rackets drew my attention, and for $1 each I decided I could do something with them.  I drilled a hole in some leftover beadboard and wired them on.  I love the simplicity and appreciation for the curves of the rackets.  (Oh, the Mason jars.  What is it about a Mason jar that makes me swoon?)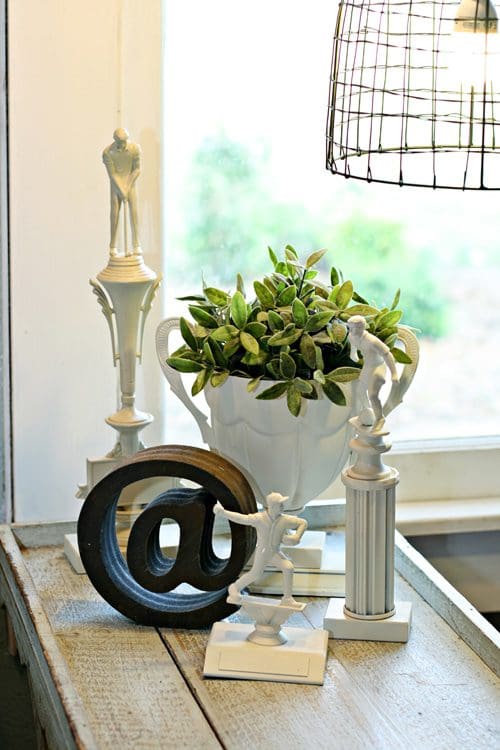 Trophies have a wonderful shape!  Yes, I actually found these at a garage sale, and I knew I could do something fun with them.  They took on new life when I painted them white.  Now they are a perfect addition to my summer décor.
The next time you're headed to do some junk shopping, keep these five things in mind.  Let go of the expected and be adventurous.  You've got nothing to lose but a little time and a few dollars!
Do you have tips for shopping for flea market junk or garage sale finds?
Lisa winds through her little Texas farm house every night, tucking in her nine homeschooled children and turning off lights. Then she scans the rooms & makes a mental list of what she wants to rearrange, restore or paint. Her husband of 25 years hangs on for the ride while she blogs about it over at The Pennington Point.