The following post is from Lisa of The Pennington Point: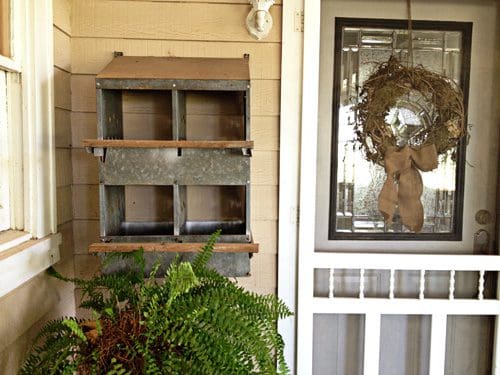 One of my favorite ways to save money is to find new uses for  old junk.  Sometimes I find things by the side of the road, sometimes people give it to me, sometimes I have just don't use it anymore, and I look for a way to reinvent it.  But any way you come by your junk, it can be a fun challenge to give it whole new purpose.
Above, I used an old chicken nesting box to hang by the front door.  It's a playful way to greet our guests and I didn't have to throw it out when our chickens wore holes through the bottoms (which would have meant the eggs would fall out….no!)
I don't know why I had a single, mismatched coffee cup.  But I decided to tie it to my bathroom towel bar and use it as a toothbrush holder.
I found this wire basket at a garage sale for 25¢.  I use it as a kind of shelf on my front porch to show off my little lantern collection.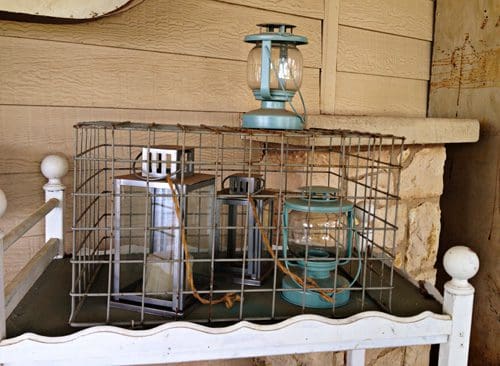 I received a gift in this metal tub, so I used it in my bathroom to hold my feminine supplies.  It's discreet but easy to reach.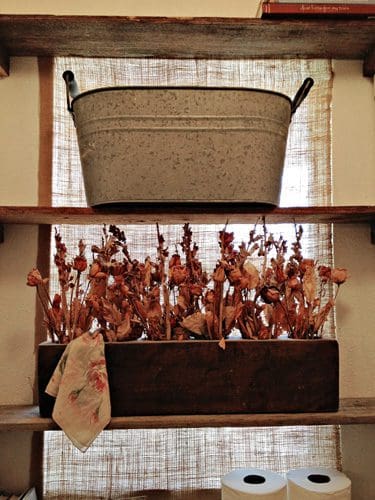 I found an old screen lying by the side of the road.  I took it home and used it to make a cover for my TV.  It's hung with hinges to a simple frame made with 2x4s.  I stapled burlap to the back of the screen so you can't see through it.  So easy!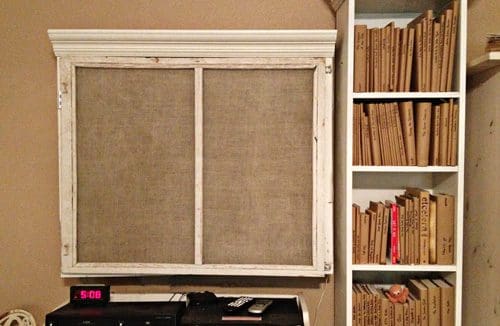 Don't forget you can use pitchers for other things besides drinks.  I love to use mine to hold flowers.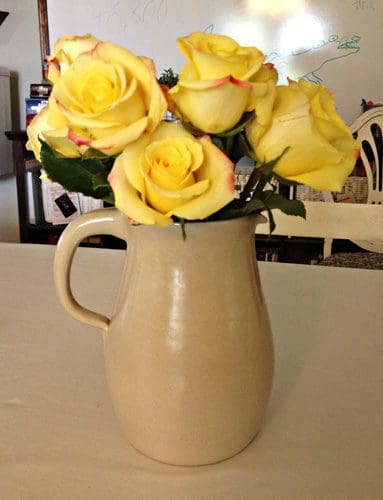 These lockers were at the flea market and for super cheap because they were bright yellow.  I got them for a steal, painted them white, and now they are great storage for our homeschool supplies.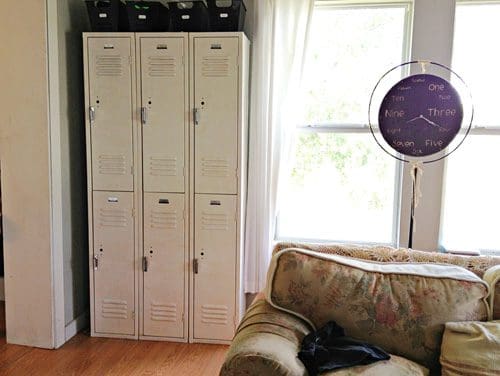 Another screen a friend was throwing out.  It wasn't working on her door, so she had no use for it.  I strapped it to my car and took it home with me.  I use it to add height to the corner of the room.  I love to hang pictures from it.
I got this serving cart at the flea market.  It needed some TLC, so I fixed a few places on it and painted it black.  Now it's an end table plus storage for books and coasters.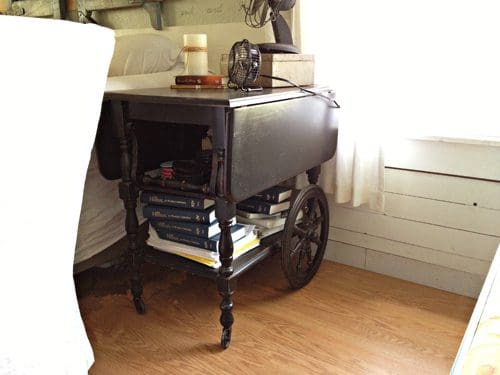 I found some crates at a thrift store so I use them to add height in my utility room.  I keep my detergent and other laundry essentials in jars in the crate.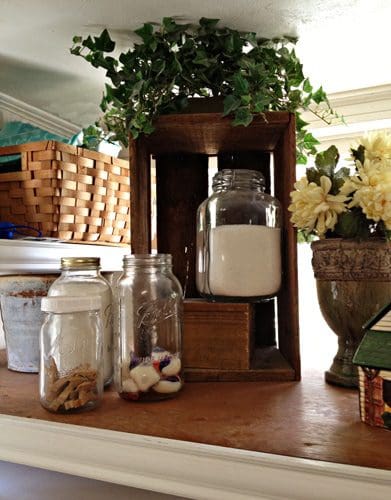 The next time you start to throw something out, step back and consider if it can be put to a new use.  If you still decide to get rid of it…call me.  I will strap it to the top of my car and take it home with me.
Have you ever reinvented anything?

Lisa winds through her little Texas farm house every night, tucking in her nine homeschooled children and turning off lights. Then she scans the rooms & makes a mental list of what she wants to rearrange, restore or paint. Her husband of 27 years hangs on for the ride while she blogs about it over at The Pennington Point.