The following post is from Lisa of The Pennington Point: Frames Are the New Art
Instead of looking at picture frames as something to hold a picture, why not think of them as art all by themselves?
I love to use empty frames all over the house, inside and out.  I keep my eye out for framed pictures at flea markets and thrift stores, not because I want the art, but because I want to pop the cardboard picture of someone's farm out of the frame and just use the frame itself.  A coat of spray paint matches your decor, and you can hang it up almost any place.
Here are a few fun ideas for using empty frames in your home.
1. If you can't cover it, put a frame around it!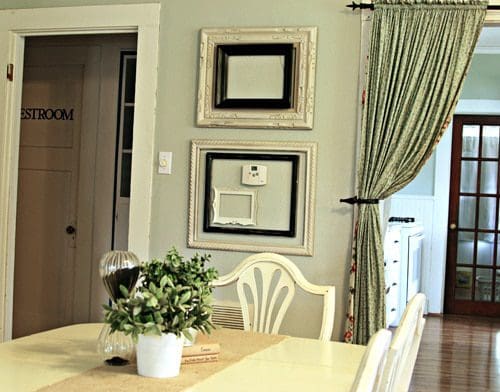 My thermostat is in the middle of a wall in my dining room.  I couldn't cover it up, so I used a variety of old frames that I spray-painted black and white to dress up the wall and distract from the ugly thermostat.
2. Fill frames with wire mesh and clips.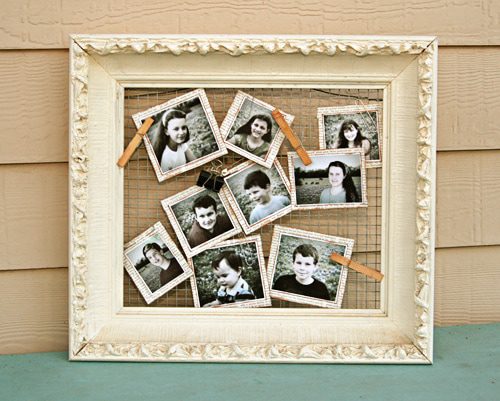 Consider stapling chicken wire or rabbit wire (found at any hardware store in the garden section) to the back of your frame.
Using string or wire attach various types of clips and you now have a frame for a grouping of smaller photos.  Fun, happy, friendly.
3. Frame a word.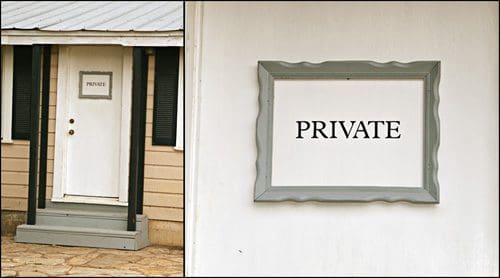 It may be a little kooky, but I wanted to teach the kids to use the other backdoor, so I put a sign on one saying, "PRIVATE."  Once I had the words up, I thought it looked too plain so I dug out an old frame and painted it to match the porch floor.  Then, I tacked it to the door.  This also looks great on a wall inside the house.
4. Change it out with the seasons.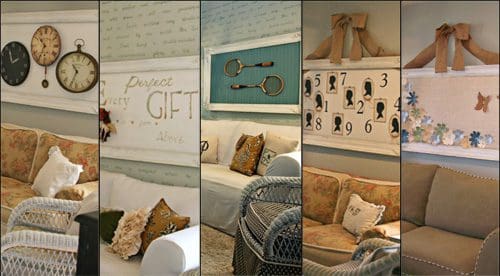 Over our couch I hung a huge frame I found at the flea market.  Whenever I get the urge for a change, I switch out the art in the center of the frame.  Painting the wall white behind the frame opening gave me a huge canvas to fill with whatever I feel like.  I just hang things in the center-right onto the wall.
A collection of old clocks:
Or silhouettes of the children: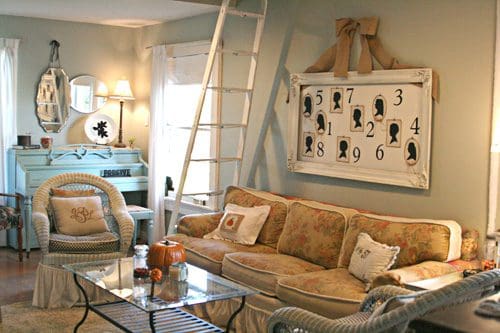 This is great for Christmas, celebrating spring, introducing a new color, whatever you want!
Empty frames are one of my favorite ways to add interesting, forgotten art to an empty wall (or even the back door!)
Click here for fun uses for old frames.
Can you think of a way you can use empty frames in your home?

Lisa winds through her little Texas farm house every night, tucking in her nine homeschooled children and turning off lights. Then she scans the rooms & makes a mental list of what she wants to rearrange, restore or paint. Her husband of 25 years hangs on for the ride while she blogs about it over at The Pennington Point.