The following post is from Lisa of The Pennington Point: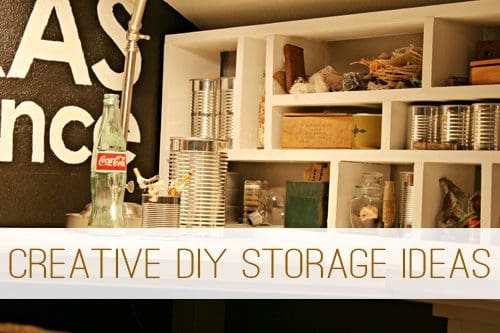 There's never enough storage at my house.  If didn't find creative ways to store things every little cubby and corner would be piled with stuff.  Toys, school supplies, wii accessories, and everything the kids collect all need a home, and I need a neat and tidy house.
So, I try to look for clever storage spots.
1. Flea Market Finds
These vintage lockers are the perfect way to keep my kids' school books tucked out of sight and the lockers add an element of fun to the living room.
2. Baskets
We all know that baskets are a great way to contain things on a shelf.  In this case, I added chalkboard labels so we know just what's in there.
3. Boxes & Buckets
My boys' Legos were taking over the house, so I labeled boxes and buckets for their pieces and now they can keep them off the floor.
4. Under the Bed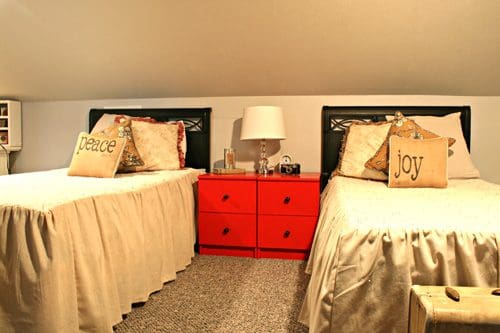 My teen daughters share an attic bedroom that has no closets.  None!  So we had to really get creative with storage.  I got those cheap plastic under bed boxes, and we skirted the beds so you can't see them.  Looks nice.  Lots of storage.
5. Over Your Head
I like a metal bucket, but if you don't want what's in there to be seen you need to raise the bucket higher than your head.  We have our wii accessories in locker baskets on top of the gym lockers (see above #1), and in my bathroom I keep my feminine products in a bucket above the toilet.  They are right at hand but can't be seen.
6. Dressers
A dresser doesn't have to be just for clothes.  I use dressers in other parts of the house for holding small items.  One under the TV can holds all of our movies.  I also have one in my homeschool area for holding paper and pens.
7. Cans & Bottles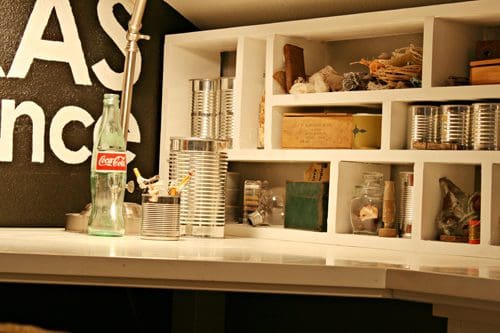 My daughter uses so many teeny tiny pieces when she creates, so we built a simple shelf for her to put empty cans and bottles full of her treasures.  This would be great for many kids' collections!
8. Trunks
Chests and trunks hold a TON of stuff and look pretty doing it.  I found one at the flea market and put it at the foot of my bed.  Without a linen closet, I needed space for sheets and blankets.  Besides holding the bedding, it's a great place for the kids to sit when they're hanging out in my room talking with me.  Also in this room I have a dresser holding my personal items and the big wardrobe stores all of our luggage.
Whatever your needs, I'll bet you can find a creative storage solution.
Do you have a need for some creative storage?
Lisa winds through her little Texas farm house every night, tucking in her nine homeschooled children and turning off lights. Then she scans the rooms & makes a mental list of what she wants to rearrange, restore or paint. Her husband of 26 years hangs on for the ride while she blogs about it over at The Pennington Point.