The following guest post is from Anne Simpson of Authentic Simplicity: Creative (and Inexpensive) Storage Solutions
Earlier this year, my husband and I moved into an apartment that was almost twice the size of our previous apartment.
While we loved the spacious rooms in our new dwelling, we were more than a little stumped by the lack of storage.
The old apartment had it all: a linen closet, a laundry room, lots of cupboards and a pantry in the kitchen, a walk-in closet in the master bedroom, medicine cabinets in each bathroom, and even a storage unit in the hallway outside! Our new apartment? Not so much.
No linen closet, no laundry room (instead, a laundry closet with no room for anything but the washer and dryer), no walk-in closets, poorly planned kitchen cupboards that defy organization, no pantry, no medicine cabinets, and definitely no storage units.
So while we're thankful with the extra space, we've had to get a little creative in terms of organizing it, especially since we don't exactly have the funds to go out and purchase new furniture or other storage solutions.
If you're tight on space – and money! – try these creative storage fixes on for size:
1. Shelving in Cupboards and Closets
You know those cheap white pressboard modular shelving units you can buy at Target, Walmart, and other big box stores? They're kind of ugly, yes? Well, don't judge a book by its cover. There are three reasons why I love these homely little shelves. They're sturdy and functional, they don't cost a lot of money, and they are extremely versatile!
I have a whole collection of small white shelves that I've picked up at yard sales and thrift stores, but I don't display them out in the open. Instead, I hide them in cupboards and closets to add some functional space. For example:
In my kitchen, the bottom cupboards do not have any shelves whatsoever. (Who makes a cupboard without putting a shelf in it?!) I inserted one of my cheap little shelving units into each cupboard and instantly made use of all the wasted vertical space. In most of the cupboards, I placed the shelves upside down so that I could store taller items (like my grain mill, for example) on top. In one cupboard, though, I have placed a taller narrow shelf on its side to create 3 little "cubbies" within the shelf, and I use that to store more fragile items like vases and serving dishes.
In the past, I've put a few shelves on the floor of my bedroom closet and stored things like shoes, baskets of scarves, and even books on them.
In our new placed, the closet is designed so that my husband's clothes hang all the way down to the floor, effectively eliminating any floor storage. So this time, I put the little shelves (upside down again, so that they're stable on the wire closet shelving) on the very top shelf in the closet and use them to neatly store all my shoes up there.
The small 2-shelf units are perfect for storing kids' toys right at their level. Add a few cheap bins or baskets, and you'll have instant inexpensive organization. And a bonus: the white shelves work well with most kiddie decor, so you don't even have to hide them in the closet unless you want to!
2. Steamer Trunks
While a new or antique trunk – especially if it's made of real wood – can cost hundreds of dollars, there are cheaper ones readily available at thrift stores, yard sales, and discount stores. The great thing about these trunks is that you don't have to hide them in the closet: if they're in really bad shape (or are just plain old ugly) you can cover them up with some fabric that matches your decor. But most of the time, trunks add visual interest to a room, no matter the style. Plus, there's just something about a trunk that evokes images of travel, exploration, and excitement!
My husband and I each brought a trunk into our marriage, and we've used them to store all kinds of different things depending on our needs at the time. Currently, they are stacked on top of each other in our living room, hiding our collection of blankets and throws.
You can also use trunks to store:
Books
Seasonal Items
Memorabilia
Board Games
Baby Gear
Spare Linens
The possibilities are almost endless: pretty much anything that isn't used on a regular basis can be shoved out of sight into a trunk.
3. Canvas Bins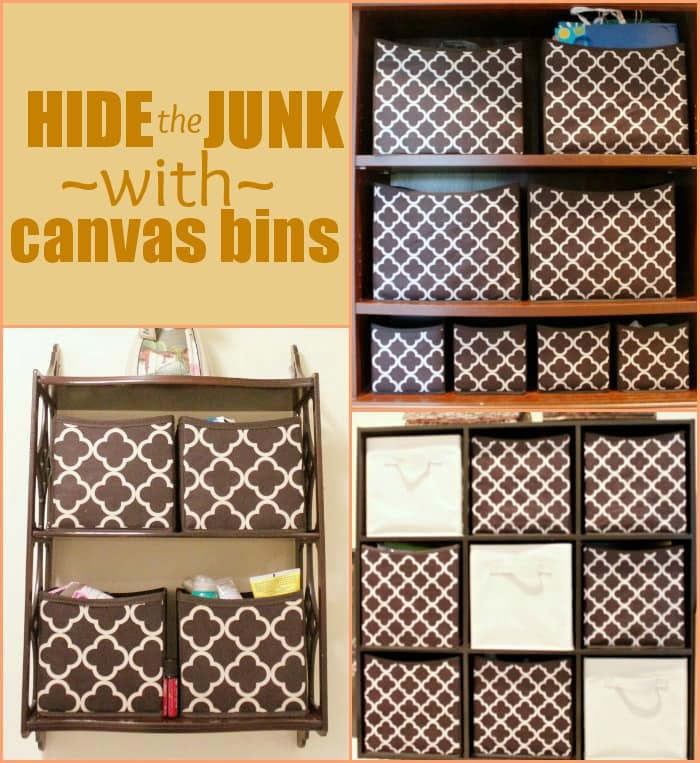 I've discovered that those cube-shaped canvas bins made for the modular storage shelves actually come in handy all over the house whether or not you have the cubicle shelves.
Plus, sometimes you can find them at the dollar store, which makes them a super cheap creative storage option. Clearly, they're not the sturdiest storage container in the world, so I wouldn't recommend using them for anything heavy or anything children access often (I learned that lesson the hard way!), but they're still useful for holding all sorts of other items and can last a really long time if you're careful with them.
I picked up about 20-30 matching bins in different sizes recently when they were on clearance at a local office supply store. I love the fabric pattern on them; it matches the decor in my home perfectly and can even be described as elegant. I think I paid about $50 for the lot, but I used them to replace the medicine cabinet, linen closet, and walk-in closet storage I lost when we moved. So, I think they are totally worth it!
Here's what I store in my canvas bins (since I have no closet for these things, I love that the canvas bins enable me to store them on book shelves in plain sight… without being unsightly!):
Medicines (I use four of the small ones on a shelf I bought at a consignment store.)
Makeup
Hair Accessories
Manicure/Pedicure Supplies
Toiletries
Paper Products
Candles
Candle Accessories
Gift Bags
Tissue Paper
Office Supplies
Medical Supplies (nebulizer, etc.)
Knick-Knacks
Of course, you can use them to store all manner of things: clothing, craft supplies, accessories, shoes, games, linens, and whatever else strikes your fancy.
I've implemented quite a few more creative storage strategies in our new apartment, but these three are my favorite solutions and the ones that have been the most effective.
If you have creatively overcome storage issues in your house, I'd love to hear about it: Tell me in the comments below how you've created storage where there wasn't any!
Anne Simpson is just a simple girl who longs for an uncomplicated life. Wife to one amazing man, mother to two rambunctious boys, one of eleven children, daughter of the King, happily defined and shaped by these. By God's grace and for His glory, she  lives, loves, serves and writes. She is the author of Your Grocery Budget Toolbox and blogger at Authentic Simplicity, where she strives to find the balance between authentic and simple. Keep in touch with her on Facebook, Twitter and Pinterest.