The following post is from Kristina of Toddler Approved:
We're going through a big remodel and pretty much every part of our house is a big mess. Add that to the fact that we are never home, and we are still adjusting to having three kids, and you can understand why life is a bit of a disaster. The thing that has suffered the most has been the laundry. There are laundry piles in the kid's bedrooms and piles of clean laundry in the laundry room. It has been hard to keep up with everything.
To try and keep dirty clothes off the floor in the kid's rooms we decided to have them help create some kid made DIY pillowcase laundry sacks inspired by this Ever-Open Laundry Bag idea from Martha Stewart. 
Last year we shared how we did glue batik tie dying. Since it was such a fun technique to use, we decided to use it again to help us personalize our laundry sacks.
Supplies:
Elmers glue
plain white t-shirts
different colored dye bottles (I bought ours at JoAnns in a tie dye kit.)
rubber bands
plastic bags
white pillowcase
embroidery hoop (12-14 inches)
grommets/grommet tool
hook & screws
paint (We are using extra wall color paint from each child's room.)
Directions: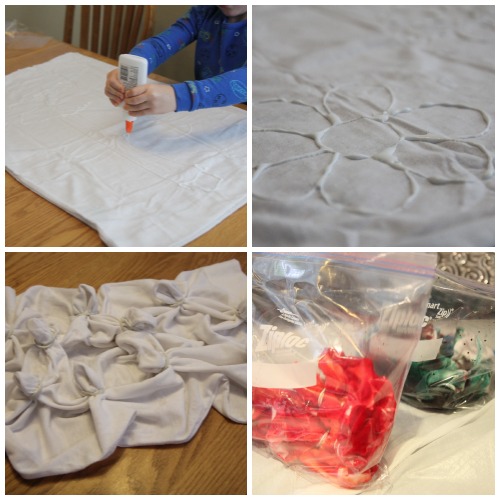 Cover your pillowcase surface with glue designs and then let the glue mostly dry.
Next you'll want to dye your pillowcase. We used the simple instructions shared in our previous tie dye post, but you could also just dye it one color.
After we let the dye set for several hours, we washed and dried the pillowcases and then got them ready to hang up in the kid's rooms. We loved how the glue designs turned out!
We used a grommet and grommet tool to secure the grommet, and then we wrapped the mouth of the pillowcase around the interior of the embroidery hoop. We secured the pillowcase in place using the outside piece of the hoop (and screw). We hung the bags on the bedroom door hooks so they could start collecting laundry.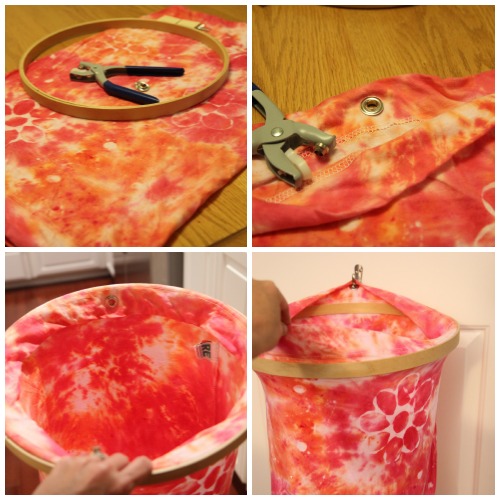 I am so excited to have laundry off the floor and have such cute kid made hampers in each bedroom!
How do you keep laundry organized at your house? 
Featured Photo by Andrea Piacquadio from Pexels
Kristina is a mom of 3 and a former Special Ed teacher for children with communication disabilities. She blogs at Toddler Approved as she looks for ways to make life a little more fun and creative with her kids while embedding learning into everything that she does. Kristina tweets as @ToddlerApproved and can be found on FB and Pinterest.