The following post is from Janel of Life with Lucie and Ella.: DIY Pedestal Plate or Vase
Months ago, I saw Myra's post for DIY Hurricane Vases and fell in love with them. What a great way to take some simple dollar-store or thrift-store items and give them new life.
When I needed a decorative item for my mantel with a little more height, I decided to take inspiration from Myra and make my own with the flowers and vase from my Rolled Paper Flower Arrangement tutorial. I also realized that I could do the same thing to create a pedestal plate — it's a great way to display different items at a buffet for a special occasion. Items at different heights add a little more visual interest.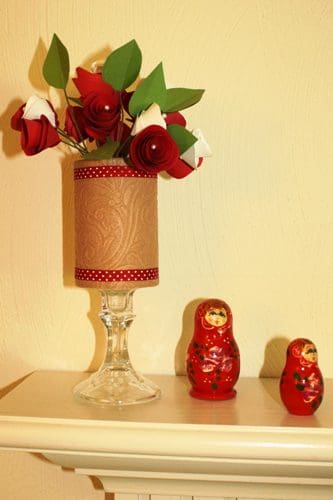 The process is the same whether you want a tall vase or a pedestal plate. You'll need some Gorilla Glue to glue your pieces together and some water to activate the glue. Because the glue dries a bit bubbly and has a color when it dries, I preferred not to use a clear glass plate or vase because you'd be able to see the glue in the finished product. But, of course, if you fill up your vase or pile up treats on your plate, the glued section will be covered so you probably won't see that anyway. Just use what you prefer.
How to Make a Pedestal Plate or Vase:
Supplies:
plate, DIY vase, or another decorative item to which you'd like to add some height
glass candlesticks (I got mine from the dollar store.)
water
heavy books
Directions:
Clean the surfaces where you will be applying the glue. Place your decorative plate or vase upside down. Use water to create a damp circle to which you will attach the glass candlestick.  Also, apply a little water to the rim of the glass candlestick, where it will attach to the plate/vase. Try not to get any water inside the well of the candlestick, or you will trap moisture inside.
Apply a small amount of Gorilla Glue to the rim of the glass candlestick. The glue will expand when it gets wet, so don't apply too much.
Place the candle holder on top of the plate, vase, or other item and center it. Carefully place a heavy item, such as a large book, on top of the candlestick. The weight will help create a better bond between the two items. Allow the glue to cure for 1 – 2 hours.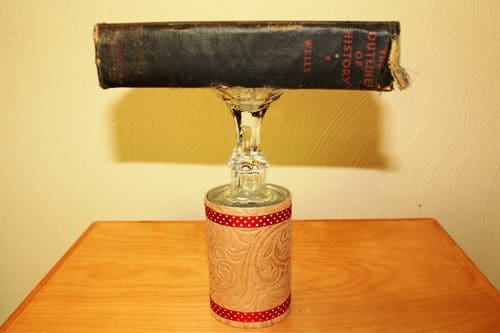 Fill your pedestal plate with cookies or your pedestal vase with flowers, and enjoy!
Related Posts:
Have you ever created something special for your mantel?
Janel is a stay-at-home mom of two and a law school wife. Raised in a budget-conscious and do-it-yourself-minded family, she loves seeing something in a store or magazine and making her own version at home for less money. Janel blogs about motherhood, crafts, and recipes at Life with Lucie and Ella.