The following post is from Janel of Life with Lucie and Ella.: DIY Rolled Felt Flower Wreath for Valentine's Day
Earlier this week, Myra shared 9 DIY Valentine's Day wreaths. Today I've got one more for you to add to your list!
Since the "Valentine's Day" season is so short, I don't want to spend a lot of money on decor that won't be displayed for very long. Homemade decor can be very cost-effective — especially if you use supplies that you already have on hand.
As I got to thinking about what I had on hand, I realized that I should try to make a dent in the felt box in my craft closet. (Yes, I really do have a BOX of felt. What can I say? Felt is a little addicting!) I also had some really cool wire that I used to create napkin rings in the fall.
Inspired by the rolled paper flower arrangement I created at Christmastime, I decided to make a heart-shaped wreath with some DIY felt flowers. Felt is much easier to make rolled flowers – the rolling goes much faster. Of course, you will want a good pair of scissors to make the cutting quick and easy.
How to Make a Rolled Felt Flower Wreath: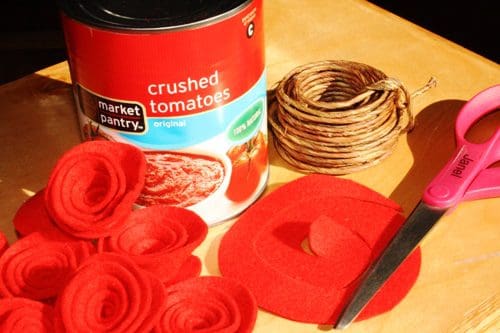 Supplies:
felt
circle template (I used a large can)
pen
scissors
heavy-duty craft wire (I used Panacea Naturally Wired Wire)
wire cutters
hot glue gun & gluesticks
Directions:
Trace your circle template onto the felt and cut out the circles. Starting at the outside edge of the felt circle, cut a spiral. You can cut a curvy spiral if you wish, but I chose a straight spiral for this project.
Take the outside point of the spiral and roll it toward the center while lining up the bottom edges of the flower.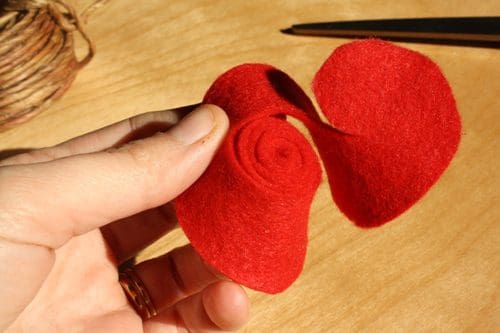 Apply hot glue to the bottom of the flower and press the center of the spiral over the hot glue to hold the flower together. Repeat until you have enough flowers for your wreath.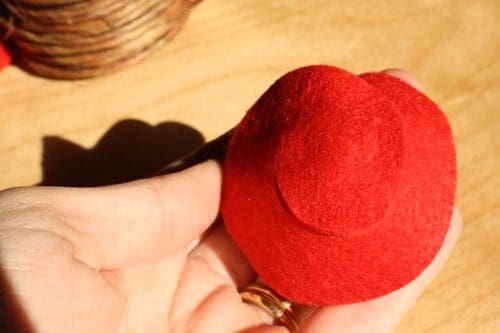 Use the wire cutter to cut a long length of wire for your wreath form. (Mine was about 45 inches long.) Form into a heart shape and twist the ends of the wire together at the top of the heart. Leave a hole in the twisted portion to use as a hanger for the wreath.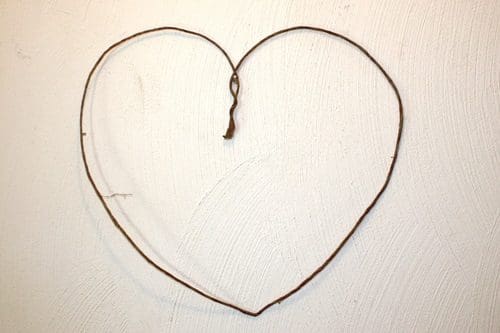 Draw a line of hot glue onto a small portion of the wire and press a flower down onto it firmly. Repeat all along the wire wreath frame. Be sure not to glue on top of the hole in the wire that you will use to hang the wreath.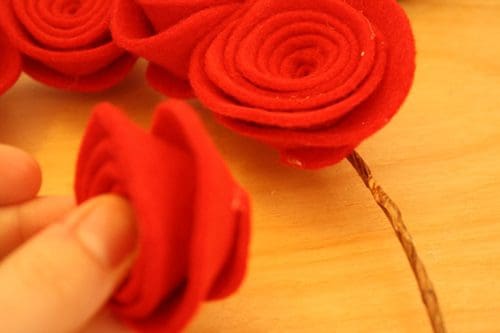 Remove any lint or little strings of hot glue. Hang and enjoy your wreath!
Related Projects:
Felt Cup Identifiers – Dress up your glassware for Valentine's Day by making some special cup identifiers with any excess felt you have.
Mantel Words – Make some custom words to use alongside your wreath!

Fabric Flowers

– Instead of felt, use fabric to make the flowers
How do you decorate for Valentine's Day?

Janel is a stay-at-home mom of two and a law school wife. Raised in a budget-conscious and do-it-yourself-minded family, she loves seeing something in a store or magazine and making her own version at home for less money. Janel blogs about motherhood, crafts, and recipes at Life with Lucie and Ella.